Disc Reviews
Criterion Collection: L'avventura | Blu-ray Review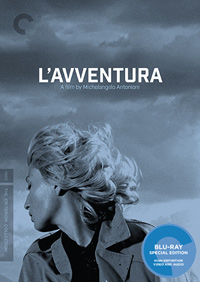 In the decades of cinema that have transpired since Michelangelo Antonioni's 1960 film L'avventura, one cannot overlook its seminal status not only within the auteur's own priceless filmography, but as a milestone in developing cinematic language. Greeted with a divisive response at the Cannes Film Festival, where a group of thirty-five renowned critics were able to turn the cultural tide after the film's second screening (in that influential way that criticism can't quite muster in contemporary arenas), it would go on to be awarded the Jury Prize, tying with Kon Ichikawa's Odd Obsession, and beaten out by Fellini's iconic La Dolce Vita. It's hard to believe that such titanic masterpieces were competing against one another, all relishing unprecedented renown in the years to come. Antonioni's is, truly, the harder film to love, its grasp residing somewhere within its own banality as an examination of the enigmatic nature of human existence. Antonioni's worldview would spread over what would be come to be known as his (unofficial) 'incommunicability trilogy,' as concerns the modern world's discontented denizens of privileged people that have everything except for that elusive yolk of 'the sweet life.'
For all intents and purposes, the beginning of L'avventura is similar to George Sluizer's The Vanishing, a troubled couple on a trip that ends in the disappearance of the female member. But then, as in a film Hitchcock, our perspective changes to that of a supporting female player, which would give rise to the beauty of Antonioni's muse, Monica Vitti (who enjoys an iconic cinematic presence that wasn't afforded to Vera Miles of Psycho). Landing on the Aeolian Islands, the turf resembles a primordial, jagged landscape, which, of course, eclipses Anna somehow, not terribly unlike the engulfing façade in Peter Weir's equally enigmatic Picnic at Hanging Rock. The remainder of the films prefers to be an examination of bourgeoisie malaise, with Vitti and Ferzetti engaged in a disconcerting series of mind games of complicated emotions they keep referring to as love, but appears to be more of a way to pierce their way into some sort of emotional harangue that will save them from their mind numbing, meaningless existences.
Though Claudia, who comes from a more meager background than the chronically unimpressed Anna, at first resists the fastidious attentions of the presumably relieved Sandro, she quickly throws herself into this 'fling,' which is, of course, the other meaning of the word 'l'avventura.' But beyond these casual adventures, these beings are really trying to navigate around the definite meanings of words. There's no doubt that Sandro and Claudia are attracted to one another, but social customs force their non-committal, mutual lust into paroxysm of love. Not to mention, the taboo nature of their connection, united, inappropriately, after the disappearance of friend and fiancée Anna, causes the missing woman to become something of an apparition. She haunts Claudia to the final frames, mutating into a nagging feeling that something's not quite right about the love connection with Sandro. Indeed, there isn't something quite right, but it's because no one's being honest about how they feel, which leads to the film's rather touching, if deadening final frame, an embrace of mutual pity borne from the realization of the other's human failings.
Disc Review
Criterion's new package includes a 4K digital restoration of the title (finally, all three titles of the trilogy, along with Red Desert, have received the upgraded packaging) and the disc is exquisite. Aldo Scavarda's cinematography (Antonioni replaced him with Gianni Di Vennanzo on the next two titles) is impressive, particularly on the jagged Aeolian shores. Several extra features are also not to be missed, including an option of audio commentary from film historian Gene Youngblood, as well as an insert that includes the compelling open letter from Antonioni that was distributed at the 1960 Cannes Film Festival.
Olivier Assayas on L'avventura
Produced by Editions Montparnasse in 2004 features an analysis in three parts by director Olivier Assayas (The Empty Center; Point Zero; Resolution). All three parts together clock in at a bit under half an hour, and it's an interesting analysis from Assayas who speaks of the 'invisible' script of the film.
Antonioni: Documents and Testimonials
A fifty-eight minute documentary directed by Gianfranco Mingozzi from 1966 was the first to receive the director's approval. From his childhood through his filmography up to the date of this film, photos, clippings and interview footage is spliced together with a narrator guiding us through Antonioni's craft.
L'avventura: A Moral Adventure
Jack Nicholson, who starred in Antonioni's The Passenger, reads from original publicity materials for L'avventura while also providing his own personal recollections of working with the director. The feature is about ten minutes in length.
Final Thoughts
A master class of European art-house filmmaking, L'avventura is a titan from a changing tide of titles that signified a major break from cinematic styles and customs. An original game changer, Antonioni spun cinema into a direction of new possibilities, down avenues well-traveled now by generations of filmmakers since. He gave us our first glimpse of the arresting Monica Vitti, a blonde Italian (in the film a throng of lusty men are heard to murmur, "she must be French") who would go on to star in a quartet of his most famous titles. Perhaps his best but undoubtedly his first real masterpiece, with this film Antonioni bravely decried the silly, archaic notions of morality and tradition. "Eros is sick," he proclaimed. Scant few since have been able to reach such heights of complexity that avoids psychologizing its characters, sermonizing, or providing justification for its own existence (but seriously, what is up with that comb smack dab in the back of Vitti's scalp?) It's a process of watching humans when they aren't holding themselves to the untenable tenets that manmade fantasies have informed what life's supposed to look like.
Film: ★★★★★/☆☆☆☆☆
Disc: ★★★★★/☆☆☆☆☆