Disc Reviews
Criterion Collection: Lone Wolf & Cub | Blu-ray Review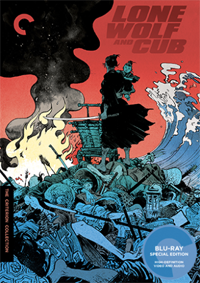 Criterion tackles the short-lived but prolific Lone Wolf & Cub series, a collection of six titles made between 1972 and 1973 about a traveling Ronin and his young son wandering the Japanese countryside as they seek revenge while being hired as assassins by various parties. One of several notable inspirations for Quentin Tarantino's Kill Bill films, this on-going odyssey is presented for the first time in this complete collection. US audiences might be familiar with the narrative thanks to a 1980 film, Shogun Assassin, which was released in theaters and is actually a combination of the first two films spliced together. Based on a popular manga published in 1970 by Koike Zazuo, the films have been classified as the chambara (sword-fighting) genre and are notable for a level of violence extreme for the cinematic time period. Melding cultural and historical asides into this six film series, whereby the wronged former executioner must raise one million ryo in order to bribe officials to be allowed to bring his charges to the attention of the Shogun to prove his innocence (he was framed by the insidious Yagyu clan, which also resulted in the murder of his wife), the sentiments of the series should certainly appeal to audiences favoring chaptered narratives with recurring characters and common themes united by an intense bloodlust for vengeance.
Sometime during the Edo period, disgraced former executioner to the Shogun, Itto Ogami (Tomisaburo Wakayama), wanders the Japanese countryside with his infant son Daigoro (Akihiro Tomikawa). He searches for those responsible for murdering his wife, who was killed in the elaborate plot which was all part of his framed downfall by the insidious Yagyu Clan. And so now, he advertises as a Ronin assassin in need for work, Lone Wolf and Cub. He's hired by a chamberlain to kill a rival gang, and as he journeys to find his target, he puts Daigoro to a test which will determine if the boy is meant to reside with him or his mother in the afterlife. Daigoro chooses a sword over a toy, and thus, has also chosen the "Demon Way of Hell" with his father, a pledge to live like demons at the crossroads of hell. Ogami is ambushed once he reaches the hot springs operated by the rival gang and he is forced into having sex with a prostitute in front of the gang leaders.
In the follow-up, Baby Cart at the River Styx, Ogami stops at a bathhouse for room and board, though experiences class conflict with the owner. As the Kurokawa spy clan makes plans to kill Ogami with a clan of fierce female assassins after they pledged allegiance to the Yagyu Clan, he is hired to kill a double agent who is working in clan with a special indigo dye process, the secret of which the agent plans on selling to a rival clan.
In Baby Cart to Hades, Ogami comes to the rescue of two women being accosted by a quartet of men, challenging their most honorable member to a duel. One of the young women is meant to be sold into prostitution, but after killing her pimp, she seeks refuge with Ogami, which leads to an increasingly elaborate dilemma wherein he finds him facing off against 200 men singlehandedly. And thus, the true power of Cub's perambulator is revealed, unsheathing several barrels from which usher forth an endless shower of bullets.
Director Buichi Saito (whose 1959 title The Rambling Guitarist was just refurbished courtesy of Arrow Video) steps in for the fourth installment, Baby Cart in Peril, in which Itto Ogami is hired to kill the tattooed female assassin Oyuki (Michie Azuma). But when Daigoro wanders from his cart, he is separated from his father, delaying the job, and eventually bringing about a duel between Ogami and an old competitor, Gunbei (Yoichi Hayasi). At the same time, Yagyu Clan member Retsudo Yagyu (here portrayed by Tatsuo Endo in the role originated in the first installment by Tokio Oki, and later portrayed by Minoru Ohki in the last two films) has been making political strides as a way to use others to ensnare Ogami.
Kenji Misumi returns for the fifth installment, Baby Cart in the Land of Demons. Itto Ogami is tested by five messengers and is hired to kill a young girl being raised as a boy to inherit command of a local daimyo while the real heir is locked away. At the same time, he must also stop news of the deception from reaching Retsudo Yagyu.
And in the last segment, White Heaven in Hell, director Yoshiyuki Kuroda (in what would stand as his last feature film) completes the saga of Lone Wolf & Cub by introducing elements of the supernatural from a secretive branch of the Yagyu Clan that has particular powers. Meanwhile Retsudo Yagyu's illegitimate son is in pursuit, killing anyone the father and son have come into contact with, and this eventually converges in a scene of carnage wherein Itto Ogami is forced to dispatch an entire army.
The series was originated by Kenji Misumi, a director who began his career in the mid-1950s, but is perhaps best remembered for helming the first chapter in the famous Zatoichi series of films with 1962's The Tale of Zatoichi. Responsible for several other chapters in this franchise, his intentions for Lone Wolf & Cub were to create a similar ongoing property. Responsible for the first three and then fifth installment, the series would run its six title course by 1974, though Misumi's first trio would all be released in 1972. Consuming them in back-to-back succession does result in a bit of lapse as far as differentiating between titles, especially those directed by Misumi, which are the most tonally seamless. Director Buichi Saito's entry, Baby Cart in Peril, is a bit unfairly critiqued as less noteworthy, but it is a notable change of pace as well as a worthwhile segue to Misumi's return in Baby Cart in the Land of Demons, arguably the most gory chapter. Stylistically, the Lone Wolf series is interesting to compare to Zatoichi for several reasons, the foremost being Misumi's casting of Tomisaburo Wakayama as the shamed executioner Itto Ogami since he was the older brother of Shintaro Katsu, who portrayed Zatoichi. From a family of kabuki actors, Wakayama's noted eagerness to play Ogami gives the films an essence of willed determination. Zazuo's manga portrays Ogami as a svelte, lithe warrior, which aren't words used to describe the physical presence of Wakayama, something he valiantly seems determined to overcome in a plethora of well-choreographed sword-fight sequences.
The effects of reappropriation have arguably neutered Lone Wolf & Cub's legacy, mostly thanks to Quentin Tarantino's obvious affection for the character, whose stylized pastiche outdoes the very material he wishes to pay homage to. Although this predicament can't be applied to all of these inspirations (Shunya Ito's Female Prisoner Scorpion series, whose titular character played by Meiko Kaji still reads as perverse and iconic as she did in her heyday), the rather indispensable dramatic tension repeated throughout each installment of Lone Wolf feels stretched a bit too thinly by the time the credits roll on Yoshiyuki Kuroda's final installment, White Heaven in Hell.
Disc Review:
Criterion's presentation standard remains unparalleled, and the series affords Lone Wolf & Cub the same care afforded their earlier release of the monolithic Zatoichi series with this three disc set. In this collection, all six films are presented with new 2K digital restorations, and includes the high-definition presentation of 1980's English dubbed mash-up Shogun Assassin. Picture and sound quality are phenomenal, especially compared to many less than satisfactory prints which have existed in limited availability to Western eyes. Loaded with extra features, fans of the property will be enthused at with the disc set.
Shogun Assassin:
Criterion includes the entire title known as Shogun Assassin, the 1980 Americanized mash-up of the first two titles in the series, dubbed in English and narrated by Daigoro.
Lame D'un Pere, L'ame D'un Sabre:
This fifty-two minute 2005 documentary was made by Wild Side Films in France and features Buichi Saito, producer Masanori Sanada, cinematographer Fujio Morita, and several others commenting on the processing of making the Lone Wolf & Cub series.
Kazuo Koike:
Criterion filmed this eleven-minute piece featuring manga writer Kazuo Koike in 2015, where the author describes the series as his magnum opus.
Kenji Misumi:
Criterion interviewed Kenji Misumi's biographer Kazuma Nozawa in 2015 for this twelve-minute segment, who reveals a number of interesting details about the director (including his initial desire to be a painter and not a film director).
On Suio-Ryu:
Criterion shot this interview in 2016 with Sensei Yoshimitsu Katsuse, the fifteenth headmaster of the Suio-ryu martial arts system. A comparison of the samurai swordsmanship in the Lone Wolf films is directly contrasted to reality in this intriguing thirteen minute bit.
Sword of the Samurai:
Criterion commissioned a score from Ryan Francis of the Metropolis Ensemble to accompany this silent half hour 1939 documentary about the making of a traditional samurai sword.
Final Thoughts:
Beautifully choreographed and vibrantly filmed, this six title series features an inventive array of violent spectacles, even if its narrative can't always sustain the sometimes meager running time of its chapters. Historically significant, especially for the renowned filmmakers it would later inspire, Lone Wolf & Cub deservedly receives a US release befitting its contemporary lineage.
Sword of Vengeance: ★★★/☆☆☆☆☆
Baby Cart at the River Styx: ★★★/☆☆☆☆☆
Baby Cart to Hades: ★★½/☆☆☆☆☆
Baby Cart in Peril: ★★★/☆☆☆☆☆
Baby Cart in the Land of the Demons: ★★½/☆☆☆☆☆
White Heaven in Hell: ★★½/☆☆☆☆☆