Criterion Collection: Martin Scorsese's World Cinema Project No. 2 | Blu-ray Review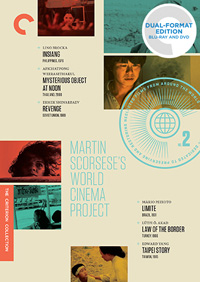 In 2007, Martin Scorsese founded the World Cinema Project, a nonprofit organization committed to restoring neglected and marginalized cinema from countries where major restorations are unlikely and unprecedented. Modeled after The Film Foundation in the US, an organization Scorsese was also involved in founding, the first title was unveiled at the 2007 Cannes Film Festival, Morocco's music documentary Trances (1981) from Ahmed El Maanouni. Since then, the World Cinema Project has collaborated with releasing several of their restorations either as standalone films (Ousmane Sembene's Black Girl, 1966) or in majestic box sets, the first of which was released by the Criterion Collection in 2013 (notably featuring Kim Ki-young's The Housemaid, 1960). Volume 2 arrives a whole three years later, a six title set combining rare titles from lauded auteurs (Apichatpong Weerasethakul, Edward Yang) with select obscurities spanning various time periods across the globe.
Insiang (1976)
First stop is in the slums of the Philippines with Lino Brocka's expressive Insiang, so named for the titular heroine who spends her life being nagged by her cold hearted mother and is eventually raped by mom's live-in boyfriend and abandoned by her own fiancé. A carefully plotted vengeance ensues.
Insiang is notable as the first Filipino title to be programmed at the Cannes Film Festival, where it played in the 1978 Directors' Fortnight. If today's art-house aficionados are aware only of contemporary subjects like Lav Diaz or Brillante Mendoza, they are indebted to the trailblazing Brocka, who eventually competed twice in the main competition at Cannes (in 1980 with Jaguar, and 1984 with Bayan Ko).
Lead Hilda Koronel was already an established actress (she had starred in Brocka's previous title, Manila in the Claws of Light), which shows in an impressive performance as a young woman who learns to pivot her victimhood into a tool of manipulation. As her nemesis is a prickly performance from actress Mona Lisa, who was one of the most popular Filipino actresses of the 1930s and 1940s (she was the first woman to wear a bikini on screen, when she was using the screen name Fleur de Lis). Lisa supplies Insiang with its palpable dramatic tension in what plays like a Filipino version of Mommie Dearest (both women took home acting awards at the Metro Manila Film Festival in 1976). Their interactions eventually veer into exploitation territory, but Brocka's film resists camp aesthetics in its attempts to justify Insiang as social realism depicting the plight of women.
Film Review: ★★★★/☆☆☆☆☆
Disc Review: ★★★★/☆☆☆☆☆
Mysterious Object at Noon (2000)
The World Cinema Project revisits the debut of Thailand's Apichatpong Weerasethakul, Mysterious Object at Noon, which premiered at the 2000 Rotterdam Film Festival and introduced the art-house to his experimental sensibilities, which would translate a decade later into a Palme d'Or win for Uncle Boonmee Who Can Recall His Past Lives.
With his first feature, Weerasethakul generates a docu hybrid modeled after the Exquisite Corpse party game, generating what stands as a road trip film through Thailand loosely dealing with a crippled student and his teacher. Weerasethakul's predilection with the mystical beliefs of the region intertwined with a loopy sci-fi fantasy is in full force, grounded initially in the same kinds of medical facilities and nurse/caretaker themes which he'd revisit in later items like Syndromes and a Century (2006) and Cemetery of Splendor (2015).
Here, amulets thought to enhance life-saving properties double as the constrictive items veritably poisoning some of the inhabitants, and Weerasethakul's playful narrative stylings are also reminiscent of the pastiche exhibited in Todd Haynes' 1991 debut Poison.
The narrative consists of various disenfranchised persons interviewed on a car ride to Bangkok. A woman selling goods from the back of her truck tells a harrowing story dealing with her abandonment as a child, and the interviewer asks for another story, either fake or real. She begins the tale of Doghfar, a tutor caring for a crippled student. As other voices add to the story, Doghfar's predicament becomes complicated by an alien alternate identity. Shot in grainy 16mm, metaphors blend with the nonsensical in this surreal first journey from Weerasethakul.
Film Review: ★★★½/☆☆☆☆☆
Disc Review: ★★★★/☆☆☆☆☆
Limite (1931)
Hailed as the Un Chien Andalou of Latin American cinema, Brazilian director Mario Peixoto's solo feature, the 1931 silent film Limite is something of an abstract oddity. A two hour exploration of a man and two women shipwrecked at sea, we are catapulted haphazardly into the flashbacks of their lives. With minimal use of intertitles, this is almost purely visual and aural stimulus as Peixoto experiments with zooms, startling angles, and a variety of editing tricks which seemed novel at the time of its inception.
Rarely seen for the majority of the twentieth century, a re-introduction in the 1970s promised a resurgence of interest in Peixoto (in her 1979 review, New York Times critic Janet Maslin suggested the director, who was in his twenties at the time of Limite, was at work on another project which never came to fruition). However, this oddity remains more style over substance, its meditative visuals broken up by a rousing soundtrack consisting of Claude Debussy, Igor Stravinsky, Erik Satie, and many other famed composers, whose pieces are sometime at jarring odds with the lackadaisical pacing of the film.
Film Review: ★★★/☆☆☆☆☆
Disc Review: ★★★★/☆☆☆☆☆
Law of the Border (1966)
Prolific Turkish director Lutfi Akad's 1966 title Law of the Border, part of the New Turkish Wave, gets rescued from obliteration in this restoration. Starring action star Yilmaz Guney (who also wrote the novel this was based on), who would become Turkey's most infamous director a decade later (he would win the Palme d'Or in 1982 for Yol but eventually was forced to flee the country, his citizenship revoked), this is a gritty piece of social realism which plays like a mixture between an American Western and De Sica's Bicycle Thieves (1948).
Guney plays Hidir, a poor farmer who is forced, along with many of his peers, to smuggle sheep across the border for money, seeing as the soil isn't able to sustain the animals sufficiently. But when a new police commander, Lt. Zeki (Atilla Ergun) plants landmines along the border to ebb the smuggling of the sheep, this causes Hidir to reconsider his options, even though a desperate farmer is willing to raise prices to match the risk he must take to squeeze a flock of three hundred across the border. As the villagers do their best to resist the building of a new school in the community, Hidir realizes he must make sacrifices to ensure his young son a better future than what he currently is able to offer him.
Film Review: ★★★½/☆☆☆☆☆
Disc Review: ★★★★/☆☆☆☆☆
Revenge (1989)
As its title indicates, this 1989 Soviet Union title from Ermek Shinarbaev is a flavorful and formidably ambitious narrative on vengeance (and is also known as The Red Flute, where it screened at the 1991 Cannes Film Festival in the Un Certain Regard sidebar). Credited with jumpstarting the New Kazakhstan Wave, Shinarbaev pairs with Korean Kazakhstanian novelist Antaoly Kim for this densely structured narrative which jumps timelines and characters wrapped in this dark fairy tale.
A prologue opens on a young prince who is defeated by a peasant's son during practice combat, motivating his father to command the most skilled fighter in the kingdom to train his son to inherit this distinction when he comes of age. As an adult, the prince indeed exceeds expectations only to find his opponents let him win during a tournament. When he orders the death of his victor, the prince's best friend, the court poet, opts to leave the kingdom. Revenge then changes time periods, moving into the 20th century, where an exasperated school teacher murders one of his female students, then flees the country. The child's elderly father vows vengeance and takes a second, younger wife to bear him a son who will be groomed specifically to take vengeance on the teacher. As a young man, the girl's half-brother struggles with fulfilling his destiny and pursuing his own desires, only to at last stumble upon the teacher's home to discover the criminal died before he could reach him.
One of the jewels of this collection, Revenge plays like a disjointed fairy tale, filled with elliptical tangents all unfolding in a dream-like realm speckled with moments of violence (the death of the murderer is revealed in startling fashion as slum children beat a rat and light it on fire while the tortured creatures runs flaming into the pile of hay where the drunken teacher has passed out). Shinarbaev, who is still working today, won the Golden Leopard at Locarno in 1993 for Azghyin ushtykzyn'azaby. His Revenge may not satisfy audiences looking for a meticulous or cohesively structured drama, but this moody masterpiece can at last be appreciated as a hidden gem of obscured Soviet Cinema.
Film Review: ★★★★/☆☆☆☆☆
Disc Review: ★★★★/☆☆☆☆☆
Taipei Story (1985)
After restoring New Taiwan Cinema master Edward Yang's 1991 title A Brighter Summer Day, the World Cinema Project releases the revered auteur's sophomore title, 1985's Taipei Story. A mournful odyssey of one couple's promising future slowly eroded in the changing landscape of China's consumer culture, it is a rare (as well as the most prominent) on screen presence of fellow Taiwannese auteur Hou Hsiao-Hsien, who also co-scripted the feature.
Hsiao-Hsien stars as Lung, who was once a prominent Little League Baseball player, has begun to defer his dreams, falling in line with his father's business as a fabric salesman. A recent trip to Los Angeles has enhanced the sense of displacement he feels, along with his girlfriend Chin (Tsai Chin), a woman working her way up the corporate ladder.
When Chin's company is bought out as a competitor, her future prospects dry up, as she's too qualified to be a secretary and not advanced enough in her career to be offered a managerial position. This causes a problematic relationship with one of her old co-workers who is experiencing marital difficulties. Her growing estrangement with Lung leads to his meeting clandestinely with his ex-wife, Gwan. Slowly, they become alienated from themselves, their surroundings, and the plans they once shared for themselves. Yang positions Taiwan as a constantly expanding landscape stretching up into the fog of the clouds, its businesses beginning to be outsourced abroad, while American culture (including a memorable dance sequence to Kenny Loggins' "Footloose") has begun to permeate the culture.
Film Review: ★★★★/☆☆☆☆☆
Disc Review: ★★★★/☆☆☆☆☆
Disc Review:
All six titles are either 2K, 3K, or 4K digital restorations, all with uncompressed monaural or 5.1 surround DTS-HD master audio soundtracks. As each of the titles was in various states of disrepair, the resulting quality of some of these restorations is compromised, such as Law of the Border and several frames of Limite. Scorsese provides new introductions for the films, all enhanced with a number of bonus features.
Pierre Rissient:
Film enthusiast and historian Pierre Rissient appears in this fourteen minute 2017 interview with Criterion concerning Insiang. Rissient expresses how he was instrumental in coordinating the title's entry into Cannes along with his reverence for Lino Brocka.
Apichatpong Weerasethakul:
Criterion produced this eighteen minute 2017 interview with Weerasethakul wherein the auteur discusses his debut film as well as his filmmaking techniques.
Ermek Shinarbaev:
Criterion produced this 2017 eighteen minute interview with Shinarbaev, who discusses how the cruelty of the story was not important for him as he considers Revenge to be a poem.
Walter Salles:
Brazilian auteur Walter Salles is on hand for this fourteen minute 2017 interview courtesy of Criterion, who speaks of the film's mythological reputation due to its unavailability.
Melvut Akkaya:
Director Melvut Akkaya appears for this sixteen minute 2017 interview with Criterion, who provides an interpretation of the film and the careers of Akad and Guney (he credit Akad with giving Turkish cinema an identity).
Hou Hisao-hsien and Edmong Wong:
Filmmaker/critic Edmong Wong and Hou Hsiao-hsien sit down for this eighteen minute 2017 conversation filmed by Criterion to discuss the making of Taipei Story.
Final Thoughts:
The World Cinema Project continues to surprise and amaze with this second volume of titles, mixing familiar art-house auteurs with some obscure discoveries (particularly Lino Brocka and Ermek Shinarbaev) not to be missed.