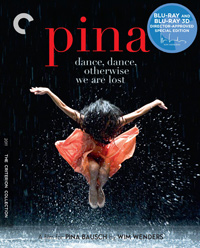 Wim Wenders' long imagined a Pina Bausch documentary with Bausch herself, a dear friend of the director, personally collaborating on the project. It was originally conceived as a way to solidify the legendary modern dance choreographer's most iconic pieces in visual stasis, but Wenders believed the traditional film form was not capable of capturing or communicating the visual information found within the ethereal movements of dance – that was until the latest technical advancements in three dimensional proved to be a worthy conduit between mediums. With all the conceived necessities finally in place, profound tragedy struck with Pina's sudden passing just days before the film was scheduled to shoot. Two years later, with heavy hearts and performers' wills, Wenders and Pina's devoted Tanztheater Wuppertal dance company moved forward with the production of Pina. The resulting cinematic memorial is a visually luscious physical eulogy of consummate catharsis that lives on stage, but takes the form out into the world as a celebratory exaltation of dance and a remarkable woman who devoted her life to its evolution.
Rather than lamenting Pina's choreographing genius through traditional means, Wenders moved forward with what culminated in a full length dance feature, centering around four of Pina's most pivotal works – The Rite of Spring (1975), Café Müller (1978), Kontakthof (1978), and Vollmond (2006) – performed by those who danced with and for her, some for decades. Bausch's choreography has always been a highly physical form that melds layered themes of emphatic carnality with the grotesqueries of human quirks and the grit of earthly elements. Her subjects appear on stage, sweating barefoot and smeared with soil, acting out a fearsome separation of genders (The Rite of Spring), or among a disheveled collection of chairs and tables, crashing about the stage as lucidly transparent dancers move like disembodied spirits trying their best to escape the space unnoticed. Taken in by cinematographer Hélène Louvart's fluidly lensed crane shots that often give more intimacy than a seat bound view could offer, these aged stage productions are still purgative, in excess of life and contemplative moxie.
Coupling these full scale performances with open-air discourse, Wenders asked the dancers to perform solo 'answers', making for a series of stunning numbers that take place in the streets of Wuppertal and various remote locales nearing Pina's hometown. Each of these pieces are ruminations that each dancer worked on with Pina at one point or another, as well as physical reverences of their relationship with their beloved director. In contrast to Louvart's subtlety, these pieces were shot by hands of the steadicam master, Jörg Widmer, to vivacious effect. Animated bodies move with heartbroken effervescence against eye-popping typography. Wenders also gives each dancer a moment to sit plainly before the camera, audibly reminiscing atop their own salient portraits with droplets of personal memories with their mentor. Recognizing Pina's signature collaborative development style, he acknowledges each of their roles as integral parts of Bausch's creative propensity.
Most of the conjoined perspectives effortlessly play together, moving with the tonal ebb and flow of full spectrum emotional exploration, but there are several instances of jarring displacement that threaten to derail the continuum. In the heat a climatic stage production, there might be a cut to one of the sillier solo asides (one, a vaudevillian tap number), or even worse, there is a sequence in which a series of photographed freeze frames act as an entry point to dancer introductions, feeling very much out of place with the film as a whole. Thankfully, these instances are few and far between, leaving the majority of Pina to be an engrossing visual feast that commemorates the work of one of the art form's true visionaries.
Disc Review:
No stranger to Criterion's first rate treatment, this is Wenders' third film to be added to the iconic home video catalog, and with it, Pina has become the company's first 3D Blu-ray release. Thankfully, for those who, despite the admirable thought that went into this production, still find 3D to be nothing more than a cheap novelty that often causes unnecessary blurring, headaches, and nausea, Criterion has provided two discs loaded with the same content – one in 3D, one in regular HD (Wenders himself admits in the commentary that the regular HD image possesses more visual detail than its 3D counterpart). And thanks to Wenders' intensely particular eye on the portrayal of movement on screen, the images on this standard HD disc are nothing short of outstanding. Minute and expeditious movements possess the same absolutely crisp clarity as static objects in the frame. Skin detail and rich textures all look stunning. Look at the stage performances on soil or the ballerina set against an abandoned factoryscape for perfect examples. Nearly the entire film is draped in the soundtracks of Pina's work, nearly all of it coming across rich and warm. The only minor complaint would be of the high pitched hissing that remains in the mix of the straight orchestral pieces that are found in the front end of the film. Both discs come packaged gracefully in a lovingly designed, signature clear Criterion case, and it is a dense little bundle.
Audio commentary featuring Wim Wenders
Though scripted, Wenders finds plenty to comment on, from why he made specific visual decisions to historical antidotes about Pina and her company. Incredibly informational and fully engaging, this is an excellent listen, despite the occasional break in speech.
The Making of "Pina"
Unlike most 'Making of' pieces, this one sees the director being directly involved in its creation. Wenders himself narrates the piece, which is broken up into chapters regarding the film's origins, the 3D technology that changed his mind about its creation, the shooting of the stage productions, and the later shot solo pieces. A wonderful front end supplement. 45 min
Deleted scenes, with commentary by Wenders
Cut from the final film, these are 14 short solos with dancers and musical tracks that just didn't make it. Each has a brief title card and an optional commentary track by Wenders that gives great depth and history to each piece.
Behind-the-Scenes Footage
With several minutes of rehearsals and behind the camera takes from several productions and many solo dances, there is a nice selection of extra visuals to take in.
Interview with Wenders
Disclosing the story of first seeing Pina's work, meeting her for the first time, and an extremely detailed telling of the film's pre-production, Wenders appears in standard promo style, a talking head against a poster for the film, but unlike standard EPK fare, Wenders appears candid, speaking honestly about the project, unrehearsed. 22 min
Trailer
Showing nearly every theme that weaves throughout Pina's work while highlighting many of the visual marvels that are found within the film, this is almost a perfect trailer.
Booklet
A thick, comprehensive companion piece to the film, this booklet features comments by both Wenders and Pina, as well as a thorough essay by novelist and essayist Siri Hustvedt. There are also guides to the dances portrayed on screen and portraits of the dancers in the film.
Final Thoughts:
Admirers of modern dance will have the most appreciation for Pina, but any cinephile will find much to love in Wim Wender's loving tribute. The film is an immensely rewatchable work of physical wonders, lensed with perfectly matched visual flair. Criterion's dual disc Blu-ray release is not only an astounding AV experience, but also a comprehensive chronicling of the film's production. After having seen portions of the performances, the only thing more that could be wished for is inclusions of them each as a whole. Maybe a future expanded box-set release? As is, a brilliant release.