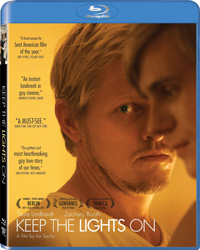 With his latest, director Ira Sachs provides further proof of his narrative proficiency while delving into the most personal aspects of his previous long term relationship which crumbled in the hands of indecision and drug addiction. A heartbreaking chronicle of a decade long love affair and a strikingly honest depiction of modern gay culture rarely seen in cinema, Keep the Lights On is what so many LGBT films of the past failed to achieve, candidly portraying the prevalent sexual casualty that often brings gay individuals together while sincerely rendering the challenges of a genuine romance with equal weight, all of which is lensed on the iconic streets of New York, outlined in the expressive, atavistic grain of Super 16.
Inhabiting Ira's role, actor Thure Lindhardt plays Erik, a blond and toothy 30-something Danish documentarian in search of sex, love and professional fulfillment in the big city. Our first introduction sees Erik perusing a phone sex line, sifting through whispered chatter for a late night meet up. This evening he meets Paul (played by a nuanced Zachary Booth), a to-this-point closeted lawyer, but it isn't long before he ditches the girlfriend in favor of his new found boy toy. While Erik continues work on his current film project, their romance blossoms with the giddy excitement and playful exposure that comes with a fresh love affair, passively accepting each other's faults until they begin to infringe upon their stability as a couple. Unfortunately for Erik, Paul's fatal flaw is a fondness for the numbing elation of crack cocaine. After an intervention staged by their loving network of family and friends, Paul begrudgingly agrees to attempt rehab, but it isn't long before he's gone missing, holed up in a hotel, headlong in a drug-addled binge. Though his closest companions can't comprehend it, Erik can't seem to let go, no matter the misery. It isn't until an ultimatum is put in place, forcing him to commit or cut off.
While Sachs frames a dynamic narrative of a fractured romance, he also takes pains to reflect on gay culture and his mundane or sometimes explicit experiences within it. The film Erik is working on happens to be a documentary about Avery Willard, one of the world's first homoerotically explicit filmmakers, interviewing subjects who actually worked on the fringes along with Willard back in the day (much of this footage ends up in the documentary short In Search of Avery Willard, which is included on the Blu-ray). The director himself pays tribute to Willard in a way, boldly portraying several acts of uncensored homosexual acts throughout the film, though without the visual eroticism and visual experimentalism that overwhelms Willard's work, preferring to instead present them as unadorned acts of passion between lovers. Sachs also makes use of a little known gay composer and cellist named Arthur Russell, employing his pensive string orchestrations and mellow vocalizations to glide between crisis and catharsis with vacillating propensity. Russell passed away in the cruel grip of AIDS back in 1992, only a few years before Sachs found himself in the midst of an HIV scare. The moment of terror is actually portrayed with horrifying anxiety within the film, word-for-word, as Erik pleads with his doctor over a pay phone for his test results.
As the title alludes, Erik is in a perpetual state of waiting, hoping for life to take its own course of resolve, but often, one must make hard decisions for themselves. The picture is full of them, a film packed with backsliding regrets and lonely nights of longing, but it's balanced by fleeting moments of exuberant romance and tender adulation. By thoroughly exposing himself as an artist of narrative intimacy, Sachs has lensed an eloquent time capsule that fictionalizes an extended period of his own life while catching a culture continuously in transition. Keep the Lights On stands as a heart-wrenching arch, oozing with amiable authenticity in slices of life too often shied away from on screen.
Disc Review:
Music Box Films certainly has treated this festival jet-setter with justified endowment. The Blu-ray boasts a whole host of worthy bonus goodies along side its excellent AV presentation. Visually, the film, shot in grainy Super 16, holds plenty of grit, giving it a classic look while preserving a warm, innate color palette amongst the naturally lit locales, especially in the dank, neon radiance of the city streets. Given a Dolby Digital 5.1 audio track, dialogue comes across crystal clear, but the aural highlights come in flourishes of Russell's ruminating orchestrations that pipe around the edges of the soundscape. The disc itself comes packed in a standard Blu-ray case.
Audio Commentary with Director Ira Sachs
Divulging a wealth of knowledge about narrative origins, technical production notes, referential inspirations and a whole host of other informational tidbits, Sachs' commentary is a fascinating, highly conversational listen and a perfect companion piece to his latest work of art.
Making of 'Keep the Lights On'
Pieced together by Jean-Christophe Husson, this behind the scenes featurette is slightly above average fare, with interviews with the director and lead actors, as well as on set footage. 10 min
Deleted Scenes
Collected here are five brief scenes either cut from the film completely or extended sequences paired down, including Paul's admittance of dumping his girlfriend, two illicit BJs, and the sudden death of Erik's ex, all of which are have matching commentary by Sachs. 6 min
Teaser Trailer
A fractured montage of intensely visual moments from the film paired with the reoccurring musical theme by Russell. Tone, tone, tone. That's all you need, and that's all you get. 1 min
In Search of Avery Willard (directed by Cary Kehayan)
Started before Keep the Lights On as a sort of research project in anticipation for the feature, Sachs acted as executive producer on this short doc about the enigmatic gay filmmaking provocateur. Some of the working footage appears in the feature, but this is the entire end result, a brief portrait of the director, featuring candid interviews, lovingly portrayed film clips and plenty of personal artifacts not previously seen before. 24 min
Cast Audition Tapes
Speaking directly into a low quality digital camera for almost 9 minutes, Thure Lindhardt reads a bit of the intervention and then tells a story of visiting a porno theater as a child. Zachary Booth's audition runs only 3 minutes and features a preworked version of the final breakup scene.
Final Thoughts:
When I first caught this film in a press screening at Sundance last year, I was originally put off by its discordant leads and brazenly honest portrayal of the sometimes flighty sexual culture found within. Maybe it was the lack of sleep or the half frozen wet feet I endured thanks to leaky winter boots, but this time around, with a fresh perspective, I found a wealth of personal cinematic greatness to be found, from the subtly refined characterizations by Lindhardt and Booth, to the elegantly authentic cinematography of Thimios Bakatakis, and finally the previously unheard musical tenderness of Arthur Russell, who's compositions really bring together an organic tonality to the film. Together, it all feels quietly impacting, moving us through the public emotional purging of a past worth pursuing, for our sake.