Disc Reviews
Criterion Collection: The Bridge | Blu-ray Review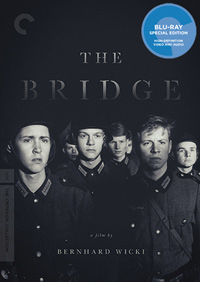 Criterion releases actor turned director Bernhard Wicki's feature film debut The Bridge for the very first time on Region 1. Though he directed a mid-length film the year before, Why Are They Against Us?, it would be his next project, arriving in 1959, that would come to be known as the first anti-war film to come out of Germany, as well as the nation's first post-war film to reach international recognition and critical acclaim. It would go on to win the Golden Globe for Best Foreign Language Film in the US, and it secured an Academy Award Nomination in the same category (losing out to Marcel Camus' Black Orpheus).
The title paved the way for a short-lived English language career for Wicki, but more importantly, stood as the platform upon which the burgeoning New German Cinema auteurs would proliferate, precipitating Volker Schlondorff's own 1966 debut, Young Torless, a much darker tale concerning pre-war teenage boys at a boarding school.
A group of seven teenage boys, all more or less friends in a small town in Germany, are too wrapped up in their own lives to pay any real heed to the war currently tearing the country apart. Each involved in their own minor dramas, involving familial dynamics and explorations of first attractions to the opposite sex, all are more or less excited when they're drafted. Karl (Karl Michael Balzer) has a crush on his hairstylist father's comely assistant, so much so that he's overcome with anguish when he discovers them in an intimate scenario. He swears off girls as sluts, angering Klaus (Volker Lechtenbrink), who is beginning to discover a mutual attraction to classmate Franziska (Cordula Trantow). Jurgen (Frank Glaubrecht) is eager to follow in his father's footsteps, a soldier who has died in battle, while Walter (Michael Hinz) harbors deep resentment for his own father, the head of the local chapter of the Nazi party, and a coward who concocts a plan to save his own skin but not that of his son's. As they joyously rush off to battle, the poorly trained boys are told to guard a bridge about to be demolished, setting off a conflict ending tragically.
Filmed in striking black and white, it's a successfully sympathetic narrative concerning a group of teenage boys drafted into a useless battle at the tail end of WWII. It's important to note the successful reception of a German film with such a subject matter during this period, something perhaps only possible as seen through the eyes of clueless children. Since then, we've seen countless films from other perspectives during the same period, though Wicki's purpose isn't to deflect blame, but merely depict the far reaching ruin of the onslaught.
Juxtaposed with their carefree daily lives, their crossover into the madness of war takes mere moments, and the intensely realized final portion reveals the dead fruits of senseless indoctrination.
The film was adapted from Manfred Gregor's novel (who also wrote the novel which the 1961 Kirk Douglas starrer Town Without Pity was based), a pseudonym for journalist Gregor Dorfmeister, and based on an actual event as recounted by a surviving veteran. Ending abruptly and succinctly with the effective statement "This event occurred on April 27, 1945. It was so unimportant that it was never mentioned in any war communique," Wicki's The Bridge, which pans to reveal the eponymous object of admitted unimportance, takes on a devastating pallor, reflecting a lost country willing to exterminate its own future in order to continue protecting its present, vicious errors.
Disc Review:
Gerd von Bonin's beautiful cinematography is quite striking in this 2K digital restoration, glancing across the wide open faces of laughing young men rendered suddenly identity-less with a bird's eye shot of them lined up in helmets. Presented in its original aspect ratio 1.37:1, the picture is impressively clear, and certainly the most masterful example of any of Wicki's titles currently available (of which there are not many). A careful selection of appealing extra features are of standout quality.
Gregor Dorfmeister Interview:
An interview with Dorfemeister, who wrote the novel upon which the film is based in 1958, discusses the autobiographical nature of the narrative, as well as the film's enduring legacy. At the time it was written, this was the 29 year old author's first novel, and Dorfmeister goes into depth on his own memories influencing the novel.
Volker Schlondorff Interview:
An interview conducted by Criterion in March 2015 finds Volker Schlondorff weighing in on his personal admiration for Wicki, as well as his influence on the movement of cinema eventually to be coined the New German Cinema. The brief piece, about ten minutes in length, finds Schlondorff reminiscing on his initial reluctance to watch The Bridge due to the domestic influx of German films being made about the war.
1989 Wicki Interview:
In an excerpt from a 1989 episode of the German television show "Sunday Talk," Wicki discusses making The Bridge. It's a brief segment of nearly fifteen minutes, and the director recounts how his own personal war time experiences also influenced the making of the film.
Against the Grain – The Film Legend of Bernhard Wicki:
An excerpt from a 2007 documentary on Wicki by his widow, Elisabeth Wicki-Endriss, covers this title specifically and includes behind-the-scenes footage. The short sequence features Wicki speaking of his wish to work against the grain of contemporary German cinema of the period.
Final Thoughts:
Bernhard Wicki is perhaps best known for his English language 1965 war film, Morituri, starring Marlon Brando and Yul Brynner, initially a box office flop upon release, as well as directing the German language sequences in 1962's The Longest Day and an obscure but underappreciated Ingrid Bergman film, The Visit (1964). This resurrection of his pristine directorial debut exemplifies what Criterion does best, refurbishing notable, unfortunately forgotten titles of note.
Film: ★★★★/☆☆☆☆☆
Disc: ★★★★/☆☆☆☆☆