Disc Reviews
Criterion Collection: A Master Builder | Blu-ray Review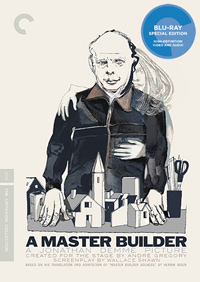 The third experimental cinematic endeavor from the writing/acting duo of Andre Gregory and Wallace Shawn, A Master Builder, at last reaches a notable platform of consumption with its inclusion in the Criterion collection. Their previous collaborations, My Dinner with Andre (1981) and Vanya on 42nd Street (1992), both directed by French auteur Louis Malle, have reached a sort of mythical status in the realm of art-house cinema. And so the rather hushed theatrical reception of this latest endeavor, another long-gestating exercise, this time re-working a late period play from Ibsen while Jonathan Demme usurps the directorial seat, perhaps has more to do with the fluctuating cinematic landscape. Existing, tonally, somewhere in-between the previous two ventures, this generally claustrophobic rendering doesn't contain the same sense of innovative, inspiring energy, oscillating between moments of flaccid, rehearsed dialogue and moments of overwhelming emotional hysteria. As a filmed version of this experimental theater exercise, it's a problematic venture. But as an intriguing modernization of Ibsen, it's a unique and fascinating rendering.
A tyrannical architect, Halvard Solness (Wallace Shawn), is on his deathbed. He's visited by Knut Brovik (Andre Gregory), once Halvard's main competition since turned employee. Brovik is also dying, and has one last request, that Solness bless his son Ragnar's (Jeff Biehl) blueprints for an upcoming project. Doing so would acknowledge Ragnar's talent, something Solness has no interest in doing. We learn that the manipulative builder has in fact feigned passion for Ragnar's fiancé, Kaia Emily Cass McDonell), only to keep her chained to his side, and therefore limit Ragnar's professional capabilities. Kaia's presence hasn't been welcome to Solness' wife, Aline (Julie Hagerty), who has long since given up caring for the petty man. But Harvard drifts off into the memory of another young woman, recounting a surprise visit from, Hilde (Lisa Joyce), who met the builder ten years prior when she was a young girl. Their interaction led her to seek Solness out when he didn't make good on his promise to return to her in ten years and give her the castle in the sky he'd mentioned.
Initially, the film premiered at the 2013 Rome Film Festival, titled Fear of Falling. It has since been retitled A Master Builder, and as the insert essay from Michael Sragow suggests, the significant replacement of articles in the title (Ibsen's play is known as 'The' Master Builder) says volumes about Gregory and Shawn's adaptation. Certainly, they are the authorial voices of this project, with Demme, as did Malle before him, taking credit for the technical cinematic interpretation. Unfortunately, Demme, despite some lovely sun soaked shots from DoP Declan Quinn, doesn't supply much by way of artifice. A nagging dependence on extreme close-ups tends to downplay the play's dramatic effect, and it's as if we cannot escape from these omnipotent faces, often careening across a spectrum of emotional plateaus.
The warm but noticeably mixed critical response certainly did not help the release strategy, playing a handful of other festivals before and after a limited theatrical release in just New York. Ibsen aficionados may be a bit nitpicky about Shawn's translation (though he did consult with a Scandinavian Literature scholar), but the film's more pressing issues have to do with casting and some overwrought performances.
Shawn, as well versed as ever, isn't quite believable when it comes to the sexual tension necessary, particularly between the younger female characters. This issue wasn't present in the fluidity of the Vanya production. Sure, Gregory and Demme 'open' up the play into a sort of meaningful flashback from the perspective of a selfish, vain architect on his last leg, but the film's experimental quality is relegated to the fact this project was really ten years of rehearsal, at long last resulting in this filmed example.
If Shawn is problematic, this distinction is reserved more so for newcomer Lisa Joyce, who arrives like a mysterious phantom, an alienating presence mostly because her emotional register feels exactly that, like an alien stuffing itself into a hyperventilation of forced registers. Many have praised Joyce, whose lilt is sometimes reminiscent of a young Julianne Moore (perhaps due to the inevitable Vanya comparisons). More often, though, fits of theatrical, mirthful laughter tend to mar the film's energy. Of course, this is filmed theater, but all the same, she overpowers the subtleties of Ibsen's play, something not even the specter of pedophilia can even dial down.
Supporting characters played by Gregory, on hand for an opening sequence playing like a bitter extension of their Andre exchanges, Larry Pine as an amused physician, and Julie Hagerty as the grieving, bitter wife, are generally welcome on screen. But they are juxtaposed awkwardly with the lesser known, younger cast members, particularly Emma Cass McDonnell as the woebegone secretary, stuck between the glory of her employer and the wishes of her husband, Halvard's inevitable occupational successor.
Disc Review:
A high-definition digital master, supervised by DoP Declan Quinn is presented in original aspect ratios 1.78:1 and 2.35:1. Despite an overabundance of close-ups, the interiors are handsomely captured, with light playing an integral part in several instances. Criterion includes several recent special features.
The Ibsen Project:
An illuminating conversation between Demme, Gregory and Shawn, moderated by film critic David Edelstein in March of 2015, runs about half an hour and entails the origination and filming of A Master Builder.
Hilde and Aline:
In February, 2015, Julie Hagerty and Lisa Joyce sat down with Criterion to discuss their roles. The feature runs about half hour and finds the actors discussing together their experiences together.
Over Time: A conversation between Shawn, Gregory and writer Fran Leibowitz from March, 2015, finds the three discussing the duo discussing their collaboration with the esteemed author. The warm conversation runs nearly an hour.
Final Thoughts:
Ibsen's philosophical nightmare, written during his later years when other Scandinavian playwrights were beginning to leech away his limelight (Strindberg, for instance), reads very much like a portrait of his own doubts and fears. Less dramatic than some of his earlier, more famous social issue plays, the notion of being haunted by one's own misdeeds, one's 'ghosts,' factors heavily here, in ways certainly earning this chamber piece at least superficially, a rightful comparison to something like Ingmar Bergman's masterpiece, Cries Whispers (1972). Though not as celebrated as the previous efforts of Shawn and Gregory, it's a notable title, at last made worthy of reconsideration following its paltry release.
Film: ★★★/☆☆☆☆☆
Disc: ★★★½/☆☆☆☆☆