Disc Reviews
Criterion Collection: The Exterminating Angel | Blu-ray Review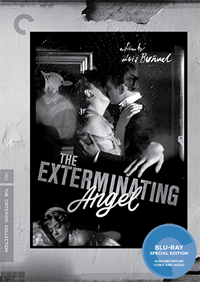 It might be difficult to fathom in contemporary cultural climates (although with varying degrees of ideological permissiveness) just how incendiary a cinematic figure Spanish auteur Luis Bunuel was in the 1960s. Following his role in ushering surrealism into cinema with his 1929 short film (co-directed by Salvador Dali) Un Chien Andalou and its 1930 follow-up L'age d'Or, Bunuel relocated to Mexico, where he melded his particular motifs into a handful of low-budget endeavors, including some notable adaptations of literary classics like Wuthering Heights (1953) and Robinson Crusoe (1954). But it would be 1961's Viridiana, a searing indictment on religious hypocrisy, which would set the tone for his future efforts and secure his reputation as one of the most distinctive auteurs cinema has ever known. Nabbing the Palme d'Or in 1961, the furor surrounding Viridiana actually inhibited Bunuel's return to Spain, where the film was banned for seventeen years. Because of this, he would return to filmmaking in Mexico, resulting in another exquisitely wicked satire of the upper class with the iconic The Exterminating Angel, which may be less lurid than the film it follows but is no less emboldened by social commentary.
On the eve of a dinner party, a cook and several servants inexplicably take leave of their posts at a high-society manor. They aren't quite sure why they want to leave but know they must. With only one servant remaining, the hosts scramble to welcome a variety of high-society guests from the upper-most echelon of society. As dinner commences and they retire to the drawing room, however, the guests soon find themselves unable to leave. They aren't sure why, but realize they cannot escape. As days pass, their inhibitions are lowered and egos take over, while those on the outside are unable to help and fear these bourgeois partygoers will eventually perish.
The Exterminating Angel is one of several films where Bunuel is fascinated with society as a cruel façade, an uneasy intersection between human nature and the social customs used as a smokescreen to condone injustice and indignity. Here, Bunuel, writing from his own screenplay, skewers the ruling class of Franco's Spain (his only regret of the film is not having been able to make it in Europe) as richly as the moral, naive majority in Viridiana (in Bunuel's next feature, a French language adaptation of Octave Mirabeau's The Diary of a Chambermaid, the director favors the perspective of the cynical and disenfranchised working class). The film is almost entirely set within the confines of the drawing room in an immaculate home located in a town called Providence and Bunuel creates a tone where drastic shifts are so insidiously normalized the film can easily be read as a horror film pointing out the fragility of the thin veneer of civilization guiding human interaction.
Not surprisingly, none of these characters are sympathetic, not even a returning Silvia Pinal, Viridiana herself appearing as Leticia, whose nickname is "the Valkyrie." As the staff steals off into the night, save the presence of a lone butler, the guests barely notice, so unable are they to keep from sharing their contempt for one another. The first half of the film is a rolling bitch fest, until people start to overlook their own testiness. Then, when the butler suddenly can't help himself by politely challenging an order, he collapses in a sweaty heap, physically unable to meet the simplistic demands placed upon him. Dr. Conde (Augusto Benedico), a variant of reason, takes note. But then it's back to self-consumption, even as they realize they cannot physically leave the drawing room. Colluding in their own juices, they begin to snarl and aggravate one another even as they continue to make observations about those less fortunate than themselves. One woman plaintively rationalizes "I think the lower classes are less sensitive to pain," before offering as an example how a wounded bull stands resolute even after being lacerated.
And so, according to the film's cynicism, class is merely an imaginary but necessary construct humans have devised as a way to remain complacent—without others (or animals) to abuse, they'll simply begin to attack and dominate their neighbors, and thus, class structure is the real conditioned opiate of the masses. And it isn't long before murder is on their lips, including assassinating their host (if the spider dies, the web unravels, they decide, which is reminiscent to a visual motif in his version of Wuthering Heights) or the reasonable doctor. Actual animals (another of Bunuel's themes) once on hand for expendable jokes for the guests, become predators and prey, a bear and some sheep respectively (who are treated not unlike those poor geese in The Diary of a Chambermaid).
In many ways, The Exterminating Angel plays similarly to Bunuel's last films in France, particularly 1972's The Discreet Charm of the Bourgeoisie in which a group of upper middle class folks try in vain to sit down for a meal but are continually thwarted. But a more playful comparison is Pedro Almodovar's I'm So Excited, a 2013 endeavor considered by many to be one of the Spanish auteur's slighter efforts, wherein the economy class aboard a potentially doomed flight are drugged and the first class passengers and cock-pit crew are eventually coerced into mounting acts of hedonism before the plane lands. The message, however zany, is similar to Bunuel's expression of humans who feel they're backed hopelessly and inexplicably into a corner—violent, aggressive, and engaged in sometimes shocking acts of self-preservation which are not neutered by belonging to a civilized society but merely dormant.
Disc Review:
Criterion originally included The Exterminating Angel in its collection in 2008, presenting this newly restored high-definition digital transfer for the first time on Blu-ray. Much like the DVD edition, visual and sound quality (an uncompressed monaural soundtrack) is pristine, in 1.33:1. Many of the other Bunuel titles once belonging to the Criterion collection are no longer in print (at least under this label) and so this is a welcome new edition of the classic title. At the same time, the bonus features, including an insert essay from film scholar Marsha Kinder, are exactly the same on this new format.
The Last Script – Remembering Luis Bunuel:
Gaizka Urresti and Javier Espada made this ninety-seven minute 2008 documentary which features screenwriter Jean-Claude Carriere and Juan Luis Bunuel as they revisit countries in which Luis Bunuel worked.
Silvia Pinal:
Pinal's husband Gustavo Alatriste produced all three of the films by Bunuel in which she appeared (Viridiana; The Exterminating Angel; Simon of the Desert). This ten minute interview was recorded in Mexico City in January 2006 and she discusses her memories of working with Bunuel.
Arturo Ripstein:
Ripstein, one of Mexico's most notable directors, recalls his memories of Bunuel in this fifteen minute 2006 interview. The son of a film producer, Ripstein had access to the set of The Exterminating Angel and credits the films of Bunuel as influencing his own career as a director.
Final Thoughts:
An important masterpiece amongst a filmography littered with them, The Exterminating Angel is effectively administrated social satire—scathing and lethally subversive.
Film Review: ★★★★/☆☆☆☆☆
Disc Review: ★★★★/☆☆☆☆☆