Disc Reviews
Criterion Collection: The Hero (1966) | Blu-ray Review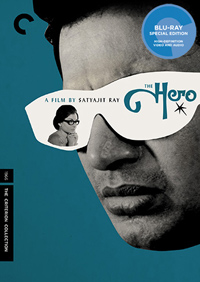 Although the title may put contemporary audiences in mind of Brett Haley's 2017 Sam Elliott homage (which, coincidentally, shares many similar themes and motifs), Satyajit Ray's 1966 The Hero happens to be one of his most well-regarded and often over-looked features. Perhaps the most revered auteur (at least regarding international acclaim) to come out of India, Ray is most well-known for his Apu Trilogy, which originated with his iconic debut, 1955's Pather Panchali. From there, Ray went on to snag a Golden Lion out of Venice for second chapter Aparajito (1956), and a gaggle of awards out of Berlin, including Best Director (Mahanagar, 1964; Charulata, 1965) and the Golden Bear for 1973's Distant Thunder. By 1966, Ray was over a decade into his celebrated career, and so he crafted something which was a critique of the culture and industry he was so prominently a part of, as fashioned around the famed persona of Bengali film star Uttam Kumar. Both a time capsule of nostalgia and a retroactive indictment on the mutated perversions of expected celebrity/infamy as concerns contemporary zeitgeist heavyweights, Ray accomplishes a quiet, introspective road trip around a meaningful conversation on an otherwise innocuous journey to New Delhi.
Matinee idol Arindam Mukherjee (Kumar) boards a night train on the way to scoop up an award for his celebrated career. At the same time, he's contemplating the reality of his own diminishment as his latest film crashes and burns at the box office. Fleeing the curious eyes of the other train passengers, he accepts the proposal to be interviewed by a journalist (Sharmila Tagore), who is compelled to pursue the actor as a subject even though she doesn't seem too enamored with him. As the train chugs along, Mukherjee's nerves lead him to some surprising moments of sincerity, which enrichens their conversations and deepens the bond between actor and journalist in surprising ways.
While much has changed according to how the masses consume celebrity, namely how enigmatic, mysterious personalities were once granted the assumption of being larger than life are now expected to be exist as such on every conceivable platform, no matter the cost (or the truth), there's a universality to The Hero which hasn't changed. The specter of failure looms large as Arindam makes his way toward the collection of an award while licking his wounded pride thanks to the box office failure of his latest film, which seems to be the last nail in his matinee idol coffin. He finds salvation, of all places, from a somewhat cynical journalist, played by the beautiful Sharmila Tagore (of Ray's last Apu film, 1959's The World of Apu). Hiding behind glasses, which seems to be the token ear marker of her trade, her perseverant Aditi gets what would translate to the scoop of a lifetime thanks to her subject's emotional nadir, laying bare his vulnerability and considerable ennui as he drinks himself into a stupor. What she does upon their parting is a moment of quiet humanism, and one of several choice moments which reflect Ray's sentiments beneath a veneer which plays, by default, more superficially than some of his triumphant favorites, or his studied society dramas, which often feature stellar central women characters (such as preceding titles like The Big City, or Charulata). But the film belongs to the troubled actor played by Kumar, riffing on his own particular famed persona (he'd return to headline Ray's genre film The Zoo shortly after in 1967, the same year he would be the first recipient of India's own established film awards ceremony), who shares a number of anecdotes from a career predicated on his selfishness.
Often, the film's most vibrant moments come from these flashbacks (as well as a pronounced dream sequence where he professes to be drowning in mountains of cash), including how he wronged his friend (Prengmanshu Bose), a desperate wannabe starlet (Sumita Sanyal), and took vengeance on a bitter silent era actor (Bireswar Sen) who shamed him publicly. Various subplots of other passengers on the train, including an advertiser who pushes his wife (Susmita Mukherjee) into Arindam's orbit in hopes of getting his attention, takes a back seat to the psychological unraveling of an actor tired of his own hard-won façade. Ray took home a Special Recognition award out of the Berlin Film Festival (Polanski's Cul-de-Sac took home top honors).
Disc Review:
Satyajit Ray has long been a prominent fixture in the annals of Criterion, including a laudable Eclipse series box-set of his later films (including The Home and the World, An Enemy of the People, and The Stranger), a formidable presentation of his Apu Trilogy, and earlier release of The Big City, Charulata, and The Music Room. Criterion adds The Hero to their ranks as a newly restored 2K digital transfer presented in 1.33:1 with uncompressed monaural soundtrack. Picture and sound quality are astutely rendered in this new transfer, which includes several bonus features.
Sharmila Tagore:
Producer Nasreen Munni recorded this 2008 interview with Sharmila Tagore, who speaks specifically of her experiences on The Hero, in what has been edited into an eleven-minute segment by Criterion for this release.
Meheli Sen:
Associate professor of cinema studies at Rutgers University Meheli Sen discusses observations on Satyajit Ray's The Hero, specifically the style, setting, and peripheral characters in this twenty-five-minute interview.
Final Thoughts:
A thoughtful, meditative portrait concerned with the price of fame, The Hero is another generously performed think piece from one of Ray's most prolific periods.
Film Review: ★★★½/☆☆☆☆☆
Disc Review: ★★★★/☆☆☆☆☆