Disc Reviews
Criterion Collection: Tom Jones | Blu-ray Review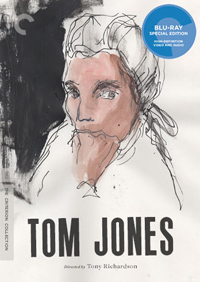 It's difficult to imagine how an adaptation of Henry Fielding's celebrated eight-hundred page-plus 1749 novel The History of Tom Jones, A Foundling would be mounted today. British director Tony Richardson famously re-worked the classic English novel in a bawdy, fourth-wall breaking bildungsroman which won Albert Finney the Best Actor Volpi Cup out of Venice and cleaned up at the Academy Awards, winning four, including Best Picture, Director, and Screenplay for John Osborne.
Richardson's product, though hardly beloved in all circles (in The Village Voice, Andrew Sarris was so taken aback one would think this was tantamount to sacrilege, complaining "the Osborne-Richardson perversion of Fielding goes beyond mere compression"), is perhaps more easily compared to something like Kubrick's famed adaptation of William Makepeace Thackeray's Barry Lyndon (a text written a century after Fielding), which is as perilously austere and supercilious as Richardson's is lewd and naughty. Instead, its prized themes of property, inheritance, and birthright make this more of the masculine version of the same suppressions as Jane Austen's beloved heroines. By today's standards, the technical choices, including a bemused omniscient narrator and a skewering of the rigid cultural norms, hardly seem as novel as they may have in 1963, while certain flourishes have gone on to become rote and cliché.
Identity as defined by social standing is at the heart of Tom Jones, which briefly relates the story of his birth, whereby a baby boy is abandoned at the property of Squire Allworthy (George Devine). A maid, Jenny Jones (Joyce Redman) is accused of being the mother, to which she admits, though she will not name the father. Dismissing the maid, Allworthy raises the baby alongside his own son, who grows into the mischievous flirt Tom (Finney). Much to his brother Blifil's (David Warner) chagrin, Tom seems to steal the attention of all, including the heart of Sophie Western (Susannah York), daughter of the greedy Squire Western (Hugh Griffith), who refuses to give her hand in marriage to Tom since he's a bastard and unable to inherit Allworthy's estate. Meanwhile, Tom gets into considerable trouble with peasant woman Molly Seagram (Diane Cilento), whom he has been meeting in the woods for sexual pleasures and has named Tom as the father of her unborn child (a situation which is comically remedied). Eventually, Allworthy is forced to banish Tom from the estate as punishment for his wicked ways, but the scurrilous troublemaker hasn't seemed to learn his lesson, falling in with more deviants, which allows Blifil the opportunity to have his adopted brother framed for robbery. However, Sophie's determined search to find Tom, along with some other revealed secrets along the way, turn the tables of Tom's fortune.
In essence, Tom Jones is a series of vignettes about a loveable playboy whose awkward social status allows for his irresponsible and scandalous behavior. Richardson punches this up with non-stop irreverence, presenting intertitles and quick edits to convey the nostalgic capriciousness of the period. The sixth feature of Richardson, who was a key figure in the British New Wave, inventing the 'angry young man cinema' which was popularized with the Richard Burton character from his 1959 debut Look Back in Anger, this marks a deliberate change of pace for the director, who'd received his best notices in social issue melodramas such as A Taste of Honey (1961) and The Loneliness of the Long Distance Runner.
Needless to say, Tom Jones is an anomaly in Richardson's oeuvre. Several sequences stand out, including some masticating worthy of Marco Ferreri's Le Grand Bouffe, both with the repulsive eating habits of a Marty Feldman-ish Hugh Griffiths, and a lusty bingeing sequence shared by Finney and Joyce Redman, in dual roles as Mrs. Waters and Jenny Jones. Perhaps more prominent is Finney's seduction of Diane Cilento and Susannah York (which together feel a bit reminiscent of later mockery from Terry Gilliam with 1977's Jabberwocky). Cilento, of Robin Hardy's The Wicker Man, especially is sultry and vampiric (at the Oscars, Cilento would compete against Edith Evans and Joyce Redman for Best Supporting Actress, the only time three actors from the same film competed in this category, all of them losing).
While it's a formidable coterie of British talents from the early 60s (Richardson's then sister-in-law Lynn Redgrave makes an appearance, as well as David Tomlinson of Mary Poppins, and Julian Glover, who would later pop up in the Star Wars and Indiana Jones pantheons), the reverence for Tom Jones almost seems a fluke, in retrospect (both Finney and Richardson expressed displeasure with the end product). Still, as a notable Academy Award winner and a major box-office success from 1963, Tom Jones remains an iconic title from the British New Wave.
Disc Review:
Criterion presents Tom Jones in a new 4K restoration in this two-disc set which included the original theatrical release as well as the 1989 Director's Cut (which is seven minutes shorter). Director of photography Walter Lassally supervised the transfer, presented in 1.66:1 with uncompressed monaural and stereo soundtrack. Picture and sound quality are superb in both versions of the release, which includes plenty of notable extras.
Walter Lassally:
This twenty-four-minute segment features two interviews with DP Walter Lassally (1926-2017), who worked with Tony Richardson on a trio of films (A Taste of Honey; The Loneliness of the Long Distance Runner, and Tom Jones). Footage from a 2017 conversation between Lassally and critic Peter Cowie, as well as a 2004 interview finds the cinematographer discussing his collaborations and the culmination of Tom Jones.
The Influence of Tom Jones:
Criterion recorded this twenty-two-minute 2017 interview with film scholar Duncan Petrie, who discusses the production, cinematic style, and enormous financial success of Tom Jones and how it changed the landscape of British cinema.
Reediting Tom Jones:
Editor Robert Lambert discusses working with Tony Richardson on the 1989 director's cut of Tom Jones in this ten-minute 2017 interview recorded by Criterion.
Final Thoughts:
A formidable ensemble cast allows for Tom Jones to remain a picaresque time capsule of a flippant form and tone.
Film Review: ★★★½/☆☆☆☆☆
Disc Review: ★★★★½/☆☆☆☆☆