Disc Reviews
Criterion Collection: Two Days, One Night | Blu-ray Review: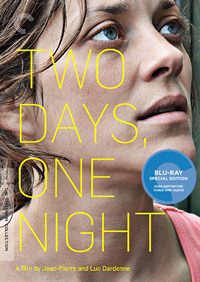 Premiering at the 2014 Cannes Film Festival where it went home empty handed from the Jane Campion headed jury, Belgian directing duo Jean-Pierre and Luc Dardenne continue their more recent trend of working with critically acclaimed French actresses, concocting one of their most emotionally potent titles to date, Two Days, One Night. Star Marion Cotillard would lose twice to American actress Julianne Moore in the international awards area, who trumped her at Cannes for Maps to the Stars and at the Academy Awards for Still Alice. Still, it's an increasingly intense boil of a performance, ranging from quiet desperation to an act of selfless defiance that will transcend the trappings of any such contemporary award recognition.
Married and a mother of two, Sandra (Cotillard) has recently returned to work after a period of sick leave following a bout of depression. In her absence, management at Solwal, a local solar panel company, has decided the staff of the remaining sixteen was able to complete the work sufficiently and has informed the remaining employees they will lose their 1,000 euro year-end bonuses if Sandra is to stay on. The staff votes and only two colleagues are in Sandra's favor. Sandra is devastated at this, but a tenacious co-worker (Catherine Salee) goads her into showing up at work to ask for secret vote since it seems a supervisor was overheard intimidating employees to vote in favor of the bonus. The vote is granted, and Sandra, with the help of her husband (Fabrizio Rongione) has the weekend to visit the remaining fourteen colleagues to ask them to vote in her favor instead on Monday.
Increasingly, the trend of central working class characters once assigned specifically in modern contexts to the Dardenne Bros. has populated a variety of French palettes, from Laurent Cantet to recent examples from Stephane Brize and Emmanuel Bercot. In many ways, Two Days, One Night, is one of their most narratively straightforward, with nearly every moment of film a forward thrust into a concretely mapped out plan careening towards a finale we only come to dread the closer it gets.
There is actually not one instance where Sandra is not wholly consumed with the issue at hand, to the extent of the film being representative of one aggressive formula. In the similar vein of extreme naturalism that has come to define their aesthetic, it is a glaring mirror of our contemporary climate of capitalism, wherein unionization has caved in to the ruthless tactics of self-serving managers and corporations prohibitively distracting the working class by setting them at one another's throats. It's hard not to draw queasy comparisons between Cotillard's Sandra and that iconic 1979 performance from Sally Field in Martin Ritt's Norma Rae as a world greatly regressed in terms of community and human empathy.
Despite the crushing inevitability haunting every single moment of narrative, the Dardennes' exact great prowess in defining Cotillard's outside of her galvanizing performance. Dressed in unassertive salmon or red tops, with hair tied back in a small pony-tail, we mostly focus on her large, haunted eyes, embarrassed and ashamed yet increasingly determined to prove she isn't a 'nobody,' no matter what the eventual vote of her colleagues. She's often framed in these face-to-face interactions against a façade, at mid-level. The color of her clothing often blends in with the washed out reds of these building, but little by little, she begins to stand out from these surroundings, and begins to take on the same physical outline as the other characters in relation to the background.
As her husband, Belgian actor and frequent Dardenne collaborator Fabrizio Rongione provides unwavering emotional support, but the most potent scenes are the fleeting moments of grace shared by sorrowful, kind-hearted colleagues, particularly a tearjerker thanks to the apologetic Timur (Timur Magomedgaszhiev). Other regulars pop up briefly in the finale, like Olivier Gourmet as the villainous supervisor and Morgan Marinne (both stars of The Son, 2002).
Disc Review:
Criterion presents the title with a new 2K digital master, supervised by DoP Alain Marcoen and approved by the Dardenne Bros. (it's their fourth title to be added to the collection). It's a near perfect transfer following the film's highly successful international theatrical release, and as per the usual Criterion treatment, features notable not-to-miss special features.
Jean-Pierre and Luc Dardenne:
Criterion conducted this near hour long interview with the Dardennes in April, 2015. They speak of their inspiration of a book by Pierre Bordieu, The Weight of the World, a series of sociological studies conducted in France.
Marion Cotillard anf Fabrizio Rongione:
Criterion also conducted this interview with the lead actors of the film in early 2015. Much shorter in lengths, at about twenty plus minutes, Cotillard confirms no changes were made in the script during filming.
On Location:
The Dardennes return to four shooting locations in April, 2015 and discuss their approach during the shoot. The feature is just over half and hour in length and they discuss certain locales in relation to the characters' pieces filmed there.
When Leon M.'s Boar When Down the Meuse for the First Time (1979):
This forty minute black and white documentary made by the brothers in 1979 pieces together a 1960 strike in Belgium. The piece uses archival footage to reconstruct the historical event from the perspective of the working class, including contemporary testimonials. We can see how their early documentary subjects inspired eventual narratives dealing with day-to-day experiences in naturalistic settings.
The Dardennes on Leon M.'s Boat:
This is a twenty minute segment from the April, 2015 Criterion conducted interview wherein the Dardennes specifically discuss the short documentary Leon M., it's relationship to later works and entry into filmmaking.
To Be an I:
Film critic Kent Jones provides a video essay on how the theme of hope pervades the work of the Dardennes. It is an eight minute segment and features Jones speaking over clips and quotes from the directors and their films.
Final Thoughts:
Another beautifully rendered portrait of troubled but hopeful humanity from Jean-Pierre and Luc Dardenne, Two Days, One Night may not have captured the awards glory granted early Palme D'or winning works like Rosetta (1999) or L'enfant (2005) but it is certainly one of their most moving titles.
Film Review: ★★★★/☆☆☆☆☆
Disc Review: ★★★★/☆☆☆☆☆