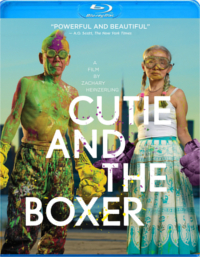 Zachary Heinzerling's debut documentary may not have packed the political punch that many of its Sundance competition did last year, but Cutie and the Boxer currently stands as an Oscar nominated feature, holding its own with a fervid story of enduring the anguish of living with love and art. While becoming friends and living with the eccentric, acclaimed action artist Ushio Shinohara and his talented and loyal wife, Noriko, Heinzerling discovered a very tragic love story within their dedication to the lifestyle of married artists. Despite reasonable notoriety within the art world and fame back in his homeland of Japan, Ushio has remained a struggling New York artist, dragging Noriko and their son through years of alcoholism and noncommercial production. Thanks to their playful sense of humor and a great appreciation for the unique lives they've led, the Shinoharas' tale is a hilarious and heart-wrenching journey of long lasting marriage and necessity for creative output.
Ushio and Noriko live in a modest apartment in NYC, but the majority of their time is spent in their cavernous art studio in which they've stowed away unsold work from over the years like imaginative squirrels awaiting the perfect day to draw them out. They've been there for decades, painting and constructing in parallel since they first met each other. Heinzerling finds them in their golden years, but they remain in youthful spirit, playfully insulting each other as a deep bedrock of love and respect lays under the surface. Ushio still strips down to boxing shorts and straps on goggles and gloves to punch out large scale paintings while Noriko stews in her own nook of the studio, carefully illustrating a highly personal tragi-comic based on her life with her sometimes unappreciative husband. She's been the key parent to their son, the reliable one, who's work remains largely unnoticed by the public because of her immense personal sacrifices for her family.
There is a disconnect between Ushio and Noriko's chosen mediums. Ushio acts within the physicality of his creativity, instinctively punching out pieces or hastily swathing sculptures, while Noriko on the other hand, uses her artwork to emote, resolutely laying out her life in a subtle, but funny palette of greys. While a representative from the Guggenheim visits to scope out a potential purchase for their permanent collection, Noriko's work is completely overlooked, and when a friendly gallery owner suggests having a show of Ushio's newest work, Noriko has to press him to consider showing her's as well. Not long after, for the first time in their lives, they found themselves preparing a joint exhibition, publicly in juxtaposition of not only each other's aesthetic preferences, but their fundamental artistic ideology.
The vast majority of our time with the Shinoharas takes place in the present, but Heinzerling employs sprinklings of archival footage of Ushio from his peak of notoriety, as well as intimate home video snippets that flesh out their history together. He pairs these with beautifully adapted animations of Noriko's Cutie series to give depth to their relationship, highlighting the many struggles they've endured. In these clips, Ushio's bout with alcohol is laid bare, and the challenges of parenting under such circumstances become increasingly evident. There is an underlying theme of generational transmission in both artistic ability (Ushio's parents were involved with art and his own son is a talented painter in his own right) and alcoholism (his son appears several times throughout the film, almost always intoxicated or well on his way), once again dabbling in darker subject matter than the overall film really feels.
Finding a perfect balance between the gravity of substance abuse, the comedy that propagates from the Shinoharas, and the love that binds them together, this debut docu-feature sets the bar high for non-fiction character studies early this year. With dazzling vérité images that captures the authenticity of this vivacious couple, Cutie and the Boxer has beaten a traditional telling of the tortured artist into a beautiful reconnaissance of what it means to be invested in relationships and how they can transform a person not only as a partner in life, but also in art. Keep a watchful eye on Zachary Heinzerling. He's one to watch.
Disc Review:
One of the first releases under the new Radius-TWC label, Anchor Bay's Blu-ray release is quite a pretty little thing. Supporting Heinzerling's stunning cinematography with a gorgeous transfer that holds true to the original crisp coloration and fine detail of the Shinohara's artworks and apartment, the disc also sports a 5.1 DTS-HD track. The standard case in which it comes is in thankful fronted by the film's humorous and colorful poster artwork.
Deleted Scenes
The sequences found within are mostly extended scenes rather than bits completely cut. We see more of Noriko dancing, more of the Ushio being seriously called out, awkwardly in front of the camera, more of Ushio molding his makeshift motorcycle sculpture and more dinner preparation, amidst others. 9 min

Shinohara: The Last Artist – by Rod McCall
This is a short documentary piece on Ushio and the New York art scene from the mid-70s. Some of McCall's film finds itself in Cutie, but the vast majority of it is a contextualizing gem. 23 min

Q&A at the Sundance Film Festival
I was lucky enough to attend the film's world premiere at Park City's Temple Theatre so I was half expecting to see myself standing in line, but this looks to have been a later screening. The Shinoharas are center stage, taking comedic jabs at each other for the entire length of the Q&A. Funny as it may be, Heinzerling barely gets a word in. 8 min
Action is Art: A Study of Ushio Shinohara's Boxing Painting
This short looks to have been pieced together out of the remains shot for the film's final credits. Ushio is seen in ultra slow motion, producing one of his famous boxing paintings on and through giant sheet of glass. Brief but beautiful. 3 min

Final Thoughts:
Last year proved to be full of startling new directorial discoveries in the documentary field, Zachary Heinzerling in the cream of the crop. His debut is a visually ravishing and incredibly intimate portrait that speaks on the significance of long term relationships, the meaning of art in relation to a career, and the impact of alcoholism on families with gravity and humor in equal measure. Let's hope this balanced and affectionate documentary is the first of many to come.
Film: ★★★★/☆☆☆☆☆
Disc: ★★★★/☆☆☆☆☆