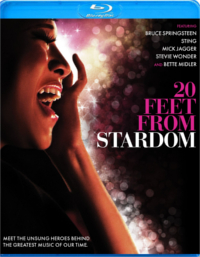 It's not surprising that one of the best musically inclined docs of 2013 was pieced together by director Morgan Neville, a filmmaker who over the years has cinematically profiled the likes of Muddy Waters, Hank Williams, Brian Wilson, Ray Charles and so many others. Neville's latest shows his vast knowledge of rock and roll mythology while highlighting his apt for storytelling economy, digging deep and moving nimbly between subjects yet rarely just glancing an anecdote. This time he's chosen to unearth those overlooked by history, those whose voices enriched so many classic recordings with layers of youthful soul, yet went unheralded as solo artists, those who will be remembered for living just 20 Feet From Stardom. With expeditious style and an ear for the best mix of relevant tunes, Neville nods to the all important back up singers.
You may not know them by name, but you certainly know their voices. Darlene Love sang alongside the likes of Elvis Presley, The Beach Boys, Sam Cooke, Sonny & Cher and more. Merry Clayton started her career backing Ray Charles, eventually recording with The Rolling Stones on "Gimme Shelter" and Lynyrd Skynyrd on "Sweet Home Alabama" just to name a few. Claudia Lennear worked as part of the Ikettes behind Tina Turner, as well as David Bowie and Joe Cocker. Táta Vega sang with Stevie Wonder, Michael Jackson, Patti LaBelle and so many more. Lisa Fischer won a Grammy for her solo work in 1992 after singing for years with Luther Vandross, but she's since found comfort once again in backing up others, namely The Rolling Stones, Sting and most recently, Nine Inch Nails. Each of these lovely ladies are legends in their own right, but Neville is smart to not just give them each a historical eulogy, he also gathers them together and gives them studio time along with a few current contemporaries in Judith Hill and Jo Lawry, allowing real time, decade spanning musical magic as both feature performance and introductory backdrop to each participant.
Contextualizing their historical significance, Neville brings in numerous musical luminaries who shower these singers with nothing but the most gracious of praise. Mick Jagger, Stevie Wonder, Bette Midler, Sting and Bruce Springsteen are just a few of those joining in the tributary chorus, each imparting their own experiences with back up singers while offering explanations as to why these women are not famous themselves. These musicians by luck or unyielding devotion managed to traverse the path from unknowns to superstars, while others despite their talents have not. Each of the featured back up singers has at one point or another attempted a solo career, yet have failed to cross over. It's a tragedy that continues to occur, as Hill and Lawry attest to. Their youthful woes are but a footnote in the film though, their backgrounds cut from the final feature to make room for more time with each of the women with classic lineage.
Neville's film occasionally feels a bit overstuffed, stretching to profile so many worthy entertainers. There is only so much screen time, so many songs to feature, so many faces to acquaint, so many voices to feature, yet he makes it work, layering interviews with archived performances, modern recordings with long overdue introductions, smoothly, stylishly. The resulting amalgamation is a truly lovable tribute to vocalists who deserve to be known, remembered and celebrated. Bathing us in the sweet sounds of radio classics and humbled personalities of neglected talent, 20 Feet From Stardom is both a charmer and a seductress, a film born to be a crowd pleaser, and like it's featured vocalists, artfully crafted to serve the music over individuals.
Disc Review:
Under their new Radius label, the Weinsteins have been dabbling in doc waters, picking up this film along with another Sundance title from last year, Cutie and the Boxer. The picture quality is crystal clear, colors natural, sharp as a tack, but this is a music doc first and foremost, and thankfully the 5.1 DTS-HD track is big, bold and alive. Each of these singers get their moment in the sun, beaming through the mains with warmth and vibrance that makes me wish there many more music records were released in an uncompressed format. It really sounds incredible.
Deleted Scenes
Unlike most out of context cutting room floor material, these extra tidbits are fully edited sequences that enrich the film's depth by providing insight into several of the younger singers that weren't fleshed out in the final cut, most of which features plenty of additional or extended musical tracks. 29 mins
The Buddy System
This looks to be a short pieced together with no context interviews with singers cut from the film. 9 min
Times Talks: Q&A with Darlene Love, Merry Clayton, Lisa Fischer & Director Morgan Neville
Put together by the New York Times, this is a live Q&A moderated by Jon Pareles, recorded post screening on June 11, 2013. We learn of the film's marijuana influenced origins, how each of the vocalists got into singing and how they met each other and so many other lovely historical tidbits that unveil secrets of recordings past. 29 min
Final Thoughts:
Originally, when I caught 20 Feet From Stardom at the local art house on its theatrical run, I was honestly kind of apathetic. It seemed a middle of the road crowd pleasing music doc on an uninvestigated subject that occasionally lost its focus and certainly wasn't worthy of its new Oscar nomination, but after a second viewing it seems to have grown on me immensely. I've found myself wholly involved, enthralled by these incredible singers and moved by their stories of unappreciated talent. This wonderful home release has made me a believer. Why not you too?
Film: ★★★½/☆☆☆☆☆
Disc: ★★★★/☆☆☆☆☆