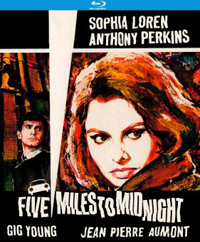 Decidedly weird but not altogether enthralling is the 1962 title Five Miles to Midnight, a melodramatic thriller with noir elements and one of the last films by the accomplished Anatole Litvak (who would only direct two more features after, including The Night of the Generals and the currently unavailable 1970 version of The Lady in the Car with Glasses and a Gun). Never officially released on DVD, it's an oddly paced film headlined by Sophia Loren and Anthony Perkins as a rather ill-conceived couple (although they'd previously starred as a romantically inclined pair in Delbert Mann's 1958 adaptation of the Eugene O'Neill play Desire Under the Elms), and was an international co-production between Italy and France. A troubled couple finds a way to get rich quick with an elaborate insurance scam, but the increasing delicacy of the situation aggravates their already unstable relationship. Strikingly photographed, the Parisian set potboiler utilizes a device used to greater effect in other films, but is offbeat enough to keep one hanging on to the end credits.
Tired of living in a tiny apartment with her jealous husband, Lisa Macklin (Loren) is ready to call it quits after Bob (Perkins) extracts her from a night of revelry and slaps her in the street. The ex-Air Force businessman is obsessed with his beautiful wife, who announces her plans to divorce him before sending him off on a flight to Casablanca. But when the plane crashes, Lisa assumes her troubles are over. Until Bob crawls back to the apartment, injured but surviving the crash relatively unscathed. But now, no one knows Bob survived and he urges Lisa to collect the $120,000 dollars in life insurance while he hides out in their flat. Since Bob agrees to leave once she gets the cash, Lisa obeys. However, the process is a lot slower and more complicated than either of them expect, and the presence of an American journalist (Gig Young) interested in Lisa heightens the tension. When she has the money, she makes a major decision on their way to the Belgian border, at a stop known as the five miles to midnight mark.
Using an event to either assume another or slough off one's identity is a vibrant noir subgenre, usually pertaining to the aftermath of WWII, with items like The House on Telegraph Hill, No Man of Her Own, and Return from the Ashes. In many ways, this dysfunctional scenario resembles Neil Labute's 2002 play, The Mercy Seat, detailing a man using the aftermath of 9/11 to run off with his mistress, but lacking in the sexual component motivating its central couple. Litvak's film, scripted by Pieter Vertel (Hitchcock's Saboteur) and British mystery writer Hugh Wheeler (Sweeney Todd), attempts to milk this scenario into a psychological drama, hinging on whether or not Loren's Lisa will go through with their criminal intentions or throw the monkey off her back for the lifeboat represented by Gig Young's snooping journalist (conveniently, another American in Paris). But Loren's poverty stricken Parisian is about as convincing as Audrey Hepburn's attempt at prostitution and Perkins is playing another in a long succession of smug psychopaths he had become typecast as following Psycho (1960).
We never really learn much about him beyond his strangeness, the creepy jealous type who admits "we are a rather odd couple" before joking to shoot any other man who might have an interest in her romantically, at the airport, no less. Lisa's desires, beyond wanting to be free from Robert's controlling jealousy, are never quite apparent, and the narrative bungles its finale with a lazy solution regarding her psychological dexterity. Compared to Litvak's previous film, 1960's Goodbye Again (which also featured Perkins), Five Miles to Midnight often feels like a complex relationship drama desiring to be equally regarded as a thriller.
Disc Review:
Kino Lorber releases the title for the first time on Blu-ray under its Studio Classics label, newly remastered in HD and presented in 1.66:1. The film is greatly enhanced by the moody frames of DP Henri Alekan, who worked on Cocteau's La Belle et la Bete (1946) and The Wings of Desire (1987). Post-war Paris, despite its swank night clubs and superficial party mongering, seems hardly removed from the paralyzing shadows of occupation, while the non-French leads instill the city with sense of bustling cosmopolitans. Picture and sound quality are great (revel in an intense close-up on a teary and frazzled Loren) in a transfer previously best viewed in the US on OOP VHS prints. A trailer gallery and solo extra feature are also available.
Alternate French Scene:
A near eight minute alternate French sequence is included (where Loren lays plans to be rid of Perkins after dropping him off at the airport). Subtitles are not included for her exchange with a supporting character played by Jean-Pierre Aumont.
Final Thoughts:
A curious early 60s drama manages to feel detached from an exact time and place, while fans of Loren or Perkins should definitely enjoy this film's offbeat demeanor.
Film Review: ★★★/☆☆☆☆☆
Disc Review: ★★★/☆☆☆☆☆