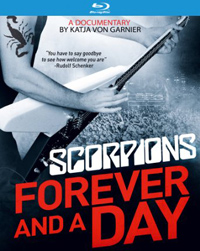 What may be most surprising about Katja von Garnier's music doc Forever and a Day, a contemporary portrait of iconic hard rock/heavy metal German band The Scorpions, is to note their five decades worth of musical presence. Formed by Rudolf Schenker in 1965, the band allowed Garnier to tag along as they embarked on what was meant to be their Final Sting tour, an eighteen month stretch of performances which were set to wrap up in Munich. However, based on the jubilant reaction as they performed, the band decided to then extend the tour. The result becomes a ruminative pondering on the nature of an artist's retirement and what happens when creative outlets are eventually restrained. In between playdates, Garnier completes a historical portrait of the band's ups and downs throughout the past fifty years.
As one of the band's managers remarks early on, "it's impossible for a rock star to age gracefully," and with several of the original members now well into their sixties, including Schenker and lead singer Klaus Meine, the remark isn't exactly unwarranted. And yet, for their steady amount of output throughout the decades, they've led a comparatively functional creative existence considering the industry, maintaining a significant global audience throughout the years. Garnier skips over Schenker's early years, since The Scorpions didn't become a notable force until he united with vocalist Klaus Meine in 1969, which led to their first album in 1972, Lonesome Crow. Garnier includes interview footage from some of the unsuccessful additions to the band, including Schenker's own brother Michael, who served as lead guitarist from 1969 to 1973 and again in 1978 to 1979. Besides Schenker and Meine, Garnier captures the other three current members, including guitarist Matthias Jabs (joining in 1978), and newer members such as drummer James Kottak (1996) and bassist Pawel Maciwoda (2004).
In their early years, Schenker describes the band as 'performing wherever there was a socket,' which explains their early international renown in areas where rock or heavy metal bands weren't likely to play. Their most significant international presence would be their trip to the Soviet Union, the second Western group to do so, which accounts for their considerable Russian fan base. Their 1990 single "Wind of Change" from their Crazy World album would become a timely anthem during the fall of the Berlin Wall, and the band played in the city days after the historical moment took place. However, this particular zenith led to a difficult transition going forward into the 90s, which is considered the band's most difficult period.
Due to their significant cultural relevance during the late 80s, Garnier nabs several notable personalities, including Wladimir Klitschko and Mikhail Gorbachev, which lends a particular relevance to Forever and a Day as more than a timely anniversary doc on a band best known in the US for their track "Rock You Like a Hurricane" (which Garnier saves sampling until the very end). It's an interesting entry on the German filmmaker's resume, who dabbled in English language titles in the 2000s, such as the HBO suffragette film Iron Jawed Angels (2004) headlined by Hilary Swank and Mercedes Ruehl, and the Agnes Bruckner werewolf flick Blood and Chocolate (2007). Returning to Germany for a pair of financially successful family films, Eastwind (2013) and Eastwind 2 (2015), her portrait of the beloved rock band feels like a lighthearted historical capsule.
Disc Review:
The Blu-ray disc release from Cleopatra Records and MVD entertainment group plays like a standard music doc tribute to a beloved band, and is perhaps better as an introductory approach to the heavy metal group thanks to the examination of the band's history. There's less concert footage from the final tour than one might expect, but the disc's audio sounds customarily appropriate. Beyond a trailer for the feature, the disc includes one extra feature.
Night Flight – June 1985:
A ten minute excerpt of a 1985 interview with Schenker and Meine talking about why they decided to put out a live album and the difficulties in deciding the types of tracks for such an endeavor.
Final Thoughts:
Fans of The Scorpions should appreciate this significant glance through their extensive catalogue and eventual change of mind during their successful farewell tour.
Film Review: ★★★/☆☆☆☆☆
Disc Review: ★★★½/☆☆☆☆☆