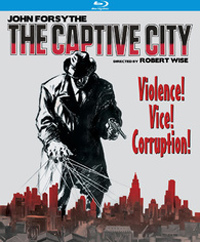 Two obscure Robert Wise titles reach Blu-ray release this month, both direct follow-ups to some of the auteur's more iconic works. First up is 1962's Two for the Seesaw, a romantic drama headlined by Robert Mitchum and Shirley MacLaine following the famed 1961 title West Side Story. But the decade prior would fine Wise unveiling one of his most stilted efforts, The Captive City (1952), a sort-of noir procedural which followed his sci-fi social commentary The Day the Earth Stood Still (1951). Providing John Forsythe with his first starring role (a performer who would find his most famous roles decades later on television, as Blake Carrington in "Dynasty," and of course, the famous voice in "Charlie's Angels"), it has to be one of the most unenthusiastic renderings of organized crime ever committed to celluloid. A scrappy journalist defies the mob ruled police force and a slick Mafia boss in a tired testimonial of justice made possible thanks to the crusading integrity of the media.
Jim Austin (Forsythe) is a tenacious editor at a small town newspaper whose world is turned upside down when a private detective informs him one of the town's pillars, Murray Sirak (Victor Sutherland) is using his insurance company as a front for illegal bookmaking. Austin seems skeptical, the rumors put to rest by a trusting conversation with the police chief (Ray Teal). Until the detective turns up murdered and Austin begins to suspect the police are also corrupt. As he starts to dig, the journalist finds himself alienated by the community, and soon he is forced to flee with his wife (Joan Camden).
Time Magazine reporter Alvin M. Joseph co-wrote the screenplay with Karl Kamb (best known as the scribe for Andre De Toth's noir light, Pitfall in 1944) and is based on his own experiences, aiming to capitalize on the U.S. Senate's Special Committee to Investigate Crime in Interstate Commerce from 1950 to 1951, named for its chairman Senator Estes Kefauver. The trouble isn't so much Forsythe, who appears grimly determined to combat wrongdoing in every frame, or even the grueling boredom inspired by the sometimes peculiar looking Joan Camden as his staunchly supportive wife. Terrorized by an unknown assailant earlier in the film, the couple stops off at a law enforcement facility in the neighboring town so Forsythe's reporter can make a record of his travails, and therefore conveniently narrate the events of his journey leading up to his flight. Character actor Victor Sutherland provides fleeting interest as the unassuming mob boss crusading against Forsythe by first ruining his reputation then threatening his life.
Though much of the omniscient narration is responsible for ruining any chance at maintaining any sort of mood, even DP Lee Garmes (who took an Oscar for von Sternberg's Shanghai Express in 1932 and was responsible for the enigmatic looks of titles like Portrait of Jennie and Nightmare Alley) seems disinterested, to the degree where Joan Camden takes on a sort of desperate energy as an accidental focal point. And it doesn't help The Captive City is staunchly dated and drained of efficacy by the appearance of Estes Kefauver himself, who speaks to the audience at the end of the film to assure of all the good accomplished by his investigative committee.
Disc Review:
Kino Lorber's transfer is presented in 1.33:1, and the picture quality is dependable. Neither as sweaty or foreboding as its noir dressing tends to promise, much of the action takes place during sanitized daylight hours, which doesn't help much as far as tone. Due to a lack of scripted action, much of the film seems unremarkable. Part of the Kino Lorber Classics collection, the title arrives without any extra features.
Final Thoughts:
Fans of a young John Forsythe prior to his more notable turns in a pair of Hitchcock titles (The Trouble With Harry; Topaz) might be interested. However, fans of Robert Wise, particularly those who prize his brooding, heavy films noirs such as Born to Kill (1947) or Odds Against Tomorrow (1959), may be let down considerably by the moral high ground subtext energizing The Captive City.
Film Review: ★★/☆☆☆☆☆
Disc Review: ★★★/☆☆☆☆☆