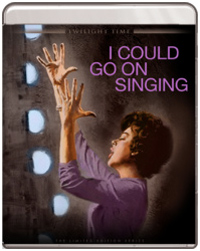 Ronald Neame's I Could Go On Singing has an un-calculated yet complementary finality to it since it would become the last cinematic venture for icon Judy Garland. Not unlike John Huston's The Misfits two years prior, which would be the last cradle of both Clark Gable and Marilyn Monroe, the closing moments swell with an unintentional yet palpable melancholy. In retrospect, the film is a rather fitting swan song for Garland, who gets to showcase her still vibrant voice even while the rest of her is in ill repair (shockingly, she was only forty-one at the time of the film's release), further enhanced by Arthur Ibbetson's Technicolor frames (especially compared to her presence in the black and white John Cassavetes film, A Child is Waiting, which premiered months earlier).
Famous American singer Jenny Bowman (Garland) is currently on a world tour, but uses her opportunity at headlining the London Palladium to reconnect with lost love David Donne (Dirk Bogarde). Following a strained reunion, we learn their love affair yielded a son, Matt (Gregory Phillips), but Jenny promised she would never see the child again after giving him up to pursue her career. But now that David's wife Janet has passed away, she wishes more than anything to meet her teenage son. David relents, and Matt is instantly enamored with Jenny, though he doesn't realize who she is. When David is called away unexpectedly to Italy on a business trip, Jenny uses the time to bond with Matt, much to David's dismay. When he returns, unresolved issues rise to the surface and Matt discovers the truth about her relationship to him.
The narrative of I Could Go on Singing is about as delicate as simple sugar, considering Garland is basically playing a more reserved version of herself, while her relationship with the estranged son played by Gregory Phillips has a sort of Auntie Mame queer subtext, mostly thanks to the particular iconicity of Garland (but Matt's behavioral choices, including his casting as a girl in a school play, also adds to this slant). Screenwriter Mayo Simon turns Robert Dozier's story into soapy melodrama, but Garland reputedly re-worked several sequences shared with Bogarde herself. There's a definite intensity and even chemistry between them, but they aren't allowed to transcend the tone of convenience and predictable resolve. Still, whenever it seems to lose a bit of steam, Garland interjects with a concert tune, a quartet of songs (including the title track) beautifully performed, even when Garland's costume designs are distractingly atrocious (something Edith Head has been oft criticized for). Compared to a similar Garland standard, Cukor's version of A Star is Born, this doesn't have the same sort of meatiness to the melodrama, but Garland is consistently poignant in what stands as one of her best dramatic performances.
Disc Review:
Twilight Time refurbishes the title in high definition 2:35.1 with 1.0 DTS-HD audio. Picture and sound quality are satisfying, though both Neame's passionless direction and Garland's ill-repair seem all the more evident in this superior transfer. Audio commentary with producer Lawrence Turman and film historians Lem Dobbs and Nick Redman is available, as well as an audio commentary track featuring film historians David Del Valle and Steven Peros. As usual per the label's releases, the isolated score track is available as an extra feature and the release is a limited edition of 3,000 units.
Final Thoughts:
A significant rendering for Judy Garland fans, I Could Go On Singing is deserving of wider renown than merely the last star vehicle of a legendary performer.
Film: ★★★/☆☆☆☆☆
Disc: ★★★½/☆☆☆☆☆