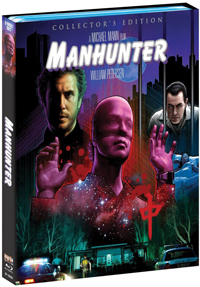 As far as serial killer iconicity goes, Thomas Harris' fictional villain Hannibal Lecter has permeated the pop zeitgeist more than his most famous real-life counterparts thanks to his more-or-less perennial renewal in cinema (and now, television with Mads Mikkelsen's celebrated "Hannibal"). But before Anthony Hopkins chuffled up his fava beans in Jonathan Demme's Best Picture winner The Silence of the Lambs in 1991, Michael Mann was the first to tackle the genius cannibal with Manhunter in 1986, a stylish, visually exalted adaptation of the novel Red Dragon (producer Dino De Laurentis insisted on a title change following the dismal box office of Michael Cimino's The Year of the Dragon). Character actor Brian Cox makes a fine impression as Lecktor (the only incarnation of the character with this spelling), an insidious shadow haunting FBI profiler William Petersen's troubled subconscious.
The set-up here is a familiar one, with Lecktor utilized as a device providing the lead protagonist access to a darker, psychologically complex side of their nature, while an investigator pursues a malevolent serial killer currently on the loose. FBI profiler Will Graham (William Petersen, fresh off his other famous characterization in William Friedkin's To Live and Die in L.A.) is courted by his boss (Dennis Farina) to return to work shortly after he tracked down Hannibal Lecktor (Brian Cox), a serial killer who nearly killed him. Reluctant, but understanding he's the best person for the job, Graham begins to look for the notorious Tooth Fairy (Tom Noonan). But he begins having difficulty differentiating where his training to understand serial killers such as Lecktor begins to meld with his own psyche.
Strangely, Dante Spinotti (making his first of several collaborations with Mann here) would also lens the 2002 Brett Ratner remake of Red Dragon, a glossy yet inferior version by comparison (though it hasn't aged as roughly as Ridley Scott's 2001 sequel, Hannibal). Mann's "Miami Vice" frame of mind is evident in the attitudes and compositions, but there's a distinctive visual design on display at all times, its characters color coded in every frame, beginning with a stunning close up of Kim Greist in the steel blue pallor of night in an early love-making sequence. Noonan's sequences are enhanced by vibrant displays of color, but he becomes part of his own shadow upon first meeting Joan Allen's blind technician, Reba, a woman who responds to a kindness in him no one else can see. Meanwhile, Cox's Lecktor only appears in a few short sequences in a sterile prison cell (a far cry from the crumbling dungeon in Demme's film) in an asylum apparently styled after the Guggenheim, the bars of his cell utilized in a reverse shot sequence with Peterson to reflect they're in parallel prisons.
The only real edge Demme's heralded classic has (despite its box office success and legitimizing awards glory) over Mann's earlier film is the handling of its lead character, for Mann never establishes a compelling portrait of Will Graham, at least not to the same degree as Jodie Foster's Clarice Starling. Instead, Peterson's Graham represents the major weak point of Mann's adapted screenplay, an unhinged, even emotionally hysterical character prone to lone outbursts and over-the-top rants which take away from the expertly drawn tension and overall anxious tone. Tom Noonan is wonderfully creepy as the tweely coined Tooth Fairy, particularly in a sequence where he dons a fake mandible and jokingly utters a clichéd line of dialogue before giving Stephen Lange a 'kiss.'
But Manhunter has had to rely on its growing cult following and the later success of Michael Mann in the 1990s (particularly after 1995's now seminal Heat), since initially it a box-office flop. It's hard to fathom why, in retrospect, based on a number of genuinely eerie sequences, including the famed Iron Butterfly "In-A-Gadda-Davita" finale. Unnerving and undeniably stylish, it's the most underrated (and, according to many sources, the best) iteration of Thomas Harris' famed villain to date.
Disc Review:
Scream Factory (the genre oriented label of Shout Factory) presents the title for the first time on Blu-ray in 2.35:1 with DTS-HD Master Audio 5.1. Picture and sound quality are superb in this masterful transfer of this visual show piece. Both the theatrical and director's cut are available in this two disc set, with a bounty of extra features, including audio commentary from Michael Mann.
The Mind of Madness:
William Peterson is on hand for this eighteen minute theater, recounting how he came to be involved in the project, and how Mann originally approached Peterson about a project called Heat.
Courting a Killer:
Joan Allen provides a fifteen minute interview on how she nabbed the role, shortly after appearing in Francis Ford Coppola's Peggy Sue Got Married (1985).
Francis is Gone Forever:
Tom Noonan appears in this twenty-two minute segment to discuss his process and memories of making Manhunter.
The Eye of the Storm:
DP Dante Spinotti provides the lengthiest interview in this thirty-five minute spot and recounts how Dino De Laurentis introduced him to Michael Mann (who viewed Spinotti's work on Liliana Cavani's The Berlin Affair just prior).
The Music of Manhunter:
Composer Michel Rubini, Barry Andrews of Shriekback, Gary Putnam of The Prime Movers, Rich Shaffer of The Reds, and Gene Stashuk of Red 7 appear in this forty minute feature on the distinctive soundtrack of Manhunter.
The First Lecktor:
Brian Cox appears in this forty minute interview sharing his experiences and casting in Manhunter.
The Manhunter Look:
Spinotti appears in this brief ten minute segment to speak on the visual design of the film.
Inside Manhunter:
William Peterson, Joan Allen, Brian Cox, and Tom Noonan appear in this seventeen minute archival feature about their involvement in the project.
Final Thoughts:
A beautifully conceived early work from Mann (though his previous film, The Keep has less supporters, it's also a comparably hypnotic and sometimes uneasy genre piece), Manhunter has aged like a fine Chianti.
Film: ★★★★/☆☆☆☆☆
Disc: ★★★★/☆☆☆☆☆