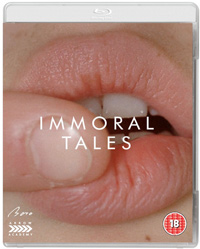 Polish provocateur Walerian Borowczyk remains one of the great obscure artists who managed to successfully blur the lines between definitions of high art and pornography. Directing short films as early as 1946, he would begin a career making feature films in 1967 and experienced his most prolific period in the 1970s with a variety of infamous French language projects, the most notorious of those being 1975's The Beast. Just prior to that film, however, Borowczyk premiered his first venture into erotic exploration with the vignette film, Immoral Tales (a structure the director would return to time and again). Initially a quintet of five separate tales spanning across various periods of time, the film is modeled after several historically based figures who've transcended into a realm of mythological urban legend. Playing at the Locarno Film Festival, it would go on to win the Prix de L'age D'or, but Borowczyk would remove the segment "The Beast of Gevaudan," which he would turn into his next feature. Not only does this film mark the beginning of Borowczyk's being labeled as a purveyor of softcore titillation, it was also the beginning of his descent into obscurity thanks to an international dismissal from critics.
Five tales unfold across various historical periods, each hinged on a particularly taboo erotic fixation. In the first segment, "The Tide," Andre (Fabrice Luchini) takes his sixteen-year-old cousin (Lisa Danvers) to the beach so she can fellate him as the waves crash upon the shore from the incoming tide. Then, in "Therese Philosopher," a beautiful young girl (Charlotte Alexandra) has sex fantasies about Jesus Christ, comingling cucumbers with religious zealotry.
The third segment, removed from the theatrical release, "The Beast of Gevaudan," finds a wolf-like beast chasing an aristocratic woman around in the wilderness until she relents to his oozing, protuberant penis, while the fourth segment recalls the legend of Elizabeth Bathory (Paloma Picasso, the sole acting credit for the daughter of famed painter Pablo Picasso), a countess who rounded up young women in order to bathe in their blood to retain her youth. Lastly, Lucrezia Borgia (Florence Bellamy), daughter of Pope Alexander VI, finds herself intensely interested in copulating with her handsome male relatives.
In many ways, Immoral Tales is the most important juncture in Borowczyk's filmography though it feels a bit too tentative for fans of his later extremities but perhaps too blatantly sexual for arthouse aficionados of the period still reeling from the assault of erotic trailblazers like Bertolucci's Last Tango in Paris (1972). Like most vignette styled films, the whole is not equal to the sum of its parts and the film's (official) final two segments stand out as much stronger chapters, while the original "Beast" sequence still remains the most insanely provocative and startlingly uncomfortable.
Recent pulpy explorations of the bizarre Borgia clan should see some renewed interest in the final incestuous chapter of Lucrezia Borgia sleeping with a variety of her more than willing male relatives, while Borowczyk's treatment of vampiric Elizabeth Bathory is also a morbid (and beautifully choreographed) standout on a subject also seeing a renewed cinematic interest (including Julie Delpy's treatment The Countess, an Anna Friel headliner by Juraj Jakubisco known as Bathory, and German auteur Ulrike Ottinger's long gestating project on the infamous historical figure reputedly in the works).
The first two sequences feel tedious (and also contain the most dialogue), including a rather banal chapter featuring none other than Fabrice Luchini inducting a young woman into his bizarre sexual congress at high tide on an uncomfortable beach of rocks, and then a chapter featuring a young woman locked in her room as she imagines sex fantasies involving Jesus only to find herself a rape victim when she escapes her room.
Four cinematographers are credited on the film, including Bernard Daillencourt, Guy Derban, Noel Very, and Michel Zolat, and all of them had either worked with Borowczyk previously or would return to collaborate on multiple future projects. Thus, each segment does have a particularly distinct visual design.
Disc Review:
Arrow provides both versions of the title (the theatrical and original release, which includes the segment "The Beast of Gevaudan") in new high definition digital transfers. Finally, the title receives a respectable presentation rather than appealing to audiences solely in search of vintage taboo material, and includes an introduction by Borowczyk expert Daniel Bird. As usual, Arrow also provides a variety of bonus features.
Daniel Bird Introduction:
Critic Daniel Bird presents an introduction to the history and style of Borowczyk's first explicit film, a five minute feature quoting from the original 1973 program from the London Film Festival, where his film Blanche was met with great critical success.
Love Reveals Itself:
Production manager Dominiue Segretin and camera operator Noel Very discuss making the film. The sixteen minute segment finds Segretin discussing the influence of Antoine Dauman, who wished to make a film now that French censorship had lessened significantly. Very, one of the four cinematographers, who worked on Blanche, describes the film as revolutionary eroticism.
Obscure Pleasures – A Portrait of Walerian Borowczyk:
This 1985 interview with Borotwczyk was filed for UK's Channel Four Visions documentary strand and had never been broadcast. This hour long segment is a fascinating and extensive interview of the filmmaker, who discusses processes and preferences.
Blow Ups:
This four minute feature includes the fine art of Borowczyk, including his prize-winning lithographs and poster designs.
Final Thoughts:
Though it's not one of Walerian Borowczyk's best works, fans of the director should appreciate this early bid at blurring the lines between titillation and entertainment. As presented by Arrow Video, both the original and theatrical version are made available, so it at least provides an extended opportunity to see Borowczyk develop ideas for his masterpiece, The Beast.
Film Review: ★★★/☆☆☆☆☆
Disc Review: ★★★★/☆☆☆☆☆