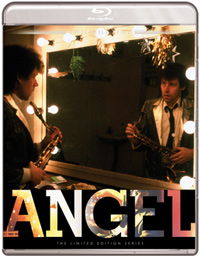 Twilight Time presents Irish auteur Neil Jordan's 1982 directorial debut Angel (aka Danny Boy) on Blu-ray, an obscurely regarded gem from the great filmmaker. A visually vibrant examination of the entrenched malaise infecting a region in the midst of what's been referred to as "the troubles" (or the Northern Ireland Conflict, a decades spanning political issue concerning the constitutional status of Ireland in the UK vs. a United Ireland, informed also by religious views and ethnic background), this melancholy revenge drama showcases Jordan's enduring muse Stephen Rea, as well as themes he'd continue to enhance in subsequent features. Hampered by a lack of developing tension, mostly due to a dramatic catalyst granted more weight than it could possibly wield, it's certainly a solemn precursor to Jordan's later masterpiece that decade, Mona Lisa (1986).
Danny (Rea) is a talented saxophonist traveling around with his band to different gigs around Northern Ireland. He appears to have a casual relationship with lead singer Deirdre (Honor Heffernan) but this doesn't stop him from taking a shine to other females in the vicinity, such as the solemn deaf mute girl Annie (Veronica Qulligan), who makes eyes at Danny while the band preps for a show at the Dreamland Ballroom. Once the show ends, Danny wilders off with Annie into the darkness as everyone departs. But suddenly, a group of men show up and kill the band's manager, along with Annie, who accidentally stumbles onto the scene. Shaken by what he's witnessed, Danny begins to emotionally unravel, and makes it a personal mission to seek vengeance for these murders.
Many of Jordan's best films feature characters transitioning between significant moments, whether these be pertaining to a relationship, gender, or more metaphoric states of being in his genre work utilizing vampires, mermaids, or werewolves. We don't get a clear sense of Rea's Danny other than that he's a down and out saxophonist engaged nonchalantly in a romantic liaison with the lead singer of his band. Clearly, his sensitivity has been informed by the troubling spats of violence in a culture forever simmering on the verge of it. Though his ruin is built around witnessing the tragic murder of the mute deaf woman he'd been flirtatiously engaged with, Jordan falls short of the poetic justice Angel seems geared for.
Rea is quite effective (executive producer John Boorman wanted Liam Neeson for the role, the young actor having recently appeared in his 1981 film Excalibur, though Neeson would eventually headline Jordan's 1996 film Michael Collins) as we navigate an increasingly disorienting path of vengeance, but with every kill, the film becomes less and less believable or potent. In many ways, Angel feels most similar to Jordan's (unnecessarily) reviled 2007 film The Brave One, in which Jodie Foster stars in a Death Wish flavored streak of vengeance.
But Angel's opening sequence, set within the surreal Dreamland Ballroom, an isolated shanty that seems to be jutting out in the middle of some ruinous nightmare, is quite evocative. Much praise has been written for DoP Chris Menges' work here. A two time Oscar winner (The Killing Fields; The Mission), who has worked with many great UK auteurs, including reuniting with Jordan amidst films by Richard Eyre, Stephen Frears, and a couple of Stephen Daldry titles, he spins Angel into a faded carnival, wherein striking uses of reds, blues, and greens prominently underline a landscape of apathy and emotional desolation.
Most of the peripheral male cast members fail to resonate, many of them blasted away shortly after appearing on screen. The film is the screen debut for Honor Heffernan (who greatly resembles Zoe Lister-Jones) and remains her only feature credit, while there are some marvelous shots of actress Veronica Quilligan (Russell's Lisztomania) as the deaf-mute Annie.
Disc Review:
Twilight Time presents this limited edition release (3,000 units only) in 1.85:1 high definition. It's a great transfer for a film beautiful to behold. The lack of extra features perhaps speaks to the title's obscurity, a pity considering Neil Jordan's obvious talents (as with many Twilight Time releases, there is an isolated music and effects track available).
Final Thoughts:
With its visual strengths amidst the crushing dilapidation (not to mention its use of music, wherein an odd mix of energetic jaunts and Billie Holiday covers lend specific detail) of a troubled country and a doomed relationship, Jordan's Angel bears a striking tonal resemblance to something like Ryan Gosling's Lost River (2014).
Film Review: ★★★/☆☆☆☆☆
Disc Review: ★★★★/☆☆☆☆☆