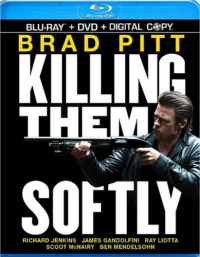 Director Andrew Dominik is obviously upset about the current political climate in the US. His latest, Killing Them Softly, unsubtly comments on the empty CSPAN chatter of the 2008 presidential campaign by bluntly displaying an America deaf to the bureaucratic business of national politics, one of underground, not-so-legal activity. Though the perpetual motion machine of small time crime is certainly nothing new to the world of cinema, the film takes pains to avoid genre tropes by curiously composing its A-list cast of characters as crooked archetypes. The criminal cutouts are allowed guttural dimension, all but drenching them in the blood baths of botched circumvention and the cash-driven enunciation of hired hit men.
As if to show his irreverence of the figureheads running our country, the opening credits sound of Obama being cut off by the opening title cards and bracingly set against an ominously humming ambiance. It's a harrowing beginning to a story that remains icy cold. We first meet Frankie (Scoot McNairy), Russell (Ben Mendelsohn) and Johnny "Squirrel" Amato (Vincent Curatola), a trio of bottom-of-the-barrel scum conspiring to rob an illegal card game run by a chap named Markie (Ray Liotta). Now, Markie had recently set up a robbery of his own game, secretly cleaning up on the back end, thinking that his involvement would seem ludicrous, but stupidly, Markie later admit his guilt in a moment of arrogance, so the trio planned to lay the heat back on him. What they didn't take into account is that the local crime network contained a built in system of checks and balances and rises above line of gambling and larceny. When Markie needs to be checked, Dillon (Sam Shepard), an aged enforcer is sent in to reprimand. Above him is a nameless (in the back end he's accredited as Driver), suit wearing man (Richard Jenkins) who seems to work with a board of investors, a god-like hand that tips the scales of crime by assigning hits and interrogations as deemed necessary to his overseers.
Following in Markie's footsteps, Russell spills his story to one of Dillon's guys and the story went up the beanstalk from there. With the Driver's advisement, Jackie (Brad Pitt) is brought in to set things back into alignment, gun in hand. People need to be taught lessons while others serve as them. The only problem is that Jackie has history with Squirrel and he likes his knock-offs to be emotion-free. So, they bring in an old hired gun named Mickey (James Gandolfini). Unfortunately, the killer of old is now a broken hearted drunk, useless as an enforcer. Compromises need to be made, and though Jackie acts as both the detective and the janitor along the way, his duties seem as if they could be doled out by the unnamed cash holders that also fund the campaigns of the men we vote into office.
Dominik's aim is to compare the business model of a small town mob scene to that of corporate America, and with help from cinematographer Greig Fraser gorgeous lensing and a perfect blend of old school tracks like Jack Hylton's 'Life Is Just a Bowl of Cherries', for the most part, it works. Markie's card games are an institution of continuous flowing cash that keep people happy and employed. When the infrastructure is shaken in the form of a robbery, inadvertently scaring people away from the tables, the political god-hands need to swoop in to save the day. The only difference is that are repercussions for those who gamble with other peoples livelihoods on the streets, while the corporate heads who risked the entire US economy for a personal pay day get away scott-free.
Disc Review
Anchor Bay is kicking it up a notch with this film. Normally one to reissue or bulk package bargain barrel cinema, the distributor has put out a Blu-ray to be semi-proud of. The dimly lit feature packs quite a sleek and sleazy style, with plenty of lens flares and visceral slow motion violence that comes across with brilliant clarity and deep murky blacks that don't crush. It also packs a bombastic 5.1 DTS-HD master track that swoops around the peripherals and rumbles with the guttural hum of the beaters these mobsters drive around in. Turn it up a couple notches than your usual listening levels, it'll allow some added depth to the aural arena. Though the A/V presentation is top notch, the extras are less than enthusing and the disc comes packaged in a standard Blu-ray case.
The Making of Killing Them Softly
Shallow interviews with Dominik, Liotta, McNairy, and Gandolfini intercut with film bits and behind the scenes footage make up this short featurette. 6 min
Deleted Scenes
More worthy of a watch, these are extended scenes from the film that were cut down. Within, a story of a woman named Janice is told by Frankie, an off screen character is spoken of by Jackie in two separate scenes, and Gandolfini finds some added screen time in the bar scene with Pitt. 10 min
Final Thoughts
A bit heavy on the politics and a little shallow in its character development, Killing Them Softly is still a profoundly watchable crime film. With a grotesquely good cast, a soundtrack you could have pulled from your grandparent's 78 collection and a handful of carefully applied political speeches, Dominik's third feature encourages us to get upset about the current state of things in our country. Unfortunately, I could only smirk in disgust.