Disc Reviews
Love Unto Death/Life is a Bed of Roses | Blu-ray Review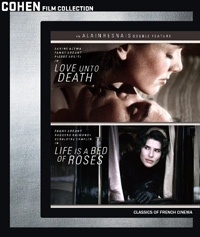 Cohen Media Group presents a double feature of two mid-period films from French auteur Alain Resnais, both significant titles overlooked on a resume of important and notable works. The first is 1983's Love is a Bed of Roses, featuring revolving cast members who would frequent other titles from the director throughout the remainder of that decade, and also represents his first collaboration with actress/wife Sabine Azema, who would appear in nearly every one of his remaining film productions. The second is the superb 1984 film Love Unto Death, an existential portrait of love and death as fluid states of mind.
The playful Life is a Bed of Roses premiered at the Venice Film Festival and nabbed Cesar nominations for Azema as Best Supporting Actress and for production designer Jacques Saulnier. Penned by Jean Gruault (who wrote Resnais' previous feature, 1980's superior Mon Oncle D'Amerique), it's a non-linear film divided into three distinct parts, edited together nearly at random as it skips through time periods, including a fictional fairytale land representing the zenith of the film's opposing realities, whereby humans are involved in scenarios seemingly exploring whether or not life should be lived as one. Meant as a tribute to Georges Melies, Marcel L. Herbier, and Eric Rohmer, the playful romp begins in prewar 1814, when Count Michel Forbek (Ruggero Raimondi) announces his plans to build a palace to be titled the Temple of Happiness.
Simultaneously, he announces his engagement to Livia (Fanny Ardant), declaring they will be married once construction is complete. This seems news to her since she's very much enamored with Raoul Vandamme (Andre Dussollier). When we return to their segment, we find the situation changed significantly following the war, with Livia married to Raoul while the Count invites the surviving original guest list back to the mostly completed façade, serving them with Eastern drugs meant to guide them through a ritual which will see them forget their past and be reborn as new people.
Sixty years in the future, the castle has been converted to an experimental school known as the Holberg Institute, about to hold a notable conference of educational minds. Run by Nathalie Holberg (Veronique Silver), the aim of the school is to foster children's' imaginations by letting them run wild and free, and though the seminar takes place over the summer, several students still roam the grounds like feral animals. The workshop, run by esteemed educator Georges Leroux (Robert Manual) sees an array of attendees ranging from the free spirited anthropologist Nora Winkle (Geraldine Chaplin), the famed architect Walter Guarini (Vittorio Gassman), and a young, uptight newcomer, Elizabeth Rousseau (Sabine Azema). Elizabeth is taken aback at the rampant fraternizing but Nora attempts to align her with experimentally minded Robert Dufresne (Pierre Arditi).
The third segment features the children running around in medieval fairy tale sequences seemingly inspired by the fantasies in their heads, amongst sets designed by Enki Bilal, something giving this rather unnecessary tangent a bit of visual presence. Famed DoP Bruno Nuytten also captures a sort of magical essence in this revolving tapestry, featuring Opera singer Raimondi amongst several of Resnais' favorite actors, including Dussollier, Chaplin, and the incredibly beautiful Fanny Ardant. Eventually, the playfulness feels like pretentiousness without much substance (but from a crowd of intellectuals a bit less bored than the ones in Last Year at Marienbad) though fans of Demy may appreciate the random songs the film breaks into.
But one of Resnais' many unsung masterpieces has to be his 1984 title Love Unto Death, a meditative, haunting, forcefully intelligent examination of how humans comprehend love and religion in phases regarded as life and death. Also bowing at the Venice Film Festival and racking up five Cesar nominations, the film was the third and final collaboration between Resnais and screenwriter Jean Gruault.
Resnais reunites with his Marienbad and Muriel DoP Sacha Vierney to create an eerie exercise of brief interludes spliced together with escapes into a black void usually filled with drifting bits of snow (a technique reminiscent of the chapter divides in a later title, 2006's Private Fears in Public Places).
We escape into the thick of it, with Azema's botanist Elisabeth Sutter breaking down into tears as Dr. Rozier (Jean Daste) pronounces her archaeologist husband Simon Roche (Pierre Arditi) dead. Hanging up on their friend Judith (Ardant), who calls at an inopportune moment, Elisabeth is left alone with her grief only to discover Simon revived several moments after the doctor leaves. This revives their somewhat superficial relationship and they experience a passionate resurgence of what Elisabeth now calls her actual 'love' for the man. They don't divulge Simon was clinically pronounced dead by a medical health professional to their Lutheran cleric friends Judith and Jerome (Dussollier), currently in distress about the suicide of one of their congregation. This sets off a discussion of opposing beliefs about the nature of death and suicide according to the Bible, etc. Meanwhile, Simon begins to become unnaturally obsessed with death, considering himself already to be. Tragedy ensues, and we learn other secrets about his and Judith's past. The title's most hypnotizing moments come between Ardant and Azema discussing evolving interpretations of love. "There's no such thing as unique love."
Disc Review:
The disc set creates convenient access to two of Resnais' most practical and compelling titles, both treated to a theatrical re-release in 2014. Though music plays an integral part to both narratives, the eerie inclusion of Hans Werner Henze in Love Unto Death is tantamount to the overall affect, and as presented here, sounds exquisite. Though each title contains optional audio commentary from film critics Wade Major and Andy Klein, it would have been great to see something else included since Resnais sadly passed away shortly after the premiere of his last film in early 2014.
Final Thoughts:
Both titles showcasing Resnais' innovative experiments in form (each in their own distinct way), this double feature is a must own for these two beautiful transfers.
Love Unto Death:
Film:★★★★½/☆☆☆☆☆
Disc:★★★½/☆☆☆☆☆
Life is a Bed of Roses:
Film:★★★½/☆☆☆☆☆
Disc:★★★½/☆☆☆☆☆