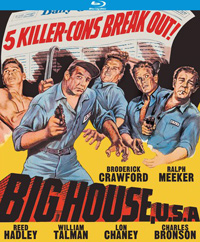 Famed producer Howard W. Koch directed a dozen or so motion pictures himself over the course of an illustrious career. None of his own directorial efforts would reach the prolific heights as items he produced (The Manchurian Candidate; The Odd Couple, etc.) and often seemed to be the types of B grade fare dumped into double feature matinees. His sophomore effort, Big House, U.S.A. promises to have all the makings of a hard boiled noir, headlined by a gnarly group of cinematic toughs and racing across events like kidnapping, murder, and prison escape to a grand shootout with breakneck speed. Unfortunately, this plays out like a wooden procedural cobbling together themes already overused by the time it was made.
Jerry Barker (Ralph Meeker) stumbles upon a helpless asthmatic boy lost in the woods of Colorado's Royal George National Park. He's aware the boy is the son of a very rich man, so he hides the boy and demands $200,000 ransom from the boy's father. Caught with marked bills, Barker is sent to prison, but authorities are never able to determine where he hid most of the money or the boy, a fact granting him a reduced prison sentence. But Barker's cell mates, including group leader Rollo (Broderick Crawford) and fellow grunts Machine Gun (William Talman), Alamo (Lon Chaney, Jr.), and Benny (Charles Bronson) have other plans to assist Barker in recovering his dough.
It's difficult to believe Big House, U.S.A. comes only five years after Broderick Crawford's Best Actor Oscar win for All the King's Men. He gets top billing but is effectively usurped by younger leading man Ralph Meeker, who would score a more iconic performance the very same year in Robert Aldrich's Kiss Me Deadly, one of the best film noirs ever made. It also doesn't help that Crawford's grizzled visage and burly stature is eerily similar to co-star Lon Chaney, Jr.'s hulking frame.
Fans may appreciate a young, chiseled Charles Bronson, but he's underutilized, along with fellow co-star William Talman, a strikingly bizarre screen presence best known for his unsettling performance in Ida Lupino's excellent The Hitchhiker (1953). But Big House, U.S.A. is a prime example of exactly how to ruin a film with stilted omniscient narration, as Reed Hadley's hopelessly stiff Special FBI Agent explains it all for us in crushing, grueling detail. It's a technique used in plenty of film noirs, to be sure, but with Hadley's monotonous droning the film seems like a PSA documenting the dire consequences of kidnapping for ransom.
Disc Review:
Kino Lorber remasters the title for high definition, presented in 1.75:1. Whatever DoP Gordon Anvil (The Champ, 1931) is able to do with his various locations, ranging from the desolate countryside, to prison sequences, to cold blooded murder on the waterfront, is all for naught thanks to the ruinous narration. The high-def also tends to highlight Felicia Farr's (in her screen debut) poorly administered blonde dye job. No extra features available.
Final Thoughts:
Forgettable and rather unenthusiastically presented, Big House, U.S.A. is only notable for avid fans of one of the famed cast members.
Film: ★★/☆☆☆☆☆
Disc: ★★★/☆☆☆☆☆