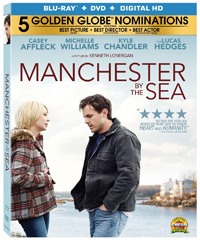 Hailed as a masterpiece by many a major critical outlet immediately after it premiered at the 2016 Sundance Film Festival, Kenneth Lonergan's third title Manchester by the Sea has gone on to collect over forty million at the box office and a slew of awards attention, including six Academy Award nominations (for Best Picture, Director, Screenwriting, and three acting categories). Despite controversies involving lead Casey Affleck, who has received some of the best notices of his career, the film has remained a major critical contender, creating an interesting juxtaposition with the fate of Nate Parker's The Birth of a Nation, which premiered to even greater acclaim at the same festival, but was eventually hobbled by similar (though previously dormant) accusations of transgression. Beyond the troubling aspects of white privilege which have protected the reputation of Lonergan's overridingly white film, it is also doubly disconcerting to note it is the esteemed director's least compelling title to date, if directly compared to 2000's You Can Count on Me, and his tortured masterpiece Margaret, which took five years and endless squabbling over cuts and recuts of the film before it finally (and gloriously) reached cinemas in 2011. Still, for some exceptional sequences featuring Michelle Williams, and a solid lead from Affleck, the film's incredible critical reception should assist in securing Lonergan a steady stream of offers for years to come.
Lee Chandler (Affleck) works as a Boston handyman, predisposed to rudely brushing off customers and engaging in fisticuffs at the local dive bar. When his brother Joe (Kyle Chandler) suddenly dies from congestive heart failure, Lee is forced to return to his hometown and deal with the aftermath, where he learns he is now responsible for his brother's teenage son Patrick (Lucas Hedges) since Joe's ex-wife (Gretchen Mol) is nowhere to be found. Memories of Lee's recent tragic past, involving his own ex-wife, Randi (Michelle Williams) begins to cloud his decisions for the immediate future.
As its title promises, the coastal New England town features as a significant character. DP Jody Lee Lipes (Afterschool; Martha Marcy May Marlene) provides a multitude of forlorn landscape shots, often set to mournful snips of classical music, which eventually starts to stretch the running time a bit in the film's more belabored second half. As Lee's memories are awakened and we learn bits and pieces of the trauma which drove him away from his hometown, Lonergan projects an authentic portrait of despair, culminating in two carefully wrought sequences exploring the direct aftermath.
But once we're tipped completely into the present situation of uncle and son clamoring for control of an awkward situation, Manchester by the Sea settles into a quiet stretch of banality. Lucas Hedges (Moonrise Kingdom) proves to be adept as a relentlessly self-absorbed teenager, intensely focused on conquests involving the opposite sex, but the character's give and take with Affleck's emotionally paralyzed uncle begins to feel perilously repetitive. A tangent involving recovering addict Gretchen Mol and her religious savior/second husband Matthew Broderick feels a bit too hastily conceived to help matters. Eventually, Lonergan makes a magnificent break from this stupor with a superb shared moment between Michelle Williams and Affleck, performed with galvanizing emotional pitch.
Though it sometimes settles into a monotonous dead zone, Manchester by the Sea is an exacting familial drama, rigidly held in place by a commendable supporting cast and what stands as Casey Affleck's most generous performance to date.
Disc Review:
The Amazon Studios title gets treated to a high definition transfer in 1.85:1 with 5.1 Master Audio, a fitting presentation for the prolonged melodrama. This edition contains deleted sequences along with some other extra features.
Deleted Scenes:
Three deleted scenes are included, about six minutes worth of screentime.
A Conversation with Kenneth Lonergan:
Kenneth Lonergan provides optional audio commentary.
Emotional Lives – Making Manchester by the Sea:
This sixteen minute feature finds cast members discussing the making of the film and their characterizations.
Final Thoughts:
As familiar as it is undoubtedly tragic, Manchester by the Sea will have its staunch defenders, but for those looking for anything more than straightforward melodrama with as many bursts of laudable acting as it is peppered with banality.
Film Review: ★★★½/☆☆☆☆☆
Disc Review: ★★★½/☆☆☆☆☆