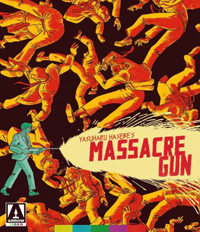 Arrow Video restores a rare title from director Yasuharu Hasebe with his sophomore directorial effort, Massacre Gun. A late 60's yakuza narrative, the film displays Hasebe's influence of American film noir, but defined by a striking amount of violence that makes it feel ahead of its time despite a familiar premise. Fans of genre icon Jo Shishido should be especially excited for this restoration, and it bodes well as a reconsideration for the work of Hasebe, a once prominent name that's fallen into relative obscurity in cinematic conversations.
Ryuichi Shishido (Jo Shishido) is a mob hitman ordered to execute his lover. He follows through with the tasking but is visibly bothered by it, causing his younger brother, Saburo (Jiro Okazaki), an aspiring boxer, to directly challenge the dreaded mob boss Akazawa (Takashi Kanda). For his hubris, Saburo is badly beaten, leading his older brothers Ryuichi and Eiji (Tatsuya Fuji) to break from Akazawa and vow retaliation, which leads to an all-out turf war.
Just as there's a roughly defined period of the classic American film noir, ranging from the 1940's to late 1950's, Nikkatsu Noir is a term used to define a similar genre of Japanese films hailing from its oldest film studio from the 1950s through the 60s. Hasebe famously worked as an assistant director for Seijun Suzuki, whose classic Branded to Kill from the same year tends to overshadow other titles of the period, though both films star Suzuki regular Jo Shishido (and, as cinema expert Jasper Sharp points out, both these titles are connected to an even greater extent as they share art direction from Takeo Kimura, notable soundtracks from Naozumi Yamamoto, and cameraman Kazue Nagatsuka). While Nikkatsu would famously fire Suzuki for what was considered a silly film with Branded to Kill, it's gone on to represent an entire movement of film to Western audiences, whereas Massacre Gun, Hasebe's only monochrome work, hasn't held the same cultural fascination.
Because of its overtly familiar narrative, concerning a struggle for control as allies are pitted against one another in toppling domino effect, time has not favored Hasebe's themes (to a degree, it recalls any number of titles, from Prizzi's Honor to Takeshi Kitano's Outrage). Hasebe conveys a striking predilection for violence, ranging from the murdered girlfriend that triggers this onslaught, to men being beaten, maimed, or in one instance, stabbed through a finger while dealing cards. The film's more dated sequences involves Hasebe's treatment of women, nearly all the notable females portrayed as doltish or severely self-deprecating ('it must be something a woman can't understand,' the bar owner Shino utters at one point).
Yet Hasebe shows a certain mastery with motif and foreboding visual cues. Names and the colors they represent are integral to its coding, while we zoom in on fascinating pieces of artwork that degrade into more insidious imagery as the narrative progresses. In one sequence Ryuichi jokes with Shino about dropping everything and leaving, our perspective of the conversation revealed as a reflection from the shiny black bar top, connoting it as a mere flight of fancy, a mirage of what could be but is clearly not a realistic option.
Disc Review:
Arrow Video is releasing this 1080p restoration on Blu-ray and Standard as a Limited Edition of 3,000 copies only, so fans of Nikkatsu Noir, Jo Shishido, or Yasuharu Hasebe should take note. As is customary, Arrow's packaging reflects the degree of passionate enthusiasm present in all of its releases, beginning with the beautiful cover art and booklet insert with illustrations by Ian MacEwan. The sensational jazzy score and Kazue Nagatsuka's wonderful monochrome cinematography make the film an excellent discovery.
Jo Shishido Interview:
A 2015 interview conducted by Nikkatsu Corporation's Tokyo headquarters was filmed exclusively for this Arrow Video release. At seventeen minutes running time, the feature finds the 80 year old actor relating instances from his life and experiences filming Massacre Gun.
Tony Rayns Interview:
Renowned historian and critic Tony Rayns discusses Nikkatsu Studio's history for this near forty minute supplement that proves to be thoroughly informative.
Promotional Gallery:
About a dozen or so promotional stills from the film are also included.
Final Thoughts:
Director Yasuharu Hasebe is perhaps best known as the godfather of the 'violent pink' film during the latter years of his filmography, with titles like Stray Cat Rock: Sex Hunter (1970), Scorpion: Grudge Song (1973) and the provocative Rape! (1976) and Raping! (1978), and often casting Tatsuya Fiji (who plays Eiji here, an actor known for the infamous In the Realm of the Senses). His work from the late 60s, particularly Massacre Gun, feels like a sober version of something by his mentor Seijun Suzuki from that particular period. Beautifully, even evocatively shot, it's a title definitely worth checking out.
Film: ★★★/☆☆☆☆☆
Disc: ★★★½/☆☆☆☆☆