The Killer Beside Me: Goold's Debut Warps Grisly Headline into Funereal Pallor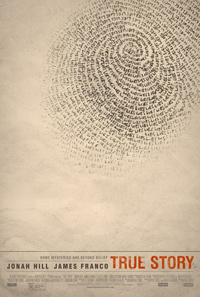 The rapidly fluctuating career of James Franco got a dramatic jumpstart with a pair of twin performances at the Sundance Film Festival a far cry from the savage chomping of The Interview debacle that sailed through the final throes of last year. His turn as a cold blooded killer in Rupert Goold's directorial debut True Story is less controversial (at least in comparison to his personification of gay rights journalist turned Christian Fundamentalist Michael Glatze in I Am Michael), and is a straight-faced take based on the memoirs of disgraced journalist Mike Finkel. The results are about as simply realized as its underdressed title, which may have Hemingwayesque succinctness, but this hardly lends itself to the necessity of visual reenactment. As if afraid to throw off its trajectory of pathos and gentle yet imperial castigation of journalistic profiteering, Goold, along with co-writer David Kajganich, crafts a mechanical, ceaselessly somber exercise chock full of noble emotional high ground that fails to make any kind of lasting impression.
After getting fired for falsifying information in a cover story, journalist Mike Finkel (Jonah Hill) finds himself a pariah within his community. His supportive wife (Felicity Jones) can't seem to console him. Suddenly, news breaks that Christian Longo (James Franco), a man on the FBI most wanted list for murdering his wife and three children in cold blood, was caught in Mexico. He was claiming to be journalist Mike Finkel. Intrigued, the real Finkel approaches the duplicitous Longo, and the two begin work on co-authoring a book based on Longo's story. But soon, Finkel begins to discover Longo's manipulations, though perhaps too late.
While the necessity for moments of levity are arguable, there's not even one smile (unless you count evil, menacing ones) to be had amongst the principals. We meet Finkel as he ungraciously gloats about his journalistic prowess only moments before he's dethroned for lack of integrity. From there, we're meant to see Longo's shenanigans as an opportunity for the journalist to regain credibility and at the same time, get all wrapped up in the mysterious manipulations of a sociopath. Both Hill and Franco give serviceable performances, but Goold fails to properly mine the horrific circumstances that united these opposing forces. A little melodrama would have gone a long way in resuscitating their somnolent interactions, a series of stale conversations begging us to take this situation seriously. Yet, neither of them is wholly believable. But Goold's polished product fools for a while, utilizing the talents of Masanobu Takayanagi as DoP and Marco Beltrami's score.
Stabs at attempting to show Finkel becoming convinced that he believes he shares similarities with Longo (based on doodlings, no less) are presented with underwhelming hesitancy. The desire to avoid exploitative elements reaches a ridiculous zenith when an utterly wasted Felicity Jones stomps into Longo's jail cell to play him a piece of classical music and put him in his 'place,' which feels not only fabricated but woefully insipid. Maybe truth isn't always stranger than fiction.
In the glut of despicable crimes committed by humans over centuries, True Story is about as unique as Finkel's transparently self-important title. By the time all this wraps up, one wonders why we should prize Finkel's perspective, but then this tale of a journalist in crises playing quid pro quo with a madman is underplayed at every possible turn.
Reviewed on January 26 at the 2015 Sundance Film Festival – Premieres Programme. 100 Mins.
★★/☆☆☆☆☆