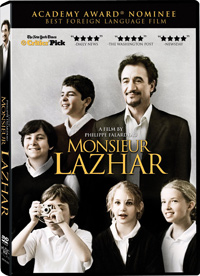 Writer and director Philippe Falardeau's most recent film (in many books the Best Foreign picture runner-up), Monsieur Lazhar is a surprisingly tender reconnaissance of our current educational practices while plunging headlong into the psychology of dealing with death. It seems Falardeau feels that as a society we've become afraid of physical contact for fear of parental backlash, whether it be a warning slap to the back of a disruptive child's head or a consoling shoulder-bound embrace in the wake of shocking tragedy. His film challenges this ideology by placing an Algerian immigrant of traditional values at the head of a class of youthful pupils who recently endured the suicide of their former teacher while he himself grieves over the loss of his wife and daughter.
Mohamed Fellag plays Bachir Lazhar, a warm, but secretive new instructor in a small Montreal public grade school. Lazhar has taken the position left vacant after the former instructor was found hanged in her own classroom, casting a malaise shadow on the innocent children she was suppose to support and nurture. Each of the children is forced to deal with the tragedy in their own way, but two of them in particular react strongly, one through public verbal reflection while the other bottles his feelings of guilt until it spills out in an overwhelmingly genuine outpouring. The school's policies dissuade Bachir from directly discussing what happened with the kids, instead abdicating emotional dissection to the school's counselor. Regardless, he quietly tries to help his students understand their loss while he is suppressing his own feelings grief. It is a tense balance that works brilliantly with Fellag imbuing Bachir with an honest ignorance of modern instruction and a collection of cutting performances by the excellently cast young students.
For Bachir, the hands off, clinical approach to dealing with tragedy doesn't make sense, especially in the context of his class in which the children must confront the spirit of death on a daily basis. Forcing kids to hold back their emotions until a trained professional can listen seems wrong, but when Bachir takes matters into his own hands, agitated parents do not react lightly. Falardeau handles the simmering relationships with a focused, but ginger grasp, not forcing his opinions upon us, merely presenting them for public discussion. Like the kids in class wanting to talk out their swirl of confused emotions, Monsieur Lazhar wants us to conversate, expressing our troubles and consoling our neighbors. At the very least, the film makes for a great talking point, not only for its modern subject matter, but as an wonderful work of social artistry.
The Disc:
Music Box Films has really put a nice, stuffed DVD together for this excellent classroom drama. With a stable transfer that displays a stirring naturalism in the school and on the snowy playground, the disc looks quite sharp for SD. The Dolby Digital 5.1 audio track in comparison doesn't wow, mainly focusing in the dialogue with lightly interspersed interludes that never migrate to the surrounds. Voices possess consistent tonality and innate sounding ambiance. The disc itself comes in a standard black DVD case.
From Stage To Screen
A half hour in length, this excellent featurette sees Falardeau walk around the school discussing the development of many different sequences and themes in the film with the writer of the play the film is based on, Évelyne de la Chenelière. It is in French with English Subtitles.
Big Talk with Philippe Falardeau
Organized as an English language pre-screening Q&A, Falardeau answers questions about how the film came to be, some of the thematic elements and what it was like to work with young actors without spoiling the film.
Alice and Simon Audition Tapes
This is a series of auditions featuring Sophie Nélisse and Émilien Néron acting solo and later on with each other in key emotional scenes.
Theatrical Trailer
In its brief window, this trailer tries its best to convey the breadth of thematic examination that transpires within the film, but it falls a little short. It does however show the heart of it in Bachir's relationship with his students.
Bachir's Story
In the film, Bachir assigns the students a creative writing piece which he would also partake in. Here, his brief piece is presented as text across two pages.
Alice's Report
Another written piece, this is Alice's response to Bachir's assignment. Both pieces elicit moving responses in the film.
Final Thoughts:
Making its way from Évelyne de la Chenelière's one man play to a world renowned film, Monsieur Lazhar is an incredible film about processing grief as both a child and adult, while also commenting on society's shunning of all physicality between students and teachers, whether it be merely passing punishment or consolatory pity. Falardeau has ushered out some outstanding performances from the child actors, especially Sophie Nélisse and Émilien Néron, as well as the stoically heartwarming Fellag as the teacher with a big secret and a bigger heart. He may not wear it on his sleeve for his colleagues, but we see it. We see it indeed.