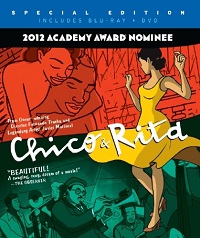 There always seems to be a shortage of animated features created with an adult audience in mind. Only once or twice a year there seems to be one worth watching, and though it's been a couple years since its initial theatrical release, Chico & Rita is now getting its day in the sun with a beautiful Blu-ray combo pack release. Under the direction of Spanish filmmaker Fernando Trueba and a duo of newcomers in Tono Errando and the visual designer Javier Mariscal, the film surveys the explosion of Cuban music on the world stage during the late 40s and early 50s through a rather slight story of disenfranchised love. Where the tiresome relationship plot falters, the film's immense respect for the Latin influenced jazz that the story is entrenched in and the impeccable recreation of the time period through gorgeous animation give more than enough reason to forgive its oversights.
Pouring over a cigar box of memories with a drink and a smoke, Chico (Eman Xor Oña), a now gray and wrinkled master jazz pianist, sits alone in his Puerto Rican apartment reflecting on the life he's lived and the mistakes he's made along the way. When he was a budding musician cutting his teeth in the local music scene, his raw talent and naturally laid back swagger took him to the forefront of the Cuban soundscape and brought him a steady supply of nighttime company, but when he met the strong willed songbird Rita, Chico had met his match. As a perfect musical team, they started to attract international attention, but it soon became clear that Chico's inability to stay either sober or faithful would be detrimental to their success, so when Rita was offered a contract to move to New York to become a solo star, the choice was disappointingly obvious. As their careers began to take off in parallel, as most tales of lost love goes, no amount of professional success could enrich their lives the way each other had – until the inevitable happy ending happened that is.
Loosely based around the life events of pianist Bebo Valdés, the film's 90 year old Cuban composer who played with some of the actual musicians depicted within, Chico & Rita is a magnificent artistic achievement in terms of musical integration both historically and aurally. Throughout the film we are enraptured by the music of the times, whether it be a few people tapping on odds and ends at home or the sky scrapping high notes of Dizzy Gillespie and his backing band, all of which makes for a wonderfully wide representation of the state of music at the time. While some of the music is original material from Bebo's back catalog, much of the music are now classics that were rerecorded to give a new, reinvigorated sound that holds the film together.
Visually stunning, the film has a very unique look. Anyone really familiar with various videogame styles will note that the filmmakers have utilized a cell shaded look, allowing for a traditional, flat look that has the ability to strangely rotate to show depth in the third dimension. This is highlighted throughout in street bound scenes with moving vehicles that travel down the z-axis in a way that just isn't possible in classic hand drawn animation. This uncommon look paired with an intensely detailed stylization of the rustic Cuba and golden-aged New York of days past are truly amazing to watch.
With such incredible care taken with the visuals and musical backbone, its almost tragic that the story doesn't dig a lot deeper. Late into the story there are a few slight attempts to tackle political and ethical woes, but at that point its too little too late for a narrative rescue. Those with any interest in Latin, jazz or music history in general fill find plenty to love here, but don't expect to be blown away by the push and pull of Chico & Rita's love/hate relationship.
The Disc:
New Video's three disc combo release is a very hefty little package. The film's Blu-ray presentation is nothing short of excellence, with Javier Mariscal's lush visuals looking flawless in motion. Colors are continuously vibrant, especially in nightlife scenes with old school neons lighting up the animated city streets. Since the film is really based around its love for Cuban influenced jazz, its nice to find that the DTS-HD 5.1 master track on board is a bold one, rich and natural sounding. With a nice setup in your house, your neighbors may wonder if you have an actual band in your living room. It sounds absolutely fantastic. Also included in the package is a DVD copy of the film, as well as a music CD of the soundtrack and a booklet which features an excerpt from the Chico & Rita graphic novel. All of these come in a thick Blu-ray case wrapped in a shiny, metallic looking cardboard slipcover.
Making of Chico & Rita
Running nearly a half hour, this traditional making of featurette comes packed with production details and the origins of artistic inspiration from the mouth of the filmmakers themselves. Within we find that behind most of the animation is a real life scene that was shot to base scenes on. Local actors were hired with hopes of maintaining an artistic vision in the animation stage. We also get much detail in the production of the ever present soundtrack that traverses a variety of styles and moods. A lovely inclusion on the disc.
Audio Commentary with Directors Fernando Trueba and Javier Mariscal
Within the first few moments of conversation between the two filmmakers you get the sense that piecing this feature together was very much a labor of love. They have an immense appreciation for every minute detail of each scene, giving every set piece and musical track a historical perspective as they rail off countless true life references. Listening to this commentary will no doubt give you a much deeper appreciation for the film.
Theatrical Trailer
Evoking a sultry mood while highlighting the romance and the lush history rich visuals, the trailer does a wonderful job giving a preview to the overall experience.
Final Thoughts:
Though not a film with dramatic depth worthy of much thoughtful deconstruction, Chico & Rita is layered with many historical nods and musical tips of the hat, and those with a keen ear and a knowing eye will find plenty to appreciate. If not well versed in Cuban culture or the music of jazz greats, you can still sit back and enjoy the stunningly animated visuals and the lovingly produced music at its well polished face value, for it is a film who's heart is incongruously leaning on its aural and visual design, leaving the narrative a bit to be desired.