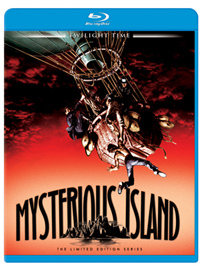 Fans of special effects icon Ray Harryhausen should rejoice at the remastering of 1961's Mysterious Island, a sequel of sorts to Jules Verne's more celebrated 20,000 Leagues Under the Sea, which had been memorably adapted by Richard Fleischer in 1954. Director Cy Endfield takes the reigns on this big budget spectacle which tends to suffer from a bout of sequel-itis as regards the bombastic fervor of gigantic, menacing creatures taking precedence over characterization or narrative energy. Still, the production quality does display the same sense of movie magic specific to a certain period of cinema where Harryhausen's signature Dynamation would influence generations of future filmmakers.
During the 1865 siege of Richmond, Virginia, a handful of soldiers, both Union and Confederate, escape the stockade via a hot air balloon, ending up somewhere on a strange island in the Pacific Ocean. Captain Cyrus Harding (Michael Craig) more or less resumes control of the men, who are joined by a pair of shipwrecked females, a rich aunt (Joan Greenwood) and her niece (Beth Rogan). But the humans soon find the island is full of large, terrifying creatures which intermittently plague them as they figure out a way off the island. Eventually, they discover another human living there, the eccentric genius Captain Nemo (Herbert Lom), stranded years prior with his vessel, the Nautilus.
What's most irritating about Endfield's production is the lack of subversive opportunity given the mixture of Civil War era Confederate and Union soldiers joining the shipwrecked high class white women on the exotic island. The presence of Dan Jackson as the sole non-white cast member evokes the black astronaut played by Jeff Burton several years later in Franklin J. Schaffner's famed film adaptation of Planet of the Apes. But given the specific setting, beginning in the 'siege of Richmond, Virginia' in 1865, there's an uncomfortable silence never rightly addressed. And in between the marvelous distractions of the various attacks by overgrown menacing creatures (though why their corresponding habitat doesn't really support the logic of all of them existing at the same time is another point of contention) we wallow in the subdued correspondences between vaguely realized characters. Gary Merrill is sort of the unintentional comedic relief (thanks in part to an atrocious comb over), and this would be his most notable cinematic appearance of the decade until turning up opposite Elvis Presley in 1967's Clambake.
A bleached blond Herbert Lom shows up in the final act as the infamous Captain Nemo (previously portrayed by James Mason in Flesicher's production), though his presence does little to energize the finale. Younger cast members such as Beth Rogan and Michael Callan are incredibly non-descript while British actress Joan Greenwood manages a few wonderfully bitchy snatches of dialogue before she's routinely declawed and assumes a general air of damsel in distress (it doesn't help she wears the same garments and never lets her hair down after presumably spending months on this exotic island).
The real stars of Mysterious Island are the Harryhausen creatures, particularly a giant crab and a menacing squid-like creature. Some large honeybees and a rather ridiculous looking flightless bird provide Mother Nature's other radioactively sized creatures, their attacks enhanced by a dominating score by Bernard Herrmann.
Disc Review:
Twilight Time does a masterful job with the restoration of the neglected adventure classic, presented in 1.66:1. Calibrated specifically as a visual delight, one can't overlook the superb score by Bernard Herrmann as it ranks as one the composer's most notable. Although the cast members and the rather rudimentary narrative undertaking lack finesse (the sudden introduction of an active volcano, for instance, provides nourishment for unintentional mirth), this limited edition release (3,000 units) manages to retain the compromised awe of Mysterious Island. An isolate score track is available as well as audio commentary from film historians Randall William Cook, C. Courtney Joyner, and Steven C. Smith.
Ray Harryhausen on Mysterious Island:
This eleven minute features Harryhausen explaining the origins of this film adaptation and his experiences during production on the special effects (including initial plans to include a man-eating plant which was eventually scrapped).
Islands of Mystery:
This five minute black and white feature is a promotional effort for Mysterious Island highlighting its exotic locale and incredibly sized creatures.
Final Thoughts:
Though it doesn't come close to other famed adaptations of Jules Verne, Mysterious Island is a fun throwback, but could have been better if Verne's text hadn't completely taken the backseat.
Film Review: ★★½/☆☆☆☆☆
Disc Review: ★★★½/☆☆☆☆☆