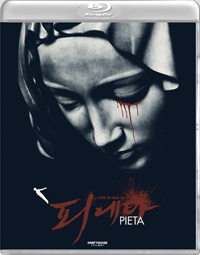 Yes, that's right, Kim Ki-duk's latest film, Pieta, is thus named for the famed sculpture of the Virgin Mary cradling the dead body of Jesus, most famously depicted by Michelangelo in a statue displayed in St. Peter's Basilica in Vatican City. It's a term that is basically intended to be a plea for mercy. Winner of the Golden Lion at 2012's Venice Film Festival, Kim Ki-duk's latest is a glorious return to form for the South Korean auteur after the painful pretentiousness of 2011's overblown video diary, Arirang, and certainly delivers the hysterical excess heralded by its melodramatic title. As the economic crisis still seeps steadfastly in the veins of American cinema, Ki-duk takes us into the nether regions of capitalistic conundrums to give us a psychological study harpooned on the root of all evil.
A sadistic loan shark, Gang-do (Lee Jung-jin) violently and methodically collects money from past-due blue collar workers in an industrial Seoul ghetto. A scam involving lending large sums of money to the needy while making them enroll in lucrative insurance programs allows Gang-do and whoever he's working for to charge exorbitant interest rates guaranteeing borrowers cannot pay back the money.
When it comes time to collect, Gang-do mercilessly cripples his victims, often with their own machinery, so he can take their insurance money. Out of the blue, a strange and rather melancholy woman named Mi-Son (Cho Min-soo) begins to follow Gang-do, finally ingratiating herself upon him and revealing that she's the mother that abandoned him thirty years ago. At first in disbelief of the somewhat unhinged woman, Gang-do puts her through a series of perverse tests that would surely cause anyone in their right mind to flee, but eventually, Gang-do is convinced that she speaks the truth, and slowly, his heart seems to grow several sizes. But in Gang-do's line of work, love is a weakness, and as Mi-Son follows Gang-do on his vicious errands, we see her introduced to a host of other men's mothers. However, soon it's revealed that someone has a sordid secret, one that will change the destiny of a mother and son reunited.
While it may not be one of Kim Ki-duk's most thematically subtle works, Pieta is one of his darkest and most psychologically complex to date. Gang-do is so viciously unhinged, he may as well be operating in a post-apocalyptic world specifically created by a global economic crisis. It's depiction of capitalism caused greed is about as hysterically overdrawn as Im Sang-so's ridiculous The Taste of Money, rigidly summed up in Gang-do's admonishment of a victim who he cites as irresponsibly borrowing money they couldn't possibly pay back. Worse, the alignment of these two central characters with the religious alliterations induced by the title casts an unnecessary, belabored pallor over the proceedings.
Conversely, the perverted notion of family, and, particularly, the bond of mother and son, transcends these pretentious trappings, and Pieta becomes an uncomfortable examination of Gang-do and Mi-Son. Torturous fingerings, incestuous pillow-f*cking, a symbolically decapitated eel, are all memorable provocations that announce the film as not designed for those with weak constitutions. And while the potential for silliness may be forever lurking around the corner, Ki-duk manages to keep Pieta on the right side of sordid, a feat perhaps best kept in check by the invested performances of Lee Jing-jin and Cho Min-soo. No one else really even registers in the film, though there's plenty of maiming and killing and uncomfortable interactions when Gang-do is forced to look for the momentarily misplaced Mi-Son with a host of his past victims. Cho Min-soo will doubtless remind many of several fierce mother characters recently employed in South Korean films, from Bong Joon-ho's Mother to Lee Changdong's Poetry.
Disc Review
Drafthouse Films presents a handsome package for Ki-duk's Pieta, thankfully released on Blu-ray so the dank, dark, and subdued visuals are pristinely presented in all their morbid glory. A host of special features are surely a treat for fans of Kim Ki-duk, though they are rather standard. Audio commentary with the director and two leads, as well as a panel interview with all three focuses mostly on how the actors felt about the chance to work with the esteemed director. A feature on winning the Golden Lion at the 69th Venice Film Festival, as well as behind-the-scenes segment and a quick glance at Ki-duk's filmography are all of specific and of somewhat slight interest.
Final Thoughts
Pieta marks the first time Ki-duk has worked with cinematographer Jo Young-jik, though this may not exactly explain the nearly unrelenting nihilism on display here since as the director seems to like to hire new cinematographers (and usually not use them more than twice). But Young-jik manages to tap into the dreary desolation of Ki-duk's screenplay, and we're left in a perpetual nightmare until the final frames. The suicide note of one of Gang-do's maimed victims inquires, "What is money? Life? Death?" While the notion of love as the balm that brings out the best in us is clearly on display, Pieta is a harsh portrayal of the savageness that money potentially awakens in humans. But if it wasn't money, it would be something else.