Shout Factory rejuvenates two titles from David Cronenberg's prolific vault, his 1977 horror film Rabid, which featured adult film star Marilyn Chambers in her most notable mainstream appearance, and the 1988 masterwork of the macabre, Dead Ringers. The latter title was once the property of the Criterion Collection and has long been out of print, fully restored here in two formatting presentations for the first time on Blu-ray. Both representative of Cronenberg's obsessions with body horror, like many of the filmmaker's filmography, these have been relegated to cult interest thanks to their previously limited availability.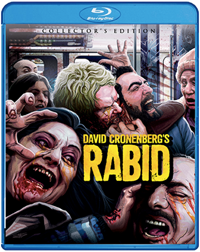 Cronenberg officially launched his career in 1969 with Stereo, followed by 1970's Crimes of the Future, both medium range features about an hour or so in length. But it would be 1975's Shivers (aka They Came from Within), the infamous STD horror film starring Barbara Steele which put him on the map. Originally eyeing Sissy Spacek for his follow-up, Rabid, producer Ivan Reitman wanted the sex appeal of Marilyn Chambers, who gives a serviceable performance as a woman infecting people with a strange, devouring disease she contracts after an experimental surgery goes awry. Mixing vampire and zombie tropes, the film is a repetition of themes Cronenberg used before and after, including his remote setting of a strange medical center operating on the outskirts of society (which would be more memorably explored in 1979's The Brood). A standard contagion story ensues following an ill-equipped medical staff's emergency intervention at the nearby Keloid Clinic for Plastic Surgery. Their attempt to revive Rose (Chambers) after she's involved in a fatal motorbike accident with her boyfriend Hart (Frank Moore) leads to a makeshift operation which eventually is revealed to have mutated the young woman.
Rose develops a bizarre stinger in her armpit, which impales her victims in phallic fashion when she's in close proximity (interestingly, this mirrors a 1992 publication from Will Self, Cock and Bull, wherein a male protagonist grows a vagina under his knee, and a woman grows a penis, using it to exact revenge on an abusive spouse). Shot by French Canadian DP Rene Verzier, who was responsible for lensing various offbeat Canadian genre efforts from the period (including urban thriller The Pyx in 1973 and the eerie psychological thriller The Little Girl Who Lives Down the Lane in 1976, starring Jodie Foster), Rabid has plenty of nicely staged moments of repulsive gore but sans the deliriously strange and inspired grotesqueries which would burn themselves into our psyches from items like The Brood, Videodrome (1983), or Naked Lunch (1992).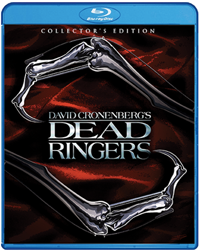 On the other end of the spectrum is 1988's Dead Ringers, the unsung masterpiece of Cronenberg, and featuring Jeremy Irons in a career best turn as co-dependent twin gynecologist brothers whose mental health and successful practice unravels when one falls in love with a woman who has a pronounced mutation in her cervix. The title is similar to the 1964 Bette Davis vehicle Dead Ringer, also a murderous narrative of identical twins with diametrically opposed personalities.
Adapting from the novel Twins by Bari Wood and Jack Geasland, the film marks the first collaboration between Cronenberg and DP Peter Suschitzky (who has also lensed Naked Lunch, M. Butterfly, Crash, Existenz, A History of Violence, Spider, Eastern Promises, A Dangerous Method, Cosmopolis and Maps to the Stars). The usually effects heavy Cronenberg is much more subdued here, focusing instead on seamless moving split screen cinematography to capture the dueling performances from Irons. Premiering at the 1988 Toronto International Film Festival, the title was applauded at genre fests but didn't land far beyond the celebration of the art-house, which accounts for its lack of notoriety despite some terrific psychological shading from Irons. As a troubled Canadian actress of note with her own significant drug problem, Genevieve Bujold helps channel a sort of Brian De Palma energy (she starred in his Obsession), another auteur fascinated by the prospect of doubling and doppelgangers (likewise, her appearance as a strange matriarch in 1997's The House of Yes, which concerns another troubled set of twins, also comes to mind).
Disc Reviews:
Shout Factory presents Rabid as a new 2K scan from the negative, and is heretofore the most masterful presentation of one of the director's most neglected titles. Picture and sound quality on both this disc and Dead Ringers has been notable restored, with Rabid representing a visually arresting tale of rural dread, while Ringers is presented as a subversively sterilized environment of glaring white and grey offices creating a numbing palette of monotony for its emotionally troubled romantic entanglements. The real differences are the extra features with Shout Factory's new release. This set also includes two versions of Dead Ringers, including the theatrical release, presented in 1.78:1, as well as Cronenberg's preferred framing of 1.66:1 (the title was filmed in 1.33:1 to be masked for various theatrical ratios) and some updated special features rival those of the 1998 Criterion DVD release, which has been out of print for some time.
Rabid Bonus Features:
Both Cronenberg and writer William Beard (The Artist as the Monster: The Cinema of David Cronenberg) provide audio commentary tracks on this disc, while Shout Factory includes an archival interview with the director, as well as an interview with executive producer Ivan Reitman. Co-producer Don Carmody also appears for a new interview, while a video essay from Caelum Vatnsdal (author of They Came from Within: A History of Canadian Horror Cinema), charts Cronenberg's early beginnings through Videodrome.
Dead Ringers Bonus Features:
On the first disc, new audio commentary is available from author William Beard (The Artist as the Monster: The Cinema of David Cronenberg), as well as audio commentary from Jeremy Irons. On the second disc, Shout Factory includes new interviews with actors Stephen Lack and Heidi Von Palleske, as well as DP Peter Suschitzky and special effects artist Gordon Smith. Vintage interview footage is also included here, as well as a behind-the-scenes featurette.
Final Thoughts:
Fans of Cronenberg's grotesque visions should delight in these two new restorations of undervalued offerings, with Rabid representative of his early interests and Dead Ringers an example of his craftsmanship at the height of his most prolific period to date.
Rabid
Film Review: ★★½/☆☆☆☆☆
Disc Review: ★★★½/☆☆☆☆☆
Dead Ringers
Film Review: ★★★★/☆☆☆☆☆
Disc Review: ★★★½/☆☆☆☆☆