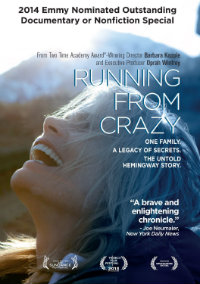 Premiering at the 2013 Sundance Film Festival, Academy Award winning documentarian Barbara Kopple's Running From Crazy, an exploration of the famed Hemingway family's bout with mental illness via the perspective of actress Mariel Hemingway, went to release on Oprah Winfrey's network OWN, who executive produces. Engrossing and intimate, at least as far as its lead perspective is concerned, the film is a unique window into a famous and iconic American family, one that rivals the Kennedy's, as is pointed out, in infamous stature.
Through the guidance of Mariel Hemingway, a spokesperson for depression issues, we're guided through significant moments of her family's history, mainly dealing with her two older sisters Joan "Muffet" Hemingway, and actress/model Margaux Hemingway. Like an overshadowing specter, grandfather Ernest "Papa" Hemingway is frequently mentioned, but more as the name that granted a blessing and a curse for his often troubled descendants. Footage of Mariel's own two daughters, whose eldest, Dree Hemingway, starred in Sean Baker's 2012 film Starlet, is also included in this saga of mental health examination.
Aficionados of Ernest may be disappointed, as he doesn't figure that prominently, perhaps since Mariel was not even born before his suicide in 1961. Neither does the film serve as an actual case study of a family, but rather as a confessional, and very candid glance at Mariel's relationship to her family. The film's most engaging moments are elusive snippets of family home movies, where we capture older sister Margaux in various states of decline. Although privileged, there is an air of tragedy circling the family's history that makes the film such a compelling documentary, especially considered the distinct beauty and talent of Mariel and her sisters. Powerful moments included Mariel directly addressing her highly publicized rift with Margaux, honestly (and tearfully admitting) that she thought Margaux was 'stupid.' Accusations that father Jack was sexually abusing her older sisters gets dropped on us without further deliberation. Several moments of Mariel's current existence with Bobby Williams, her boyfriend and business partner, seem rather forced, such as the unnecessary inclusion of their off-roading in Mini Coopers to go rock climbing, something those vehicles clearly aren't meant for.
Disc Review
Premiering on OWN, it's perhaps no surprise to see the title receive a bare bones DVD package from Virgil films, bereft of any extra features (though some sort of extra tribute to Mariel Hemingway's filmography might have been a nice touch). As a chance to catch up with a title you may have missed, it's a passable presentation.
Final Thoughts
A fascinating and intriguing glance at a famous family's strange dynamics, Running From Crazy may not be the most hard hitting of Kopple's documentary endeavors, but she's brought an arresting subject to light from a family still entrenched in the evolving entertainment industry.
Film: ★★★/☆☆☆☆☆
Disc: ★★½/☆☆☆☆☆