The Scar | Blu-ray Review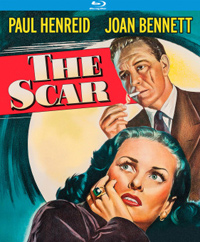 Originally released as Hollow Triumph (easily the more poetically layered metaphor of a moniker), Steve Sekely's 1948 film noir classic The Scar lapsed into public domain and has been floating around in various subpar transfers for several decades. Finally remastered, this fast and loose little B-noir can finally be appreciated for all its nasty moral ironies. As the subsequent marketing for the re-titled film proclaims, "His scar marked them both!" a more or less accurate statement about a cynical, intelligent criminal who scars his face to imitate his doppelganger while avoiding the mobsters he robbed. Only, he mistakenly cuts the wrong side of his face while a spontaneous romance with the secretary of his double further complicates his possibilities of escape. Starring Paul Henreid in uncustomarily unpleasant form alongside noir staple Joan Bennett (who headlined a number of Fritz Lang's American noirs, such as The Woman in the Window, The Secret Beyond the Door, and Scarlet Street), the illogical yet conveniently efficient plotting allows for this sinister little ditty to zip so quickly through its narrative it's almost easy to ignore the stark amorality of its two soulless lead characters. Almost.
Recently released from prison, John Muller (Henreid) is anxious to pick up where he left off, convincing his old crew, despite their better judgment, to knock off a mob owned gambling casino. However, the job gets botched, and several of Muller's cohorts are captured by vicious Rocky Stansyck, a man known for hunting down those who wrong him no matter how long it takes. Forced into hiding, Muller takes a job in an office recommended by his sympathetic brother (Eduard Franz), but finds himself unable to relent to the imperious authority figures there. Discovering there's a man named Dr. Bartok (also Henreid) who looks exactly like him sans a notable scar on the left side of his face, Muller begins following the doctor and becomes romantically entangled with his secretary, Evelyn (Joan Bennett). As Stansyck's men close in, Muller administers a scar on his face and murders the doctor in an effort to assume his identity, only to discover he put the scar on the wrong side.
Steve Sekely, a Hungarian émigré with several professional pseudonyms, had a varied filmography, scoring early success in his native country with 1931's Hyppolit, the Butler along with several Austrian and German titles before fleeing for the US pre-WWII. In Hollywood, Sekely helmed a number of B-genre items, with The Scar and the adaptation of John Wyndham's The Day of the Triffids (1962) standing out as his calling cards. Paul Henreid stars in one of his most villainous incarnations as the sociopathically inclined John Muller. Although a criminal of his intelligence makes a rather foolhardy mistake for this narrative to work (directly explained to the audience as a camera negative issue, one of several leading asides in a screenplay which seems intent on being as straightforward and efficient as possible), it's easy to overlook several lapses in logic.
Scribe Daniel Fuchs (who also penned noir classic Criss Cross and won an Academy Award for the Doris Day/James Cagney vehicle Love Me or Leave Me) adapted from a novel by Murray Forbes, which translates as pure pulp fiction on the big screen. If Henreid's ex-convict criminal is easy enough to understand, the real point of interest is Joan Bennett's secretary, whose actions remain inscrutable. During our introduction to her, she mistakenly kisses Henreid thinking he's her boss, then subsequently (and almost immediately) professes to fall in love with Muller, the criminal. As his evil plot of identity theft and murder unfolds and she realizes the man she loves has usurped the man she works for, she vows to run away with him to Hawaii (which was not yet an official State).
The scenario suggests a love/hate relationship with the scarred Dr. Bartok, a man who is involved with Leslie Brook's (of Blonde Ice, 1948) high society gal but who most likely was engaged in unprofessional activities with his secretary. The rest, more or less, plays out as expected, although with certain touches which elevate the characterizations (Muller's brief aside with a washerwoman who notices the displaced scar is unexpectedly poignant).
Disc Review:
Kino Lorber is not the first label to bring Sekely's title to Blu-ray, as The Film Detective released the film under its initial title Hollow Triumph in March, 2016. Part of their Studio Classics label, this transfer is newly re-mastered in HD and presented in 1.33:1. Picture and sound quality are superb, including some beautiful frames by DP John Alton (Oscar winner for An American in Paris, 1942), who extravagantly captures Bennett, particularly in a final close-up as she awaits Henreid aboard a departing ship. Kino includes audio commentary by film historian Imogen Sara Smith, but the title is otherwise sans extra features.
Final Thoughts:
A simple but subversive noir thriller from the late 1940s, The Scar features a sneering Paul Henreid as his most delightfully antagonistic.
Film Rating: ★★★/☆☆☆☆☆
Disc Rating: ★★★/☆☆☆☆☆