Those Who Love Me Can Take the Trainwreck: Levine Streamlines the Diffident Return of Hawn into So-So Mother-Daughter Comedy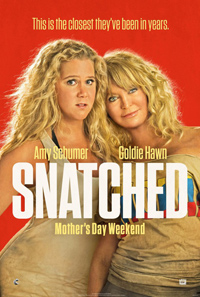 More often than note, notable actresses who make a high profile return to cinema after a decade long absence (or longer) engenders an impossible sense of expectation. There was Marlene Dietrich, who had a seventeen year absence between 1961's Judgment at Nuremberg before David Hemming's coaxed her for a cameo in his 1978 David Bowie starrer Just a Gigolo, for instance. Many studio actresses from her era simply left cinema for theater or television (Kim Novak had a ten year big screen hiatus from 1980 to 1990), or took noted absences for personal reasons (Gene Tierney, 1955 to 1962). Historically, many of these absences had hobbling effects on the tail end of their filmographies (an exception being Piper Laurie, who took an Oscar nod for 1961's The Hustler and came back with an Oscar nod for 1976's Carrie).
In more contemporary times, there have been more high profile actresses eschewing the agonizing inequality in Hollywood towards women by retreating from the spotlight, including Debra Winger (1995 to 2003) and Jane Fonda (1990 to 2005). Quietly, and without any kind of real explanation, Oscar winner Goldie Hawn (1969's Cactus Flower) disappeared from the multiplexes after 2004's The Banger Sisters, in a move not too dissimilar from Renee Zellweger. But like Fonda's Monster-in-Law, Hawn comes blazing back with a disappointing and disposable mother-daughter comedy Snatched.
To be fair, the end result of this familial adventure film doesn't rest entirely on her shoulders. Modeled after something like Romancing the Stone (1984), it's directed by Jonathan Levine, co-stars Amy Schumer, is produced by Paul Feig, and written by Katie Dippold (Ghostbusters, 2016), which rather enhances the possibilities of another R-rated comedy featuring female leads. Disappointingly, this watchable, sometimes entertaining piece of hokum about two women facing off hostile kidnappers in the Amazon is at best forgettable and at worst, insincere.
Suddenly left by her boyfriend (Randall Park) on the eve of their non-refundable vacation to Ecuador, Emily (Schumer) decides she'll take the trip anyway. Due to her recent break-up, her mother Linda (Hawn) insists Emily come visit her in Los Angeles, where she lives with her shut-in son (Ike Barinholtz). Unable to find a friend willing to take the trip with her, Emily invites Linda, who is a bit reluctant about traveling to South American. But once at their exclusive resort, Emily is swept off her feet by a handsome stranger (Tom Bateman), who leads the unwitting mother and daughter into the hands of a dangerous man (Oscar Jaenada) specializing in tourist kidnapping.
Levine, still perhaps most revered for 2011's 50/50, has curated an eclectic filmography consisting of B-genre items (All the Boys Love Mandy Lane, 2006), serviceable studio efforts (Warm Bodies, 2013), and the similarly throwaway Christmas comedy The Night Before (2015). Snatched feels akin to the latter, with Dippold's scenario (much like Ghostbusters) obviously tempered by the improvisational necessity of Schumer.
There are certainly plenty of chuckle-worthy moments, but Schumer's basically playing the same hedonistic wild-child of her 2015 breakout Trainwreck, to the extent of which this film may as well be a direct sequel. Grossly ambivalent to the needs of others, Schumer's Emily is a more salacious depiction of the modern monstrous feminine, a somewhat vapid, direction-less rube obsessed with Instagram and clinging desperately to irresponsibility. Still, Schumer knows how to play to her strengths, and her impeccable comedic timing is not in question.
Paired with Hawn (who looks an awful lot like Blythe Danner), as a feline loving woman of aggravatingly vague economic means (well, she's white, so maybe we're just supposed to not question this), the two women sometimes have chemistry, but usually when they're either endlessly bickering or running for their lives. Whenever the film is forced to slow down and contend with their emotional bond, Snatched stumbles into severe ingratiating territory. A minor tizzy reveals some of their underlying resentments for one another, apparently ameliorated when Emily decides to briefly assist some hardworking Amazonian women in their chain-gang of water distribution in their village.
Snatched is also curiously short of the outlandish set-pieces we've come to expect from these types of comedies, sans a gross-out moment involving a jungle parasite, which stops short of something like the elephant gang bang of The Brothers Grimsby (2016). A slew of supporting characters get lost in their own weird, tangential rhythms, such as a closeted lesbian couple played by Wanda Sykes and Joan Cusack (who, for reasons explained early on, has no tongue).
Likewise, Ike Barinholtz as Schumer's pseudo-agoraphobic brother and Christopher Meloni as a convenient savior swathed in Indiana Jones clichés are marginally effective in adding to the film's quality, while a hirsute Oscar Jaenada gets little to do as the main villain. A film which is oddly much less than the sum of its parts, Snatched could have benefitted from a stronger, purposeful storyline with characters who aren't mere wan amalgamations of the personas we've come to expect from its players.
★★½/☆☆☆☆☆