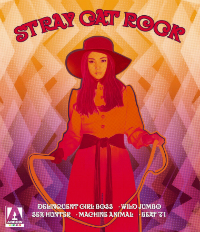 Before Toshiya Fujita shot the icon making Lady Snowblood films and Yasuharu Hasebe lensed Female Prisoner Scorpion: #701's Grudge Son, each staring their ice cold action muse Meiko Kaji, they all teamed up at the famed Nikkatsu Studios just prior to its increased interest in the sexualized pink films on a quintet of psychedelic pop infused series of films produced under the banner title Stray Cat Rock. Bathed in pop tunes and shot, cut and performed with hyper-stylized fervor over the course of just two years from 1970-1971, the series, loosely connected by cast, crew and aesthetics alone, thrives in the clubbing circuit of underground street gangs while dabbling in every pop genre imaginable, from heist film to jailbreak picture with varying results.
Kicking off the series with wild-eyed ambition, Hasebe's Delinquent Girl Boss sets the tone for the series with a complex yarn of girl power infused gang war action in which a team of girl bikers (featuring Kaji and pop singer Akiko Wada in the leading roles) get mixed up with high power right-wing nationalists who hunt them down in the wake of a fixed boxing match botched after the fighter was spoken to by the wily women. Taking their pop filmmaking craft further, Fujita took over the directorial duties for the second film – and best – of the series, Wild Jumbo. Essentially centered around a gang of blasé outsiders (led by the ultra charsimatic Tatsuya Fuji) speeding around in jeeps for kicks, begins with a kidnapping and ends with a surprisingly well executed, decidedly anti-capitalist heist gone wrong. While Wild Jumbo succeeds in portraying the shifting hippy culture of youth while operating fruitfully within the confines of genre filmmaking, the next (misleadingly named) film, Sex Hunter, feels as though the filmmakers themselves may have been on too many substances to find a coherent plot through the psychedelic murk.
Shot by Hasebe at the same time as the production of Wild Jumbo, Sex Hunter attempts to critique the lingering race relations that continued to haunt Japan at the time by setting a pair of rival gangs, led once again by Fuji and Kaji, to war in the wake of a rape blamed on a mixed-race individual. While the commentary on racism may be both sadly pertinent, yet a bit overt by today's standards, its the essentially plotless racial cleansing that leaves this film ultimately unsatisfying – though it is the first to debut Kaji's signature sexy black-hatted look that runs through the remainder of the series.
Further exploring the political side of the counter-cultural movement of the period, Hasebe's Machine Animal posits a pair of Vietnam deserters in the same drug infused club atmosphere as the previous films as they try to move a stash of LSD to fund their safe passage to Sweden. Inevitably, the gangs swarm like apathetic junkies in a flurry of split screens, whip pans and zooms, looking to make a buck and catch a high in the process. What makes this film even more strange than is predecessors is its complete embrace of the musical format – songs break out at random, no matter the mood. In its wake, the series was capped off by Fujita's odd, yet entertaining socially conscious hippy drama, Beat '71. Still wound around Kaji as a falsely accused murderer who took the fall for her boyfriend who killed in self defense, the mood of the film delves deep into the cultural aspects of social living environments and cannabis consumption. Varying wildly in styles of storytelling while never veering too far away from the stylistic core of the series, the Stray Cat Rock films remain an entertaining romp through early 70s pop exploitation that stays high on ambition, charisma, and no doubt a healthy helping of grass.
Disc Review:
Arrow Video's first domestically released boxset lacks the critical depth of some of their recent releases (most notably their vast Borowczyk collection), but merely having all five of the Stray Cat Rock films in one release is quite a sweet treat. Each of the films have been cleaned up and have received admirable transfers that bring out much more detail and naturalized colors than any previous releases have. There are the occasional damaged shots or scratches, but for the most part these look quite striking. Each is paired with uncompressed mono tracks that both show the limitations of the original productions and highlight the many musical tracks. The discs themselves come packaged in an eye-catching digipack nestled nicely into a slip-cover.
Interviews
Included within are conversations with Yasuharu Hasebe, who directed Delinquent Girl Boss, Sex Hunter and Machine Animal, actor Tatsuya Fuji, who appeared as one of the male leads in all five films, as well as Yoshio Harada, who appeared in Beat '71 and has since acted in many films, including several by Hirokazu Koreeda. 91 min
Trailers
Included are the period appropriate trailers of Wild Jumbo, Sex Hunter, Machine Animal and Beat '71. 12 min
Booklet
Featuring a wealth of film stills and a wonderfully historically contextualizing essay by Japanese cinema expert Jasper Sharp, this may be the best extra of the slim bunch.
Final Thoughts:
Campy, period specific and wholly enjoyable for their hyper energized style and charismatic overload, the Stray Cat Rock series have hewn a special place into my heart thanks this lovingly rendered release by Arrow Video. Who doesn't need a little pop-infused Japanese action psychedelia in their lives?
Films:    ★★½/☆☆☆☆☆
Discs: ★★★½/☆☆☆☆☆