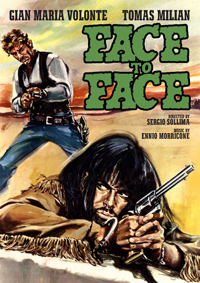 Kino Lorber brings the 1967 spaghetti Western Face to Face to Blu-ray this month, one of director Sergio Sollima's most notable titles, previously released on DVD as a box-set with the two other titles in Sollima's trilogy The Big Gundown (1966) and Run, Man, Run (1968). Noted for imbuing his work with a bit of actual social and historical context, there's a bit more substance than usual for a film relegated to the periphery of a movement dominated by a mere handful of notable names. Though it's ultimately not at the same level as iconic works by Sergio Leone and hasn't reached the same level of reappraisal as several other retroactively recuperated directors, it features more nuanced characterizations in its complex narrative structure than is usually evident in other titles of the era.
Boston professor Brad Fletcher (Gian Maria Volonte) is suffering from poor health, and is forced into a retirement to seek the restorative temperament of warmer climes in Texas. No sooner does he arrive when he is taken accidentally as a hostage by an infamous bandit, Solomon Beauregard Bennett (Tomas Milian). A series of circumstances forces Fletcher to be absorbed into Bennett's band of cohorts in a scheme that sees the bandit attempt to secure the release of his old gang members. Charley Siringo (William Berger), an undercover pinkerton detective (the character is apparently based on the exploits of a real person) infiltrates Bo's confidence, an error which proves detrimental in the criminal's eventual rehabilitation. Meanwhile, Fletcher's exposure to the excess and violence of Bo's lifestyle makes him eventually succumb to it.
Technically, Sollima's trilogy falls under the Spaghetti Western subgenre termed 'Zapata Westerns,' films often featuring the pairing of a revolutionary Mexican with money hungry Anglo archetypes. As a narrative, Face to Face manages to intrigue, juxtaposing the dual fates of its opposing protagonists quite impressively with a flourish meant to serve as a parable for the rise of fascism. Genre lynchpin Gian Maria Volonte, the villain from Leone's seminal A Fistful of Dollars and For a Few Dollars More, is quite surprising here.
Usually cast as an overbearing sort, he's a sickly, sometimes pathetic man of education here, a far cry from the commanding head police inspector he'd don a few years later in Elio Petri's iconic Investigation of a Citizen Above Suspicion (1970). Initially, he's decrepit, even feeble. However, his transformation into a violent criminal is rather abrupt—he hardly has time to acclimate from the man who left behind an object of affection to a vicious rapist (worse, the raped woman is subjected to a beating from her other 'beau' before succumbing to an actual love object for Volonte).
Less satisfactory is Milian, another genre regular decked out with a distracting black wig in a bid to appear Mexican (though he looks more Native American). Mascara-lined eyes should have modern audiences equating the look as a prototype to the ethnic intricacies of something like the Johnny Depp figure in the Pirates of the Caribbean series.
A handful of notable genre actors appear in minor roles including William Berger as the agent of the law, Jose Torres and Aldo Sambrell. A patchwork of usual suspects of the period appear in the film's crew, such as producer Alberto Grimaldi (The Good, the Bad, and the Ugly), screenwriter Sergio Donati (Once Upon a Time in the West), regular Leone production designer Carlo Simi, and, of course, the inimitable Ennio Morricone supplying the expressive score. Cinematography credit was shared by Rafael Pacheco and giallo alum Emilio Foriscot (The Strange Vice of Mrs. Wardh).
Disc Review:
Kino Lorber presents this English dubbed version in 2.35:1, and it's a generally pleasant transfer. Beyond the lack of extra features, what's more notable is the absence of the other two films in Sollima's trilogy, particularly the well-received The Big Gundown.
Final Thoughts:
Fans of the lower-profile Spaghetti Western genre should feel pleased with this presentation of Sergio Sollima's classic, a timely offering considering the director's passing away at the age of 94 in July, 2015.
Film Review: ★★★/☆☆☆☆☆
Disc Review: ★★★/☆☆☆☆☆