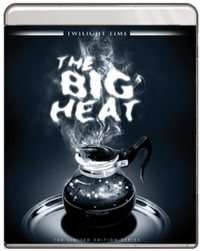 Twilight Time releases the encore version of the essential film noir masterpiece, The Big Heat. Fritz Lang has a number of notable titles in his extensive filmography, but from his later period of noirs, it's this 1953 doozy which endures as a provocative, even shockingly violent clash of the blue collar American dream and the far reaching criminal underbelly gnawing at its infrastructure. Starring Glenn Ford, it famously features siren Gloria Grahame at her most scintillating in a role which supersedes even her own 1952 Best Supporting Oscar win for soapy Hollywood drama The Bad and the Beautiful.
Straight-laced Detective Bannion (Glenn Ford) becomes involved in what appears to be an open and shut case of suicide. But since the victim was a prominent police officer, what motivated his actions hasn't been clearly established. It appears the cop's bitter wife Bertha (Jeannette Nolan) has squirreled away his suicide note, which contains disastrous information about the mob's affiliation with the police force. But the cop's current mistress, Lucy (Dorothy Green) reaches out to Bannion with a different story about the dead man. When Bannion re-approaches the cagey Bertha to compare notes, his superior tells him to lay off the case, which is something the righteous detective isn't able to do, especially after Lucy's body is found, tortured and mutilated. But as Bannion digs deeper, tragedy strikes his home front, affecting the lives of his wife (Jocelyn Brando) and child. When they receive a threatening phone call at their home, Bannion storms into local mob boss Mike Lagana's (Alexander Scourby) mansion, and is soon forced to contend with vicious thug Vince Stone (Lee Marvin) and his sultry moll, Debby (Gloria Graham).
Lang was no stranger to noir prior to The Big Heat, and several 1940s titles, particularly the pair featuring Edward G. Robinson and Joan Bennett (Scarlet Street; The Woman in the Window) are equally unparalleled examples of the genre. But Sydney Boehm's adaptation of William P. McGivern's Saturday Evening Post serial warps the hopeful magnanimous aesthetic of suburban domestic bliss with steel hearted vengeance in this surprisingly hard edged scenario, a viciousness often denuded in many of the 1950's most notable noirs.
Lang includes a notable intertextual reference to Ford's other famed noir title Gilda (1946) by having "Put the Blame on Mame" playing in the background of his first encounter with Lee Marvin. Both play men brutally intent on having their way, and are strangely on opposing side of a misogynistic spectrum. Ford's Detective Bannion is one of noir's greatest curiosities thanks to his obliviousness to his own complicity in his family's destruction. His braying self-righteousness is what shatters his idyllic domestic bliss with housewife Katie (Jocelyn Brando, older sister of Marlon, playing a woman who always says the right thing), but curiously, he refuses to acknowledge how his actions have resulted in the death of not only his wife, but of the female informant early on, and eventually the lethal maiming of Debby's moneymaker (perhaps the blame is not on Mame, this time). Marvin was in the midst of his days playing violent thugs (though eventually he'd portray similarly morally complex lead protagonists in items such as Point Blank over a decade later), and he's a scurrilous trigger man here.
From her introductory scene, we know Graham's vixen is destined for trouble based on her rebellious attitude and her inability to censor herself. It was a role originally intended for Marilyn Monroe, but to get her loaned from Fox was too expensive, which resulted in Grahame achieving an iconic moment as a woman burned and scorned. While the film unspools fast and ruthlessly in its second half, Lang hangs onto Bannion's supposed virtuous persona a tad too long, nicely juxtaposing his bulldog moments of violence on the job. But when Grahame and Marvin enter, the film comes alive with gleeful energy, particularly a scene where Marvin abuses a young woman at a bar, forcing Ford to interject on her defense. It's here where Grahame's Debby takes the opportunity to seduce Bannion, merely as an affront to Marvin's careless display at the bar, and is the film's most playful moment of seductive repartee.
Boehm's script juxtaposes the saccharine fantasy of Bannion's domestic fantasies with the lacerating violence of his vengeful tendencies. In a moment of brilliance, the wearied cop returns home to absentmindedly help his daughter build an edifice with her building blocks, but his distraction ends up toppling their project, just as his sanctimonious persecution of Lagana plunges his own private kingdom into ruins. Bannion is, in many ways, like the more ruthless version of Ray Milland's emotionally troubled character in Lang's earlier noir, Ministry of Fear (1944), a man suddenly and accidentally involved in an insidious plot who doggedly, and at great risk to himself, pursues a resolution. As the man behind the curtain, Alexander Scourby's Lagana is a dapper figurehead, proudly waxing eloquent underneath a portrait of his dead mother to Bannion (in ways recalling the pervasively suspect sexual orientation of Clifton Webb in Preminger's Laura).
Disc Review:
Twilight Time's limited edition Blu-ray (3,000 copies) presents the title in 1.33:1, and the high definition transfer is superb. The title is one of DP Charles Lang's unsung greats (a seasoned professional at framing 50s era Joan Crawford, he was nominated for seventeen Oscars, winning once for 1932's A Farewell to Arms), who frames this at first as a procedural. One needs look no further than Twilight Time's cover featuring a bubbling, steaming pot of black coffee to realize their appreciation for Lang's unforgettable noir. Besides the usual isolated score track, the disc also includes audio commentary from film historians Lem Dobbs, Julie Kirgo, and Nick Redman, while both Michael Mann and Martin Scorsese provide a statement of the title's influence.
Michael Mann on The Big Heat:
In this eleven minute segment, Michael Mann discusses the effects of German immigration on US cinema and the fascinating, assertive female characters in Lang's film.
Martin Scorsese on The Big Heat:
In this shorter segment, Scorsese speaks of his love for the film in this near six minute interview about the title he describes as a noir depicting self-fulfilling prophecy, with Ford becoming like the very men he's seeking vengeance from.
Final Thoughts:
Fast paced and containing layers of perverse savagery and social commentary, The Big Heat is fundamental film noir, an elliptical nightmare extoling what goes around comes around.
Film Review: ★★★★/☆☆☆☆☆
Disc Review: ★★★★/☆☆☆☆☆