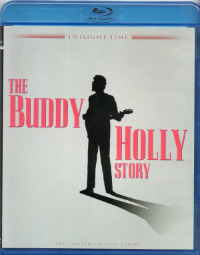 It's been quite a long time since Gary Busey was taken seriously as an actor of considerable talent, but back in 1978 he almost took home an Oscar for his spectacular portrayal of Buddy Holly in director Steve Rash's controversial bio-pic, The Buddy Holly Story. Playing a 19 year old kid from Texas on the cusp of making rock and roll history at the age of 33, Busey lost a considerable amount of weight to embody the 146 pound front man, and more impressively, performed all of the songs sprinkled throughout the film live with a fictionalized version of Holly's backing band, The Crickets. Though Busey's portrayal was lauded, the film itself was harshly criticized not only for this fabricated characterization which reduced his real life three piece band, featuring Niki Sullivan, Joe B. Mauldin and J.I. Allison, to a fictional drum and bass duo in Jesse Charles (Don Stroud) and Ray Bob Simmons (Charles Martin Smith), but a laundry list of other factual inaccuracies and omissions. Taking these issues into account, the film still provides as a wonderfully entertaining interpretation of a performer whose life was taken much too early.
With so many factual details missing, most people will think they know the basic outline Robert Gittler and Alan Swyer decided upon while adapting John Goldrosen's biography of the musician, Buddy Holly His Life and Music, which was originally published just prior to the film in 1975, but they will not. The film completely omits the existence of Holly's high school collaborator Bob Montgomery who helped him develop his sound and established him as a substantial rockabilly act in Lubbock, Texas, instead opting to paint Holly as a member of a three piece act, fully formed yet undiscovered and still taking an obnoxious amount of verbal ostracism from parents, preachers and even his snotty soon to be ex-girlfriend. Thanks to the foresight of a local radio DJ who sends out secretly recorded demos (not factual), Holly is invited to put some of his tracks to tape in a high end studio in Nashville where his aural integrity was infringed upon (factual).
With that sour experience fresh in his memory, Holly and the Crickets are soon invited to New York and informed that their demo was pressed and released without their consent, but that they'll be compensated and signed to a record contract with label mogul Ross Turner. From there, success becomes inevitable, romance ensues and racial barriers are broken. In a humorous and somewhat moving sequence in which the Crickets are booked for a week at the famed black venue, The Apollo, prior to the promoter realizing that the band is a trio of nerdy looking white kids, Holly and his band win over the all-black crowd in a matter of moments (semi-factual).
Unfortunately, everyone knows Holly's tragic end, so the filmmakers chose to close the film with a simple bit of text on screen citing the plane crash that ended his life. Filled with factual flaws and an air of amped up melodrama, the film floats on Busey's charismatic embodiment of the spectacled rock and roll icon and an A-list of the performer's hits, including 'That'll Be The Day', 'I'm Gonna Love You Too', 'Not Fade Away' and 'Everyday'. Certainly a tragedy for it's extensive factual inaccuracies, The Buddy Holly Story remains entertaining none-the-less. For the factually inclined, one should check out Paul McCartney's 1987 documentary on Holly instead, The Real Buddy Holly Story.
Disc Review:
Twilight Time's HD treatment of Rash's film isn't without a few flaws, but generally speaking possesses quite a lot of fine textual detail in both the image and audio. There are moments, especially exterior cityscapes, that could use to be cleaned up and have the color temperature re-adjusted, as they look dark and murky. Indoor shots are much more consistent in depicting accurate, stable colors and detail. The DTS-HD 5.1 track pumps out all of Busey's interpretations of Holly with clarity, but it could use a bit of a boost. It's a quiet track that requires the volume to be turned up a few notches above normal viewing levels. The disc itself comes packaged inside a standard Blu-ray case.
Theatrical Trailer
Leaning on the fact that rock and roll was still in its terrifying infancy when Holly came on the scene, the trailer hilariously lists all the dangerous threats his music posed.
Booklet
Featuring an essay by Twilight Time regular Julie Kirgo and gorgeously simple artwork that should have replaced the somewhat boring image that graces the film's cover, this thin little booklet has a variety of other stills and promo photos from the film.
Final Thoughts:
A factual disaster and still wholly entertaining as a sort of performative docudrama that blurs the lines between Holly and Busey, The Buddy Holly Story is no classic, yet its certainly worth a watch for Busey's Oscar nominated performance alone. This limited release serves as a perfect conduit for a quick watch and repeat. Who wouldn't want to watch Busey sing those glorious lyrics, 'Everyday, things are gettin' closer, Goin' faster than a roller coaster…'
Film: ★★½/☆☆☆☆☆
Disc: ★★★/☆☆☆☆☆