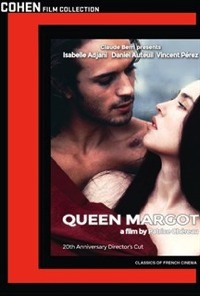 Arguably the most prolific title in director Patrice Chereau's three decades of filmmaking, Cohen Media Group releases a beautiful remastering of Queen Margot for its twentieth anniversary. Chereau, who died at the age of 68 in late 2013, participated in the restoration, which is the definitive director's cut that includes an additional twenty minutes that had been cut out of the film's 1994 theatrical release. Smack dab in the middle of his filmography, it's his most lavish and ambitious production, recreating the savage beauty of 16th century France, based on Alexandre Dumas' novel, concerning a passionate romance torn asunder by a people consumed with religious minded self-righteousness. The 2013 remastering played in Cannes Classics that year, while the film originally won the Jury Prize at Cannes in 1994, the Clint Eastwood presiding jury also awarding Virna Lisi the Best Actress prize.
In 1572 France, a break in the bloody war between Catholics and Protestants brings about an arranged marriage mastered by reigning Catholic King Charles IX (Jean-Hughes Anglade), which sees his sister Margot (Isabelle Adjani) married to Protestant Huguenot King Henry of Navarre (Daniel Auteuil). Though she never actually agrees to the arrangement (her brother rams her head into a pillow during the ceremony when she refuses to say 'I do'), it's of little consequence since both sides are equally in a tizzy as soon as it ends. But it seems that Charles' mother, Catherine de Medicis (Virna Lisi), used the ceremony as a distraction while she plots the deadly slaughter that would come to be known as the St. Bartholomew's Day Massacre, which Margot's Protestant husband only survives because he reluctantly converts in order to avoid death. Killing upwards of 6,000 Protestants, Margot manages to save her new lover, the Protestant, La Mole (Vincent Perez), after they recently met in an alley in sexual congress. Margot's lust (or love) for La Mole causes her religious fervor to abate, and thus she becomes more aligned with the sympathies of her husband, which causes Charles to keep them both captive in the Louvre. By accident, Henry has the luck to save Charles' life and gain his trust, which is an alliance to prize since Charles' has now become at odds with his younger surviving brothers, including the power hungry Anjou (Pascal Greggory).
Queen Margot has all the earmarks of a handsome, lush costume drama, but what sets Chereau's film in its own category is his penchant for all the tawdry, lascivious details that generally get left out of such adaptations. Margot's family is an appalling caboodle of sexual transgressors, which is the rather comical juxtaposition since religion is spurring all the unnecessary bloodletting. Though Charles' homosexual tendencies are the most discreetly portrayed, there's an undeniable incestuous angle to Margot's relationship with her brothers, particularly with Anjou (here played by Pascal Greggory, who also starred as Adjani's brother in Andre Techine's The Bronte Sisters, 1979)—and then Anjou seems awful friendly with mom, as well.
The freedom with which sexual proclivities are depicted also has a rather depleting effect on Margot's romance with La Mole. It's torrid and passionate, sure, but this is sexual attraction, proving our basic human instincts trump the moralizing trap of the preferred religious institution.
Chereau assembled a fine cast, the beautiful Adjani a perfect Margot, as she's the queen of neurotic women prone to unbridled fury. It is not a performance that matches the likes of her Oscar nominated work in Camille Claudel (1988) or that unforgettable descent into madness of Possession (1980), but it's a must see title in her impressive resume. As the film reaches its final throes, it becomes a reserved face-off between a mop-headed Daniel Auteuil and a sometimes over-acting Jean-Hughes Anglade, who seems to revel in stealing all his scenes.
Likewise, Virna Lisa gives a venomous performance as the scheming, backstabbing mother, hell-bent on seeing her favorite son Anjou ascend the throne. Anglade and Greggory would prove to be frequent collaborators with Chereau, each starring in a pair of the director's other titles. Likewise, screenwriter Daniele Thompson, now a director in her own right, would pen one of Chereau's other notable works, 1998's Those Who Love Me Can Take the Train.
Disc Review
Cohen's digital remastering is an exciting anniversary edition of the famed title, mostly for its addition of twenty missing minutes of footage. A masterful pamphlet insert (which includes an interview with Chereau and Thompson) explains the restoration process from the a damaged negative, although, you'd have to be looking closely for any flaws, as they're lost in the extravagance of Philippe Rousselot's (who hasn't worked on a French feature length film since Margot, working on a variety of major Hollywood productions) cinematography. Other extras are minimal, but include feature-length audio commentary by Director Emeritus of the New York Film Festival, Richard Pena, as well as the insert booklet and the 2014 re-release trailer.
Final Thoughts
An elegant costume drama with significant historical context reconstructed as a soap opera of sexual conquests hidden by the veneer of warring religious regimes, Queen Margot is scintillating cinema, and along with being his most ambitious project, perhaps the late Chereau's most accessible, as well.
Film: ★★★½/☆☆☆☆☆
Disc: ★★★★/☆☆☆☆☆