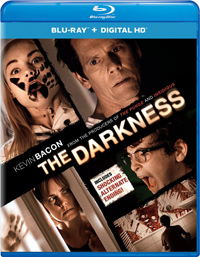 Director Greg McLean has yet to escape the shadow of his 2005 Aussie breakout, Wolf Creek, which inspired him to helm a 2013 sequel (with apparently a third installment on the way). Besides 2007 crocodile creature feature Rogue (which also starred Radha Mitchell), he hasn't had the opportunity to do so, and the low-grade US studio feature The Darkness certainly doesn't do him any favors. A familial domestic drama regarding insidious Native American spirits plaguing an unhappy white suburban nuclear family thanks to their autistic preadolescent son's predisposition as a conduit for their terror is problematic on several levels, the least of which is the suggestion of autism as a preternatural harbinger of doom. Despite starting off on solid ground with recognizable cast members engaged in clichéd woes of the economically privileged, McLean's screenplay, co-written by Shayne Armstrong and Shane Krause, fails to blend the banality of its domestic issues with its sprinkling of supernatural concerns, and by the half way point becomes so unforgivably ludicrous it seems more likely the film was an impromptu, experimental genre exercise than a film professional actors of known caliber willingly signed on to after reading the script.
When Peter (Kevin Bacon) and Bronny Taylor (Radha Mitchell) take their teenage daughter Stephanie (Lucy Fry) and autistic son Michael (David Mazouz) to the Grand Canyon for a family trip, they don't expect to return with unexpected guests. After uncovering five mystical stones in a secret and sacred site in the canyon, Michael's decision to steal the stones results in five Native American spirits plaguing his family, stirring and feeding off negative energy until they are able to cross the barrier from their world into ours. To combat the dark forces, the family must come together and enlist the help of some mystical personalities.
For one thing, it seems the Taylor family had deep seated foundational issues before their fateful Grand Canyon trip inspired little Michael to dislocate five precious obsidian stones from their eternal resting places. It is obvious Peter and Bronny have established a strained pattern of miscommunication they're not going to overcome easily, the kind we've seen countless married couples consumed by after letting time and closeness create a taken-for-granted pallor. Meanwhile, daughter Stephanie's eating disorder isn't portrayed as an occurrence she'd peripherally dabbled in, meaning the negative energy with which the dislocated spirits are being breastfed from aren't extreme enough for the purposes of McLean's scenario, or we should have had an establishing sequence of a family untouched by anguish prior to the Grand Canyon trip.
Both Kevin Bacon and Radha Mitchell are generally serviceable actors, both with their fair share of uninspired items on their resumes (the inclusion of Paul Reiser as Bacon's finicky boss is a welcome, if rather uninvolving distraction). Neither of them are given any leverage to create characters with any sort of emotional dimension, another aspect hobbling audience investment in this increasingly silly scenario. Instead, The Darkness seems to employ all the worst tropes of contemporary horror cinema (despite a beginning sequence which recalls something like Adrian Garcia Bogliano's Here Comes the Devil, 2012), its terrorized family a group of composite cardboard cutouts (like the recent Poltergeist remake) eventually saved by a random mystical spiritualist, which are usually thankless roles for ethnic actors (The Last Exorcism II), here embodied by two earnest Latinas willingly endangering themselves to assist a compromised white family by spouting gibberish in Spanish at entities who are nothing more than shadowy outlines leaving soot everywhere.
Disc Review:
Blumhouse Productions and Chapter One Films released the title in May, 2016 with the assistance of distributor High Top Releasing, and it raked in ten million at the domestic box office despite a slew of negative reviews. A Blu-ray release from Universal Home Entertainment presents the title in Widescreen 2.40:1, and enhanced production values (including some great exterior shots in the opening Grand Canyon sequences from DP Toby Oliver) would seem to indicate a more polished narrative than what eventually transpires. What's credited as a "shocking alternate ending," along with deleted scenes, are included as bonus features.
Alternate Ending:
By 'shocking,' the marketing materials for the film mean 'not audience friendly' (and the initial treatment plays like something the studio would have demanded to excess after test audience misgivings). Although this alternate nine-minute finale doesn't make up for the uninspired narrative as a whole, its dire conclusion suggests why McLean might have been attracted to the project in the first place.
Deleted Scenes:
For additional consideration are seven deleted sequences equaling nearly ten minutes of screen time.
Final Thoughts:
As uninspired a genre entry as even its generic title suggests, The Darkness can't muster the ability to entertain as a campy misfire or a formulaic thriller.
Film Review: ★½/☆☆☆☆☆
Disc Review: ★★★½/☆☆☆☆☆