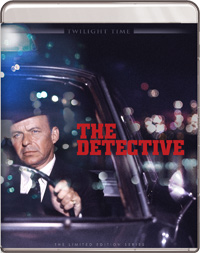 Director Gordon Douglas is one of many prolific filmmakers who seemed to fall short of auteur recognition despite considerable iconic items lodged within a vast filmography. Starting out in Hollywood as a child actor, he was directing shorts throughout the 1930s and began developing a resume of B-grade features, the most notable from this period being the 1954 sci-fi classic Them!, one of several genre items capitalizing on nuclear warfare fears. The 1960s found Douglas evolving freely with the times, churning out some racy Carroll Baker numbers (including in a biopic of Jean Harlow), the James Bond knock-off In Like Flint (1967), and a trio of Frank Sinatra vehicles. In between directing Sinatra in a pair of movies where the crooner plays Miami PI Tony Rome, Douglas concocted something much more provocative, a seedy, lurid neo-noir titled The Detective (1968). One of several oft-referenced titles detailed in Vito Russo's The Celluloid Closet, Gordon's infamous film is both ahead of and stuck within the certain period in question, a pre-Stonewall post-Hays Code depiction of homosexuality. Easily dismissed as homophobic in some circles, this new restoration should help rehabilitate the film's lapse into obscurity. Important at least for its depiction of progressive, humane attitudes (made all the more notable considering its lead star), the rather overblown depiction of some homosexual characters lacks a certain nuance (and could very well be read as a preface to the growing frustration of visibly queer characters in genre which would culminate in the violent backlash over a decade later with William Friedkin's 1980 film Cruising).
Detective Joe Leland (Frank Sinatra) is an incorruptible cop assigned to investigate the murder of a notable gay man found mutilated in his apartment. With his superiors interested in convicting a perpetrator as soon as possible, Leland becomes swayed by the prospect of a promotion and hassles a suspect for a confession. But when the wife (Jacqueline Bisset) of a recently deceased businessman questions the coroner's ruling of her husband's suicide, Leland discovers the two cases are intertwined. Meanwhile, his relationship with his wife (Lee Remick) begins to unravel as he scores success with his career.
Several behind-the-scenes items as regards The Detective are too delicious to omit in the examination of the Douglas film. First of all, Sinatra was married to Mia Farrow at the time, and she was originally cast in the Bisset role, but when Polanski's Rosemary's Baby wasn't completed in time, Farrow's dropping out of The Detective is what apparently prompted those divorce papers to be served so infamously on the Polanksi set.
Screenwriter Abby Mann, known for his famed collaborations with Stanley Kramer, brings his interests in social issues to a very topical problem. In his passing deliberations on the film, Vito Russo quotes Mann's statement to the New York Times in 1967 about how society is more apt to accept a murderer's actions over one's professed homosexuality, which is what The Detective aims to enlighten us on from its vert first frame. At times, this burden buckles the dramatic proceedings, particularly in the film's show stopping faux pas when Sinatra's overeager detective sneakily seduces a fake confession from a psychotic Tony Musante. It's a sequence that's easy to laugh at today, but there's something unavoidably, fatally putrid about this scene, despite Musante's hysterical over-the-top delivery. But there are several other notable moments, including Sinatra facing off against a viciously homophobic cop played by Robert Duvall.
Subplots, especially the marital woes between Sinatra and Remick, often seems like the narrative is biting off more than it can chew, even though it's a fascinating dynamic considering a sexually repressed housewife demanding agency over her right to pleasure (and it's also an interesting parallel to the troubled relationship between Pacino and Karen Allen in the later Cruising). Also of note is an incredibly unappealing supporting turn from a worn out Ralph Meeker and, of course, a very nubile Jacqueline Bisset as the clueless trophy wife.
But also of note, Mann is adapting from the novel by Roderick Thorpe, who would pen a sequel in 1979 titled Nothing Lasts Forever. The rights to the sequel were bought by 20th Century Fox and the studio was contractually obligated to offer the role to Sinatra, who turned it down. Eventually, the Sinatra character's name was changed to John McClane and the role went to Bruce Willis for the first in what would become the Die Hard franchise.
Disc Review:
Twilight Time does a superb job with this Blu-ray transfer of The Detective (which previously existed as part of a 2005 DVD set with the two Douglas directed Tony Rome titles). DP Joseph F. Biroc (Oscar winner for 1974's The Towering Inferno) provides a variety of intriguing action/reaction shots with Sinatra and Remick, extreme close-ups seemingly signifying the estranged couple as a mirror for one another, which creates an interesting reading for Sinatra's educated cop who knows how to manipulate queer characters as well as provide knowledgeable interpretations of theater productions with his wife's elitist friends. Jerry Goldsmith's score is available as an isolated track on the disc while film historians David Del Valle, Lem Dobbs, and Nick Redman provide optional commentary. As usual, this Twilight Time release is a limited edition of 3,000 units.
Final Thoughts:
Featuring a compelling and notable performance from Frank Sinatra, The Detective is an enjoyable neo-noir from the late 60s reflecting realistic attitudes towards queer characters, including their unnecessary criminalization and the considerable cruelty exacted upon them by law enforcement.
Film Review: ★★★½/☆☆☆☆☆
Disc Review: ★★★★/☆☆☆☆☆