All's Well, End's Well: Leon de Aranoa's Benevolent English Debut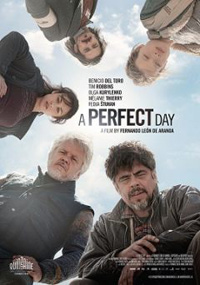 Fernando Leon de Aranoa makes his English language debut with A Perfect Day, a period comedy set in the mid 90's about a group of aid workers doing their best to assist the locals at the tail end of the Balkan War. Though this 'war comedy' isn't the first of its kind (Altman's M*A*S*H certainly comes to mind with its similar mix of self-consumed characters and melancholy apathy), the Spanish filmmaker avoids sermonizing the noble intentions of the NGO workers in favor of realistic character tendencies. But although it avoids melodrama, the narrative languishes a bit too much on its quintet of characters, whose passions, drives, and desires tend to be relayed paralytically. As a glimpse at a particular time and place often avoided in English speaking cinematic ventures, Leon de Aranoa certainly captures a compelling essence with this subdued portrait, but the payoff isn't as significant as it should be.
Workers for NGO 'Aid Across Borders' labor to hoist a dead corpse out of a well somewhere in the middle of conflict zone in the Balkans circa 1995. Mambru (Benecio Del Toro) and Damir (Fedja Stukan) are mid-way through the procedure before the rope snaps. Considering there are so few water supplies for the nearby villagers, it's imperative they are able to take the contamination out of the well. However, new rope promises to be a hard commodity to obtain, since the locals appear unwilling to supply and while their colleagues at the nearby U.N. base don't deem the tasking to be a priority. B (Tim Robbins) and newcomer Sophie (Melanie Thierry) join Mambru in attempting to take the body out of the well. As they depart to scour the mine ridden landscape for rope, they're joined by Katya (Olga Kurylenko), who seems to share a conflicting history with Mambru.
Leon de Aranoa's rather trite title will have either Lou Reed or a track from one hit pop wonder Hoku in your head thanks to its generic moniker. In other ways, Aranoa's actual use of non-diegetic tunes (several of which are specific to the time period), provide an emotional pitch the narrative can't supply in equal force, such as a tense moment enhanced by Marilyn Manson. An exception here is a memorable use of Marlene Dietrich's cover of the Pete Seeger ballad "Where Have All the Flowers Gone?"
As a testament to the ludicrous and incomprehensible bureaucratic misappropriation of resources and efficiency, A Perfect Day works well (no pun intended) as a kind of commentary. Adapted from a novel by Paula Farias, the situation at hand is bookended nicely with a metaphor as concerns good intentions, but some of the banalities of the in-house drama don't translate as effectively. Melanie Thierry is the virtuous newcomer, saddled with the experiences of handling her first human corpses within the war zone. Thierry's energy feels compassionately intact, but she's only used as a peripheral cliché. Tim Robbins lands most of the scenario's offbeat humor but he takes a backseat to the troubled romance between Del Toro and conflict analyst Kurylenko.
More than Altman, these noble crusaders seem more akin to the humanitarian aid workers in Africa from Joachim Lafosse's The White Knights, which premiered several months after Leon de Aranoa presented A Perfect Day at the Directors' Fortnight in Cannes. The handsome cast members certainly elevate the film's notability, but they also assist in defining the film as the type of 'do-gooder' saga Leon de Aranoa initially seems to be avoiding—as in, why are these altruistic Westerners of innately more interest?
Extensive screen time for a local young boy (Elidar Residovic) recalls a similar device used by Michel Hazancivius in his ill-conceived remake of Fred Zinneman's The Search. Though Leon de Aranoa's film is hardly as egregious in its overblown dramatizations, A Perfect Day is still never as facetious or arguably relevant as one assumes it wants to be.
★★½/☆☆☆☆☆