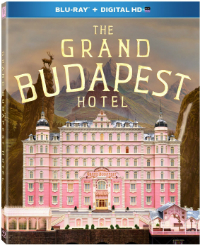 Like Kubrick's secluded Overlook Hotel, Wes Anderson's Grand Budapest is a thing of decrepit majesty haunted by its former more lavish and illustrious self, and the countless tragedies that took place within so long ago. But while Kubrick's stewing masterpiece focused on psychological disintegration as a result of lingering horrors, Anderson has chosen to harness these horrors within his own highly composed accord, examining instead the effects of place and time on memory and how storytelling can act as a vessel of emotional transference through time and space. For Anderson, this is striking new thematic territory that treads through grim waters, yet plays like a period (though thoroughly fictitious) comedy with all of the auteur's signature stylistic formalities in place. The Grand Budapest Hotel is truly an odd film, hilarious and heartbreaking as all of his pictures have been, but it sees Anderson expanding his range, embracing emotional contradictions and mastering his balance of artifice, intelligence and straight up silliness.
Placing us in the present, Anderson allows The Author (Tom Wilkinson) to set the stage for his tales of the Grand Budapest, speaking dryly to camera, while his children hilariously interrupt in whip pan and back. Forty years prior, The (much younger) Author (Jude Law) visited the secluded hotel nestled in the snowy mountains of the Republic of Zubrowka and found the once prestigious accommodations nearly vacant, rundown, yet still fondly revered by its owner and former lobby boy, Mr. Moustafa (F. Murray Abraham). An admirer of The Author's work, Moustafa offers to divulge his mysterious history with the hotel over dinner, which takes us back another thirty years to 1932, the year the teenaged Moustafa (newcomer and future Anderson staple Tony Revolori), then nicknamed Zero, landed his devout Lobby Boy gig under the master of accommodations, M. Gustave (Ralph Fiennes in his most hysterically deadpan role to date). On the brink of war, Zubrowka is increasingly being occupied by the same military forces that murdered Zero's family before he made his escape from foreign lands.
The grave aforementioned circumstances are almost always upstaged by Gustave's disregard for the oncoming realities of his nation. His preoccupation with the hotel and its wealthy, over-the-hill clientele sends he and Zero on a riotous jaunt to claim his inheritance of one of the hotel's most loyal visitors (Tilda Swinton caked in perfectly antiquing makeup), despite the murderous disdain of her spiteful spawn (Willem Dafoe, Adrien Brody) have for the wining and dining manther. Here, the film becomes a sort of doll-house noir, bathed in lavish pastels, shadowy figures and more fake blood than has dripped its way into Anderson's work before, yet there's an extended jailbreak sequence, an intertwined young romance and a secret society of hotel impresario and lobby boy duos that thicken the plot to a gloriously composed and somewhat gooey mess.
For many, The Grand Budapest Hotel will come off as too jumbled, overstuffed or emotionally imbalanced, overlooking several A-list actors with its insanely illustrious cast, butting ideas like the atrocities of war or the lasting pain of losing a loved one against whipsmart wisecracks and countless physical gags, all along jumping between a trio of time periods via different screen aspect ratios. But still, others might think this to be Anderson's crowning achievement. Never before has he broached the painful subject of war, nor the enduring power of story or the tragedy of bearing one's own painful memories, all of which he handles here with a precise poignancy that ever so subtly transcends time with agony via humor. It's no coincidence that Gustave's much lauded, inherited painting, 'Boy With Apple', holds the pivotal key to this wondrous murder mystery. In Anderson's world, art is the bearer of all things.
Disc Review:
Slipped within a matte coated dust jacket, the 20th Century Fox released package is graced with the pink toy monolith itself. The film's home release debut looks every bit as great as you'd expect from a new Wes Anderson picture – wildly vibrant, incredibly crisp, visually exquisite. Oddly, the film's shifting aspect ratios, which did not disturb the theatrical experience in any way, is somewhat distracting on the small screen. This is partially due to the fact that the modern day scenes are strangely window-boxed and the academy ratio segments don't completely reach the top and bottom of the screen for whatever reason. Overall, it still looks top-notch. The disc also packs an expressive DTS-HD 5.1 track pushing the rapid fire dialogue with extreme clarity and Alexandre Desplat's playfully paramount soundtrack pulsating mostly through the frontal mains. A digital download is also included.
Bill Murray Tours the Town
In the town of Görlitz on the Polish border, Murray takes us around the Hotel Börse, which served as home base for the film crew and also orders some locally made sausage. It's very much like the extra from Fantastic Mr. Fox, where Murray gives a tour of the production, but much shorter. 4 min
Vignettes
The first is a slideshow presentation by Tom Wilkinson's author character on the faux history of Zubrowka. The second is an investigation, quick witted documentary style, into The Society of the Crossed Keys. You may need to pause to catch all the on screen text. The third is a playful Andersonian instructional bit on How to Make Mendl's Courtesan au Chocolat.
Promotional Featurettes
Featuring Wes Anderson himself and nearly all the main cast and crew, this is a standard set of broken up EPK pieces, but despite that fact, there is plenty of fun infobits and behind the scenes footage to be gleaned within. 25 min
Stills Gallery
As you'd expect, a series of photos from the film presented in HD.
Theatrical Trailers
Even more propulsive than the film itself, the trailer condenses and still manages to encapsulate its spirit beautifully. 2 min
Final Thoughts:
Wes Anderson's take on the traditional caper is wildly inventive, yet still very much the hyper stylized auteur. The film's wholly fictionalized history and its meticulously composed imagery overlay the darkest thematic innards the filmmaker has yet composed, near-seamlessly melding its war-torn heart with a Mendl's sugary coating. Densely layered, visually and narratively, the re-watchability of the film is quite high, so, Fox's striking Blu-ray release will surely come in handy over the coming years (or, at least until Criterion get their white gloved hands all over it for an extensive licensed release, as they have for all of his previous films thus far).
Film: ★★★★/☆☆☆☆☆
Disc: ★★★½/☆☆☆☆☆