The Green Slime (1968) | Blu-ray Review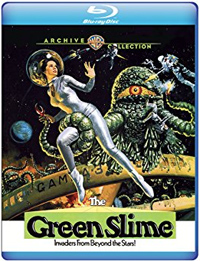 There are several significant elements lost in translation in the wonderful failed experiment that is The Green Slime, a 1968 B-grade (or lower) sci-fi schlocker born out of a co-production between US and Japan studios MGM and Tohei. What remains significant about this somewhat forgettable but otherwise entertaining guilty pleasure is how it stands as the English language debut of director Kinji Fukusaku, an influential auteur who rose to prominence in the 1970s thanks to his seminal yakuza and samurai films (not to mention his contributions to Hollywood's Tora! Tora! Tora!, 1970), all the way into the early 2000s with his infamous Battle Royale. Charged with directed a Japanese production crew and an all-white, all-English-speaking cast, his attempt at popularized American genre remains an unfair assessment of his capabilities, especially as evidenced from a highly derivative and uninventive script from US scribes William Finger, Tom Rowe, and Charles Sinclair.
As an asteroid named Fiona hurtles towards Earth, scientists surmise they have only ten hours to divert her course or face certain extinction. Out of desperation, the military approaches retired astronaut Jack Rankin (Robert Horton) to command a team to be deployed from space station Gamma 3, from where they'll leave to land on the asteroid to plant explosives on her. However, Rankin runs into emotional baggage on Gamma 3, which is operated by his ex-best friend Commander Vince Elliott (Richard Jaekel), the man who took from him his old flame, Dr. Lisa Benson (Luciana Paluzzi), who also works at the station. Putting their differences aside, the team works together to overcome Fiona…only to bring back with them a green, slimy substance, out of which is born angry space creatures who kill everything in their path.
Quentin Tarantino would eventually become one of Fukusaku's stateside champions, but many of his most influential titles have only recently been recuperated in the US, thanks exclusively to the painstaking efforts of Arrow Video, a label which has re-released pristine restorations of the famed Battles Without Honor and Humanity (1973) and subsequent sequels. Unfortunately, The Green Slime is not the best introduction to Fukusaku, and plays like a 1950s anachronism rather than a late 1960s co-production promising a sort of cross-cultural innovation. The film's initial error is its lackluster cast, particularly its two male leads, supposedly locking professional and romantic horns as they vie for control over their insular space station and the attention of the medical officer, who is treated more like a nurse and played unconvincingly by Italian actress Luciana Paluzzi (of Thunderball, 1965), a remnant of the property's ties to its initial plans for filming in Italy.
Countless laughs are to be had, but Warner Bros. greatest disservice in this re-release of the forgotten title is not including the film's MST3K track (the film served as the actual pilot episode of the famed television series, but included different characters than the show went forward with), as such distractions greatly enhance the superb ineptness of The Green Slime in nearly every regard.
The eye-rolling rivalry between Robert Horton and Richard Jaekel is drenched with homoerotic undertones, while the extreme rigidity of both actors enhances these subversive possibilities (like arguing over their shared property, Dr. Lisa). Indefatigable pauses and slowly unspooling interactions (including one of the most embarrassing dance sequences involving white people put to film) unfold in what seems intense slow-motion after asteroid Fiona is neatly derailed from her course. As we finally get into the titular colored stuff which now threatens humanity, Fukusaku heads straight into the deep caverns of camp upon the introductions of the plasticine creatures born of the oozing, bubbly Jell-O slime, which look like burnt Minions attached to flailing tentacles. Jaekel refers to the monsters best when he shouts at his co-stars, "These things, as you call them…," which tend to sound like angry seagulls gathered over tender bits on the seashore.
The strange failure that is The Green Slime is interesting for several reasons, most obviously in how Fukusaku's resources forced him to make a film utilizing white people contained in closed-off sets, which enhances the film's antiquated qualities. Like the troubled denizens of the realm known as Asgard repeatedly affirm in Taika Waititi's soon-to-be-unleashed Thor Ragnarok, whiteness is a people, not a place—and The Green Slime resists the origins of its makers to adhere to the staunch dullness of the Anglo-Saxon figures in the frame.
Disc Review:
A release from Warner Bros.' Archive Collection, The Green Slime arrives on Blu-ray in 2.35:1 with 2.0 DTS-HD Master Audio. As such, the film looks and sounds a lot more pristine than it probably deserves, with all its poor lighting, lazy set-designs, and monotonous line deliveries made even more painfully obvious. The print-on-demand release is sans any extra features.
Final Thoughts:
It's slime-time, and if you're in the mood for some Halloween cheese, or just some oddly entertaining noise in the background, The Green Slime does the trick.
Film Review: ★★/☆☆☆☆☆
Film Review: ★★★/☆☆☆☆☆