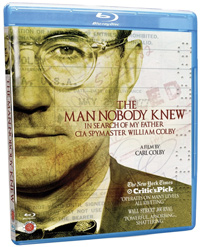 Looking back, William Colby was indeed a curious man. A behind enemy lines Army sky diver during World War II, and a globe trotting CIA agent in its wake, he devoted his life to his country, and still reared five children with the blind devotion of his loving first wife, Barbara Heinzen, in the process. As a devout Catholic, his strict value system stemmed from the church, deeply anchoring his family in the good book, and highly influencing his political beliefs. And though he briefly took the very public office of director of the CIA under Nixon and Ford, Colby was a man of mechanics, internalizing any and all emotion. His son, and first time feature film director, Carl Colby states that he believes his father never loved anyone, and you see William robotically speak, gazing remotely with a frigid look plastered on his face, there is no denying this distinct possibility. The Man Nobody Knew aims to unearth the enigmatic William Colby's true identity in typical bio-doc fashion, but the mystery man remains just that.
Carl's father gave him a privileged, exotic childhood, and though he grew up among dignitaries in tropic locales, and was frequently quizzed on the daily headlines, his father remained a mystery. Using personal family photographs, archival news reels, and newly shot interviews with William's ex-wife, and a wide range of co-workers like Donald Rumsfeld, Bob Kerrey, and Seymour Hersh, Carl tries to make sense of his furtive father's perplexing untold story. With all the privy details on the table, and plenty of political drama surrounding the conflict in Vietnam, and his decision to defy presidential orders to reveal the CIA's "family jewels", William's rise and fall seems one of austere surmise. Colby's secret agent career resembled nothing like our beloved Hollywood agents Bourne or Bond.
Despite all the bureaucratic tension, Colby and his subdued home life don't make for a particularly eventful tale. It is the espionage itself that propels the film. Carl has done a beautiful job putting all the cogs in their respective places for a fluid cinematic experience, but with all the parts in motion, Colby seems just an extraordinary man who downplayed his remarkable lifestyle through personal repression, and professional regret. The ever present personal recollections can't seem to enliven this hardened man's life, especially when Carl himself inelegantly recounts his own memories through fumbling, nervous voice over.
When William Colby died mysteriously in what was ruled as a boating accident and/or heart attack/stroke (some believe suicide), he took with him an agglomeration of secrets, and left everyone with their own host of question marks. Carl himself seems to have made the film to fill the gap left between he and his father, but there is still a dark void, seemingly meant to remain so.
The Disc:
As First Run Features second Blu-ray release, this disc gives a solid presentation, even tacking on a couple of bonus features for good measure. Like most historical docs, the feature is constructed of lots of old photographs, and archived material, all of which seems to have been cleaned up for the HD treatment. The new interview footage contains minute detail in facial features, and clothing texture, and overlaid atop it all is a crisp, dialog based DTS-HD 5.1 master track.
Carl Colby Inteviewed by James Reston, Jr.
In these 20 minutes, Carl, who looks nearly identical to his father, answers tough questions about why he made the film, details about his relationship with his father, and whether or not his father might have had any regrets about his CIA career.
Extra Scenes
This is an additional half hour of spliced interviews that go into incredible detail about what a career in the CIA involves. With a wide range of retired agents speaking openly, they convey just how tough the the job can be, and why it is such so important. Surprisingly, this piece nearly overshadows the feature itself.
Photo Gallery
Organized chronologically, this series of photographs show Colby both on the job, and at home with his family at a variety of periods in his life.
William E. Colby/CIA Timeline
On this clickable timeline are short blurbs describing why each date is of importance to either Colby or the CIA as a whole.
Trailer Gallery
Included is a collection of First Run Feature doc trailers, including Garbo, Eames, The Most Dangerous Man In America, Surviving Progress, and Bhutto.
Final Thoughts:
Carl's obvious adoration for his father has led him to craft an admirable documentary. William Colby's story, though helmed by his son, seems a fair representation of the man, showing a torn soul, leading the life of an American super spy while desperately trying to appear normal. The juxtaposition seems to have led him to be a man of repressed emotion, and patriotic devotion. Looking behind the curtains of American espionage is always fascinating, and for that alone, The Man Nobody Knew is a commendable creation.