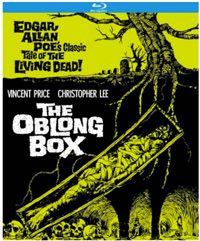 Based very loosely on an 1844 short story from Edgar Allan Poe, Gordon Hessler's 1969 version of The Oblong Box isn't a very unique endeavor other than its distinction as the first onscreen pairing of horror icons Vincent Price and Christopher Lee. Lost somewhere in the slew of Poe adaptations from Roger Corman and Jacques Tourneur, Hessler (who would reunite with Price several times, as well as direct more famed Poe property with 1971's Murders in the Rue Morgue, starring Jason Robards) can't quite maintain a semblance of tension, even with its customarily eerie co-stars. Less thrilling than it seems roundly determined to remain obsessively complicated since its narrative hobbles any chance of mystery in its first act, the film is about as unnecessary as Poe's titular euphemism for a coffin.
After an African tribe ruthlessly deforms Sir Edward Markham (Alistair Williamson) for unknown reasons, his brother Julian (Vincent Price) assists in their departure from the 'dark continent' and holes the wounded Edward up in a tower on their significant English estate. But Edward soon grows tired of being locked away from the world, even though Julian believes it's for his brother's own good. Through the assistance of the family lawyer, Edward manages to ingest a toxin that makes him seem dead. Because of his deformity, Julian arranges to have a stranger's body snatched to display in the open casket at the funeral, leading to Edward being buried alive. Luckily, another local grave robber, Dr. Neuhart (Christopher Lee), digs up Edward and allows the angry gentleman, who dons a red hood, to chart a complicated plan of vengeance against Julian and all those his brother holds dear.
The title was originally to be directed by Michael Reeves (The Conqueror Worm, 1968), who reputedly died of an accidental overdose of barbiturates and alcohol during pre-production. Hessler took over the property, this being his third feature film, and the last screenplay of writer/director Lawrence Huntington, a man with a steady career through the 30s and 50s of titles referred to as 'second-feature' melodramas and light genre fare.
As such, there's much of The Oblong Box which seems to be merely going through the motions. Price, as usual, is paired with a woman decades his senior, which only adds to the narrative's strained suspension-of-disbelief, but he's generally a sight for sore eyes considering Christopher Lee seems like he's sleepwalking and the main villain, poor Alister Williamson, is cloaked in a crimson hood until the third act reveal of his deformed face (which turns out to look slightly smushed and glistening with an overabundance of perspiration). Despite body snatching, voodoo curses, live burials, and bloodthirsty vengeance, The Oblong Box may be morose, but it's about as enjoyable as slicing through a leathery loaf of bread with a dull butter knife.
Disc Review:
At one point, The Oblong Box was part of a two feature disc set with Hessler and co-writer Christopher Wicking's (credited only for additional dialogue for Box) follow-up, 1970's Scream and Scream Again, also headlined by Price and Lee (strangely enough, that title gets a Blu-ray release this month as well, courtesy of Twilight Time). Kino Lorber presents The Oblong Box in 1.85:1, and the print of the film plays nicely with this transfer. Audio commentary from film historian Steve Haberman is available.
Edgar Allan Poe's Annabel Lee (1969):
An extra feature finds the enigmatic Price reading one of Poe's best poems, "Annabel Lee."
Vincent Price Trailer Gallery:
Fans of the horror icon should appreciate the trailer gallery included here of Price's films.
Final Thoughts:
Though the film was once difficult to obtain after its initial DVD release went out of print, The Oblong Box proves to be a minor title best appreciated by die-hard fans of its illustrious stars.
Film Review: ★★/☆☆☆☆☆
Disc Review: ★★★/☆☆☆☆☆