Disc Reviews
Criterion Collection: My Own Private Idaho| Blu-ray Review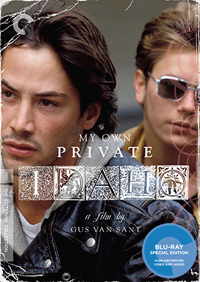 Patching together portraits of his beloved Portland streets, bits of Shakespeare's Henry IV via Welles' tumultuous Chimes at Midnight, and vignettes of a narcoleptic vagabond hustler whose motherless anxieties send him travelling through time and space in shimmeringly nostalgic deep sleep, Gus Van Sant's My Own Private Idaho is a wildly original amalgam of cultural references and personal investments that transcend a mere tip of the hat. Riding high in the wake of Drugstore Cowboy's Hollywood success, Van Sant convinced River Phoenix and Keanu Reeves, two rising Tinseltown heart-throbs, to take a serious risk, committing themselves, against the loudly voiced opinions of their agents, to a pair of overtly homosexual roles in a film that opens with an off-screen blowjob. After River was awarded the prizes for Best Actor from the Venice International Film Festival, the Independent Spirit Awards and the National Society of Film Critics Awards for his unearthly turn as Mike, it would seem they made the right choice.
Reeves co-stars as Scott, the spoiled rotten son of the mayor of Portland, a Prince Hal-equivalent to William Richert's belligerent Falstaff-inspired Bob, a kingpin of homelessness. Scott's privileged upbringing has ignited an anarchistic fire from within, sending the young man to delve into the street life, turning tricks for fun, fulling embedded with the derelicts of society. Having run into Mike while out on a job and subsequently taken care of him when he went into a narcoleptic stupor, the two become brothers of the road, pranking their own merry band of squatting street punks, and ultimately setting out on a journey to find Mike's long lost mother, an apparition that haunts his nightmares, yet to him serves as a potential key to all of his troubles.
And while all of this sounds like a wacky, psychedelic journey through Portland's homosexually infused underbelly, it's formal experimentation expands the film even further, allowing these characters to move between the Shakespearean worlds (complete with freshly interpreted archaic dialects) of the street life, a sort of surrealistic narcoleptic road movie which sees Mike and Scott waking up in new locales after falling into deep sleep, and even documentary interludes which ground the ever inventive ideas of Van Sant in the real world, complete with nitty-gritty details of on the job encounters from the locals. It seems like it could structurally, nor tonally never work, the film flows beautifully, even movingly, like the time-lapse landscapes that demarcate the passing of time and the relocation of our weary protagonists, My Own Private Idaho mutates and metamorphosizes into something uniquely beautiful and deeply heartbreaking.
As it becomes clear that Mike will never find his mother, Scott reveals his true self to be not only straight, but astonishingly shallow in his selfishness. Each of the film's various threads come taut as Scott abandons the street life to embrace his rightful place in the business world in the wake of his father's passing while his former cohorts (Mike included) on the street mourn the loss of Bob, his forsaken adopted father of destitution, with a riotous celebration that contrasts the stuffy straight-laced funeral Scott attends just across the way. A sort of fucked up face that subconsciously splits down the center Jekyll and Hyde-style with stylistic compartmentalisms and zany cast of characters, My Own Private Idaho may be an operatic arraignment of the class divide that continues to bring shame on America, Van Sant's film gleams brightest when Phoenix, with his wobbly, puppy-dog charisma appears on screen. His performance, rife with the ticks and reserved intensity that would become the heart and soul of his younger brother Joaquin's on screen presence, is an absolute stunner.
Disc Review
This newly restored 4K digital transfer, approved by director Gus Van Sant and director of photography Eric Alan Edwards looks quite stunning, with plenty of period film grain intact and increased levels of detail of previous DVD releases by a long shot. Originally released with just a stereo track in tow, the Blu-ray comes with an alternate 5.1 DTS-HD Master Audio that sounds quite lovely and doesn't go overboard with the aural expansion.
Gus Van Sant and Todd Haynes
Essentially an abbreviated commentary track, this is a must listen that focuses in on various aspects of the film and entertainingly, intellectually unpacks each of the ideas that come into play. 53 min
The Making of "My Own Private Idaho"
Incredibly informative overview of the film's production featuring editor Curtiss Clayton, directors of photography John Campbell and Eric Alan Edwards, and production designer David Brisbin. 42 min
Kings of the Road
An indespensible interview with film scholar Paul Arthur from 2005. Approaching the film from every conceivable angle with wit, historical context and a comprehensive understanding of the film's place within it, this is an A-list bit of film criticism right here. 44 min
Laurie Parker and actor River Phoenix's sister Rain
Conversation from 2005 between the film's producer and River's little brother who was on set for part of the shoot and acted in Van Sant's subsequent feature talk about their shared experiences on set. 19 min
Audio conversation from 2005 between writer JT LeRoy and filmmaker Jonathan Caouette
A loose converation of memories of Portland and the impact of the film expands into an in-depth interview with the director after Gus is called up mid-way through. 54 min
Deleted scenes
Presented unrestored with various bits of image and sound missing, these six scenes expand Bob's world, the professional lives of the street kids, the road, Mike's brief visit to an institution and the campfire. 13 min
Trailer
Strangely not cleaned up like just about everything else on the disc, it looks and sounds like it was ripped off an old original VHS release. 2 min
Booklet
Featuring essays by film critic Amy Taubin and LeRoy, a 1991 article by Lance Loud and reprinted interviews with Van Sant, Phoenix, and actor Keanu Reeves, this thick little bound booklet is quite a substantial inclusion!
Final Thoughts:
It's hard to imagine a film like this finding its way into the world nowadays. How did Van Sant convince two rising stars to turn their back on their agents to embrace the chaotic improvisation of his production style and the overtly homosexual ideals of his script? It's quite amazing. And yet, their contribution to the picture is everything. River and Reeves, who knows what My Own Private Idaho would have been? As it is, its a masterclass in the malleability of film form and physical on screen performance. A must watch.
Film Review:    ★★★★/☆☆☆☆☆
Disc Review: ★★★★★/☆☆☆☆☆