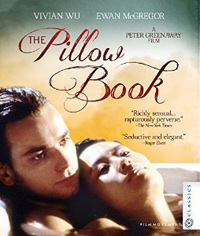 Though typical of Peter Greenaway's predilection for depictions of provocative desires laid out over sometimes subversive subtexts, his 1996 title The Pillow Book feels demure in comparison to the ribald sexuality in more notorious works, such as The Cook, the Thief, His Wife & Her Lover and his most recent, Eisenstein in Guanajuato. Premiering in the Un Certain Regard sidebar at that year's Cannes Film Festival, the sensual film was warmly received, especially in comparison to the features he made directly before and after (The Baby of Macon; 8 ½ Women, respectively). Based on, or rather inspired by, the love diary of Sei Shonagon, a court lady to Empress Consort Teishi, the text is a compilation of musings and records of trysts. Completed in the year 1002, it is considered to be the first novel, of course reconstituted by the enigmatic auteur for his innovative, hybridized purposes. Compared to several of Greenaway's other titles, this may rank as his most accessible, though it sometimes lacks the signature energy making his less cohesive works more memorable.
When she was just a child, Nagiko (Vivian Wu) developed a fascination with calligraphy because her father would write birthday greetings on her face. At the same time, her mother would read from the ancient Pillow Book manuscript of Sei Shonagon. Several other incidents she would witness as a child, including seeing her father forced into having sex with his publisher (Yoshi Oida) to get a manuscript published, would fashion her into an adult with particular fetishes. "Treat me like the pages of a book," she announces to lovers, creating her own pillow book, an object causing the unraveling of a loveless marriage to her first husband, the son of her father's publisher.
Fleeing to Hong Kong, Nagiko becomes a model, involving herself with the most renowned calligraphers willing to write all over her body. Eventually, she begins a passionate affair with a British translator, Jerome (Ewan McGregor). When Nagiko's manuscript is rejected by her father's publisher, the lovers concoct a plan to use Jerome's body as her instrument. The publisher seduces Jerome, which results in mounting tension and eventually tragic circumstances.
Amidst the innovative, multi-dimensional techniques we've come to expect from Greenaway, who edits frames within frames and splices words of several languages into the film's visual fabric, the emotional investment we should have in Nagiko's specific desires gets lost. Instead, it's easier to be distracted by the subplot featuring McGregor, who appears naked frequently and with a refreshing abandon. The title may be an interesting entry point into Greenaway's expressive filmography, an uncomplicated narrative nestled into his particular talent for manipulation of imagery without the aid of dialogue. But somehow, despite a fragile elegance often conveyed in several beautiful, sensual sequences, Nagiko's trajectory seems convoluted and as superficial as the writing on her skin.
Disc Review:
This newly restored, high definition transfer of The Pillow Book represents the unveiling of the Film Movement Classics banner, the first title the company presents on Blu-ray. As such, there are some marked differences, including director's commentary and an essay from Film Comment critic Nicolas Rapold in the insert. We're happy to see these advances in packaging and hope success grants the banner a wider berth.
Final Thoughts:
As intricately assembled as all of Greenaway's works, and representing one of the last films from famed DoP Sacha Vierney (he would only complete three more titles, including Greenaway's 8 ½ Women and Sally Potter's The Man Who Cried), The Pillow Book is worthy of a revisit, easily existing within its own timeless universe.
Film:★★★/☆☆☆☆☆
Disc:★★★½/☆☆☆☆☆