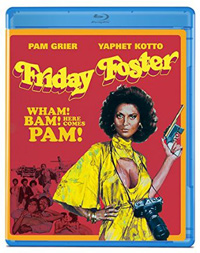 Towering aggressively over the legacy of the problematic film movement of 1970s Blaxploitation is the iconic figure of actress Pam Grier, emblazoned in our memories as the self-reliant beauty holding her own (well, mostly) with her male co-stars prior to her white female counterparts, like Sigourney Weaver and Linda Hamilton. She's an important cinematic figure, and much like the symbolic essence of Marilyn Monroe, her reputation outweighs familiarity with many of the films that brought her iconicity. Arriving in the middle of her gamut of classic titles was 1975's Friday Foster, of which Grier is the eponymous star. Campy, cringe worthy, and so remarkably asinine it may just as well be classified as sci-fi, production values and an impressive supporting cast surely solidifies the title as requisite viewing for Grier's fan base. Unfortunately, for all involved, their talents (a common complaint of the genre) are worthy of less slipshod silliness.
Based on the first syndicated American comic strip to feature a black woman in its lead role (created and written by Jim Lawrence, 1970-1974), Friday Foster (Grier) is an ex-model cum magazine photographer. On New Year's Eve, she's called last minute by her boss to grab her camera and head to LAX so she can photograph the arrival of the wealthiest black man in America, Blake Tarr (Thalmus Rasulala). Her boss had already warned her of her predilection for personal investment in her stories, so maybe it's just Friday's bad luck when she ends up photographing the assassination attempt of Tarr. When her best friend, Clorils (Rosalind Miles) is murdered in the middle of Madame Rena's (Eartha Kitt) fashion show the very next day, Friday investigates and soon finds herself on a secretive hit list. Pairing up with private detective Colt Hawkins (Yaphet Kotto), their investigation leads them into a snarl of conspiracies.
By 1975, Grier had already donned her signature persona several times, most famously in Jack Hill's titles Coffy (1973) and Foxy Brown (1974), the latter originally meant to be a sequel. Grier's titular heroines are often demeaned, disrespected, and lasciviously heralded by both the narratives and the intended audience before she gets around to her vengeful ways. But here, director Arthur Marks proves to be less interested in such travails, though we get the requisite nudity of Grier in repose.
Both director and star had quite a bustling 1975, as Friday Foster was the third feature for each. Months prior, their collaborative effort Bucktown, in which Grier played second fiddle to Fred Williamson, had premiered, while Grier's Sheba, Baby also saw release in the same year. And while Marks would only direct two more features, famed Blaxploitation titles J.D.'s Revenge and a reunion with Yaphet Kotto on The Monkey Hustle, Foster, though based on a comic strip, is written with laughable cartoonishness by Orville H. Hampton.
A visit to a notorious gay bar gives us a rare, smarmy glance at gay black characters, but ends with implied violence for the bitchy sissies refusing to help Grier's simpleton photographer. The plot unravels quickly into an increasingly ridiculous shenanigan, whereby Kotto and Grier stumble upon the answers through the lyrics of a song (not unlike what is expertly parodied by Michael Jai White in 2009's excellent Black Dynamite). It appears Kotto is positioned as Grier's love interest, but Friday instead beds two other politically relevant characters, including an incredibly uncomfortable tryst with Paul Benjamin.
Scatman Crothers and Thalmus Rasulala appear in small bits of memorable support, but it's the scene chewing of a delightful Eartha Kitt as fashion designer Madame Rena who really makes Friday Foster worth the price of admission. A fashion show finds the Madame displaying four of her new designs inspired by the seasons of 's-e-x' (so she informs us with her purr), featuring a quartet of the angriest models you've ever seen, each decked out in nearly the same outfit, replete with fancy boas. A bevy of other notable names make appearances, including Carl Weathers (of Rocky and Predator fame), Ted Lange ("The Love Boat") and Godfrey Cambridge (Cotton Comes to Harlem) while minor Blaxploitation player Rosalind Miles get brief screen time as the ill-fated model, Clorils.
Disc Review:
Olive Films resurrects the vintage title with its standard packaging, 1.85:1 aspect ratio and no special features. Luchi De Jesus' fun, yet typical score, oozes 70s sounds, and the picture quality is clear.
Final Thoughts:
Though it's always interesting to explore these vintage Blaxploitation titles, if mostly for the deliberate depiction of empowerment mixed with demeaning stereotypes, Friday Foster is really enjoyable only for fans of Pam Grier and Eartha Kitt. Check out Olive Films' simultaneous release of Coffy first, if you haven't seen it.
Film: ★★/☆☆☆☆☆
Disc: ★★★/☆☆☆☆☆