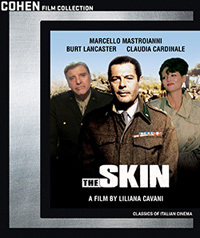 The past year has been a great one as concerns the availability and restoration of several titles from Italian auteur Liliana Cavani, a director who came to fame and notoriety alongside peers such as Pasolini, Bellocchio, and Bertolucci. Her work has often faced difficulty in achieving the same sort of international acclaim as those male colleagues, each of them certified as a particular brand within the cinematic canon. And yet, Cavani is as equally provocative and prolific, with boundary pushing titles languishing in obscurity, usually historical reconstructions with gender or sexuality as a unique entry. Her work has often been described as having a feminist bent, but Cavani isn't aspiring to create female agency in spaces dominated by masculinity. Rather, her concern resides in honest depictions of women ravaged by male dominated systems. Cavani's most notorious title, 1974's The Night Porter, received a Blu-ray transfer from Criterion recently, which infamously relates the tale of a concentration camp survivor played by Charlotte Rampling, resuming the sadomasochistic relationship she experienced with a Nazi officer who tortured her (Dirk Bogarde) upon a chance meeting years later. Earlier last year, Raro Video delivered a remaster of her equally captivating 1970 title, The Year of the Cannibals. And now, Cohen Media Group resuscitates the underappreciated 1981 film, The Skin.
Premiering in Cannes in the Main Competition, critical reception of the title seemed concerned or turned off by the film's grotesqueness. And even by today's standards for a film concerning war time depravities, The Skin has moments of great unease, especially in its depictions of its titular concern, the consumption of human flesh, in a literal and figurative sense. Based on a famed novel and short stories from Italian journalist Curzio Malaparte, it's meant to relate his specific recollections of the Allied liberation of Italy, specifically Naples in 1943. While most period piece war recollections are concerned with strife during conflict, Malaparte's odyssey documents the continued rippling horrors of humanity unable to resume normalcy. But Cavani displaces Malaparte to focus on the effects of women, in particular three characters, each framed by male counterparts.
Marcello Mastroianni stars as Malaparte, a kindly spectator to the after effects of the ravages exacted on Italy as he tours with American forces, led by General Mark Clark (Burt Lancaster), and it's explained that the journalist had not sided with his country and their allegiance to Germany. Malaparte seems to have a dalliance with Princess Consuelo Caracciolo (Claudia Cardinale), but her ineffectual presence leaves her reduced to a mere arm piece, removed from the general suffering in an immaculate living space that has been reconstituted from one army for another. Clark's mission is aggravated by the arrival of a Senator's wife, Deborah Wyatt (Alexandra King), an aviator who flies to Italy to assist in bringing food and supplies to the masses. She brings with her a media entourage, but she's drawn to Malaparte, and they share a series of interactions that border on control via cruelty. Meanwhile, a young American officer (Ken Marshall) begins as a consumer of the female attention he easily receives during his tour before becoming enamored with a young woman, Maria Concetta (Liliana Tari), whose moniker, "The Virgin of Naples" fails to register with the young officer until he sees where her line of work brings her.
As its title suggests, The Skin is concerned with 'the price of flesh,' documenting a place and time where to buy the bodies of live women cost less than the flesh of fish and beasts. An aside documents how women adapted to the tastes of the allied forces, donning blonde merkins to lure black clients that lusted for blonde women, a rarity in Naples (and, generally, Italy). Cavani, who often operates on the level of allegory, further intensifies the concept of flesh as commodity with several other grotesquely unforgettable moments. An American officer complains about his ox-tail stew over dinner, leading Malaparte to explain the difficulty in obtaining quality ingredients. As he relates his difficulty in consuming his own dish, we build slowly to Malaparte divulging that what he was eating was not ox, but human flesh, as evidenced by the bones of a hand he fashions on his plate. This is played off as a joke, but a later scene involves the entertaining of the aviator at a grand dinner, and General Clark demands that boiled fish with mayonnaise be served, though fish is not currently something that exists in Naples. What arrives looks eerily like a boiled human baby.
Disc Review
Filmed in Academy Ratio, which seems to have raised some eyebrows in several discussions concerning the film, one sees how Cavani stuffs every frame with a clutter of images, reuniting with DoP Armando Nannuzzi (and it's interesting to compare his work here to a similarly themed title from Visconti, The Damned). Distractingly, as is common with many Italian films of the period, actors have been dubbed over, which is particularly obvious with Burt Lancaster (and several exchanges where Italians and Americans are supposed to be having trouble communicating are confusing). Cohen Media Group also presents a few extra features, mainly new interview footage with Cavani.
At the Frontier of the Apocalypse:
Twenty four minutes of interview footage with Cavani makes for an invigorating discussion from the director, who further explains the party sequence with the homosexuals and the tradition of the 'sissy' in Naples.
Malaparte, Great Reporter:
Seven minutes of footage from what seems to be the same interview focuses on the journalist Malaparte.
The Individual and History:
Another seven minutes of interview footage from Cavani finds her discussing notions of exploring epic historical moments through the lens of individual narratives.
Dante Feretti Revisits Naples:
Production designer Dante Feretti has about six minutes of time to discuss his recollections of the film and the difficulty of returning to the period in Naples.
Final Thoughts
Cavani's penchant for the grotesque recalls unsettling moments from Peter Greenaway's body of work, such as The Cook, the Thief, His Wife & Her Lover, or a strange fake birth ritual commonly enacted in Naples among the gay populous that's presented as forebodingly as the stage rape from The Baby of Macon. It's these moments that lend The Skin the type of furious indignation often absent from films depicting the violent ravages of war. Malaparte shouts towards the end, "it's the women and children that lose more than anyone else," and one could add animals to the mix, featuring a devastating aside as concerns experimentations on strays. Unlike most filmmakers, Cavani is able to tap into the unsettling realities of human nature that defy easy classifications—The Skin is more than a mere feminist interpretation of a masculine perspective. Slyly, her American characters, particularly Alexandra King's aviator and Ken Marshall's officer, are incredibly naive, each introduced to shocking scenarios involving rape and sex trafficking of children, and it highlights the disparity between American and European examinations of war, as few examples of cinema truly delve into the realistic experiences of women during liberation, particularly in enemy countries (though Max Faberbock's similarly underrated A Woman in Berlin, 2008, comes to mind). Well worth reconsideration is this strangely effective, one of several overlooked gems from Liliana Cavani.
Film: ★★★½/☆☆☆☆☆
Disc: ★★★½/☆☆☆☆☆